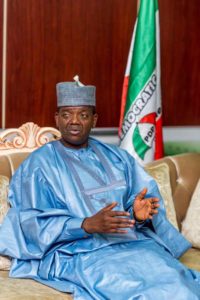 Zamfara State Executive Governor, Hon Dr. Bello Mohammed MON (Matawallen Maradun) has directed for the immediate supply of modern hospital equipment to the General Hospital Gusau.
The Governor gave the directive when he paid an unscheduled inspection visit to the Hospital.
Matawalle expressed his administration's determination to equip all the state hospitals with modern facilities in order to have an improved health care that can cater for and cover the medical needs of the state.
He added that providing up to date equipment will also reduce the hardship being experienced by many patients in the state.
He promised to provide free medical care to all women, children and the vulnerable groups in the state.

The Governor had expressed shock over the pathetic conditions he met at the Hospital in which patients are kept in a highly unhygienic conditions where not even a drip stand was available while there was complete absence of chairs and tables for both the staff and the patients to use as only concrete nails were used to hang drips for the patients.
Governor assured the management and the staff of the Hospital that all the required facilities will be provided and the dental unit will be equipped with the modern facilities.
He then donated twenty thousand naira each to the 150 patients that were on admission at the hospital as of time of the visit.
He however directed for the supply of Ambulances to all the state general Hospitals across the state for easy referral and conveyance of patients.
Conducting the Governor round the Hospital, Secretary of the Hospital, Alhaji Sanusi Muhammad told the Governor that the Hospital is lacking lots of medical equipment that need urgent attention.
He thanked the Governor for the visit and the positive response he gave to the Hospital requests.
He assured the Hospital's total support and cooperation in all the government policies and programmes
YUSUF IDRIS GUSAU
Director General Press Affairs, Government House, Gusau.