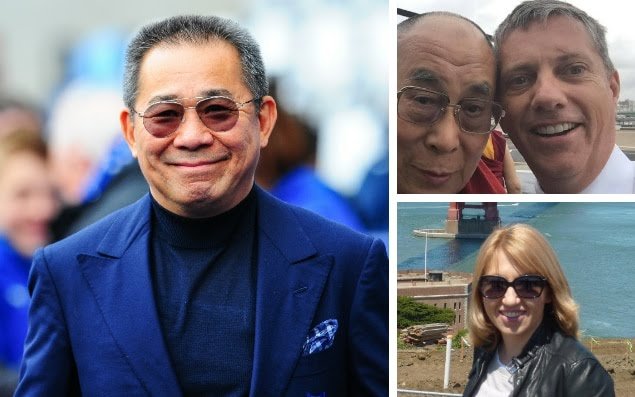 After more than 24 hours of suspense, Leicester City finally confirmed Sunday night the death of club owner Vichai Srivaddhanaprabha, a ThaHe and four others were killed when his helicopter crashed and then exploded after a Premier League match on Saturday, the soccer club and police said.
Leicester at about 10.30 pm posted the obituary on their website:
"It is with the deepest regret and a collective broken heart that we confirm our Chairman, Vichai Srivaddhanaprabha, was among those to have tragically lost their lives on Saturday evening when a helicopter carrying him and four other people crashed outside King Power Stadium. None of the five people on-board survived.
"The primary thoughts of everyone at the Club are with the Srivaddhanaprabha family and the families of all those on-board at this time of unspeakable loss.
"In Khun Vichai, the world has lost a great man. A man of kindness, of generosity and a man whose life was defined by the love he devoted to his family and those he so successfully led. Leicester City was a family under his leadership. It is as a family that we will grieve his passing and maintain the pursuit of a vision for the Club that is now his legacy.
"A book of condolence, which will be shared with the Srivaddhanaprabha family, will be opened at King Power Stadium from 8am on Tuesday 30 October for supporters wishing to pay their respects.
"Supporters unable to visit King Power Stadium that wish to leave a message can do so through an online book of condolence, which will be made available via lcfc.com in due course.
"Both Tuesday's First Team fixture against Southampton in the EFL Cup and the Development Squad fixture against Feyenoord in the Premier League International Cup have been postponed.
"Everyone at the Club has been truly touched by the remarkable response of the football family, whose thoughtful messages of support and solidarity have been deeply appreciated at this difficult time"
The aircraft came down in a car park near the King Power stadium shortly after 19.30 GMT, about an hour after the end of Leicester City's game against West Ham United, police said.
The other victims were believed to be two members of his staff, Nursara Suknamai and Kaveporn Punpare, pilot Eric Swaffer and passenger Izabela Roza Lechowicz, Leicestershire Police said.
According to witnesses, the helicopter had barely cleared the top of the stadium before it started to spin. It then plummeted to the ground and burst into flames.
Vichai, the father of four and founder of duty-free giant King Power International was a huge favourite with the club's fans.
Vichai bought the unfancied side from central England in 2010 and went on to stun the soccer world by beating odds of 5,000/1 to win the Premier League title in 2016 in what amounted to a sporting fairytale.

Vichai, 60, showed a knack for winning people over with charm and largesse. He navigated Thai political turmoil and secured the King Power duty free concession that gave him a fortune estimated at nearly $5 billion.
"I do what I love, so I put love into everything I do," Vichai said in 2016 as he was awarded an honorary degree from the University of Leicester.
Weeks later, Leicester City won the title in the world's most valuable soccer league led by Italian manager Claudio Ranieri.
The achievement was stunning, given that the team had started the season with odds of 5,000 to one – and far greater chances of relegation.
More than other foreign Premier League owners, he forged a close personal connection to the club he had bought in 2010 when Leicester were in English soccer's second tier Championship.
Vichai was a devoted Buddhist and flew orange-robed monks to Leicester for blessings and to provide spiritual amulets to help the team.
He used his fortune to secure better players and to boost wages for his team, giving them a platform to become champions. He also bought beer and pastries to reward the loyalty of fans at the King Power stadium that was named for his company.
A descendant of Chinese immigrants, Vichai founded what became the King Power empire in 1989 with a store in Bangkok selling duty free goods and souvenirs.
His down-to-earth approach and ready smile helped win over the right allies at the right time. He secured a near monopoly on duty free goods as tourism in Thailand boomed.
The latest Forbes list names him as Thailand's fifth richest man. In April, Vichai bought Bangkok's tallest building for $423 million, renaming it King Power Mahanakorn.
King Power really took off in 2006, when it was granted the monopoly at the new Suvarnabhumi Airport under the government of then Prime Minister Thaksin Shinawatra, a former telecoms tycoon and Manchester City owner.
Although populist leader Thaksin was overthrown soon after by strongly royalist officers, it didn't stop Vichai's ascendancy.
By that time, Vichai had also brought himself closer to the royal family: King Power's name was in honor of late King Bhumibol Adulyadej.
To commemorate the late King Bhumibol's 60 years on the throne in 2006, King Power sold 1 million yellow silicone wristbands imprinted with "We Love the King" and "Long Live the King," donating over $3 million to the revered monarch.
Born Vichai Raksriaksorn, he was bestowed the last name Srivaddhanaprabha by the king as an honour to his family in 2012. The name means "glowing light of prosperity".
The wedding of Vichai's daughter Voramas Srivaddhanaprabha in 2017 was attended by current King Maha Vajiralongkorn's daughter as well as generals of the junta that seized power in 2014.
Vichai didn't only court the friendship of Thai royalty.
His other big sporting passion was polo and that brought him close to British royals. Pictures show him meeting Queen Elizabeth at a tournament and laughing with heirs to the throne Prince Charles and Prince William.
Vichai introduced his son Aiyawatt to those circles.
Aiyawatt, nicknamed "Top", was recently appointed King Power's chief executive and serves as a vice chairman of Leicester City. His father had long made clear he was grooming him to continue the empire.
British media said Aiyawatt had not been at Saturday's match.