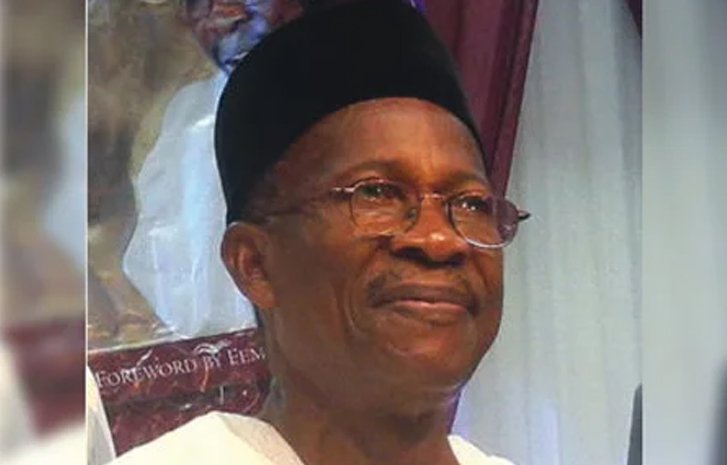 Former General Secretary of the National Union of Petroleum and Natural Gas (NUPENG) Comrade Frank Kokori on Thursday shared emotional tears when Organised Labour stood solidly behind him to insist he be inaugurated as Chairman of the Board of the Nigeria Social Insurance Trust Fund (NSITF).
This was after the Minister of Labour and Employment dropped his name and appointed another chairman.
The inauguration of the Board of the NSITF by the Minister had been delayed for over one year by the Minister, leading to a conflict between him and National Chairman of the All Progressives Congress (APC), Comrade Adams Oshiomhole who insisted that the board be inaugurated in line with the directives of the President.
However when the Minister decided to inaugurate the Board, Kokori's name was omitted and replaced with Austin Enajemo-Isire as chairman, a position strongly resisted by Organised Labour who stormed the Minister's conference room to demand that Kokori be inaugurated.
In his show of gratitude to his former colleagues, Kokori could not help but shed tears, saying he was being oppressed by the Minister even though he laid his life for the actualisation of democracy in the country.
In a shaken voice, Kokori told the Labour leaders: "Today, I am very emotional and want to cry. I want to weep for this country. I am proud of you, my comrades. I have done my best for this country.

"When nobody raised their voice against the military, I came out against the military to fight for freedom and democracy of Nigeria.
"I spent four good years in one of the worst prisons in the world, in Bama prison and in solitary confinement.
"In 1997, I was declared a prisoner of war by Pope John Paul. The same year, the Madibba, Nelson Mandela also declared me a notable world prisoner of conscience.
"I stood for this country and in all my years of service, there were temptations to take some of the biggest bribe.
"But I stood my ground for democracy and 20 years into the same democracy, Comrade Kokori is being oppressed by somebody like Ngige. What is the reason?
"The reason is because Frank Kokori is regarded as a man of integrity, a man of honour and a transparent Nigerian.
"This is a government that talks of integrity and you allowed a man like Ngige to humiliate me for two years after my appointment.
"Yesterday, they now said I should go to Micheal Imoudu. If they had given me Micheal Imoudu when I retired from NUPENG, I should have accepted.
"Why should I subject myself to trauma for two years and you promised that the appointment remains and congratulated me for more than five times.
"The President assured me during the last June 12 exercise that they will not do anything to my appointment.
"I feel Ngige is on his own, dropping the name of the President, not the President I know and who assured me that he will not change my name.
"I am thankful to the Nigeria labour movement and the great union called the National Union of Petroleum and Natural gas.
"I spent the whole of my youthful life to build this union as a fighting machine. I thank you all for your support and may God bless you all."