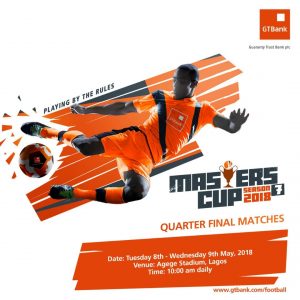 The quarter finals of the 2018 GTBank Masters Cup is set to holdon May 8-9, 2018 at the Agege Stadium, Lagos with 16male and female teams competing for a semi-final spot in the prestigious tournament.
Organized by leading African financial institution, Guaranty Trust Bank plc, the GTBank Masters Cup is an annual football competition for first generation and missionary secondary schools geared towards discovering young football talents and inculcating in young people, the values of sportsmanship, camaraderie and fair play. Season 7 of the competition kicked off with a total of 42 teams, out of which 8 teams remain in the male and female categories, respectively.
In the male category, Chrisland Schools, Ikeja will play King's College, Lagos, while Igbobi College, Yaba will square up against Eko Boys High School, Mushin. Atlantic Hall, Epe will look to beat St. Finbarr's College, Akoka to a semi-finals spot while Baptist Academy, Obanikoro will contest the last semi-finals slot against Anwar-Ul- Islam Model College, Agege.
In the female category, Ansar-UdDeen Girls' High School, Itire will play against Greensprings School, Lekki, Queens College, Yaba will hope to better Corona School, Agbara,and Atlantic Hall, Epewill face off against Federal Science & Technology College, Yaba. The last semi-finals slot will go to the winner of the match between Ansar-Ud-Deen College, Isoloand Methodist Girls' High School, Yaba.
Commenting on the Masters Cup, Segun Agbaje, Managing Director, Guaranty Trust Bank plc, said; "Sport plays a major role in the development of life skills and this competition paves the way for youths to cultivate their sporting talents and aptitudes. We are proud to organize this tournament that provides an avenue for students to showcase their talents and passion for the game of football even as they remain committed to their academics."

Guaranty Trust Bank is a leading African financial institution, and has an unwavering support for sports education, infrastructure development and scholarships. Since inception, the GTBank Masters Cup tournament has discovered and developed outstanding football talents, some of whom are currently on scholarships with football clubs and academies in Nigeria and beyond.
GTBANK MASTERS CUP QUARTER FINALS FIXTURES
                     Tuesday, 8th May, 2018
Time
Female Team
ANSAR-UD DEEN GIRLS' HIGH SCHOOL, ITIRE
VS
GREENSPRINGS SCHOOL, LEKKI
10:00 am
QUEENS COLLEGE, YABA
VS
CORONA SCHOOL, AGBARA
11:30 am
Male Team
CHRISLAND SCHOOLS, IKEJA
VS
KING'S COLLEGE, LAGOS
1:00 pm
IGBOBI COLLEGE, YABA
VS
EKO BOYS HIGH SCHOOL, MUSHIN
2:30 pm
                       Wednesday, 9th May, 2O18
 
Female Team
ATLANTIC HALL, EPE
VS
FED. SCI. & TECH. COLLEGE, YABA
10:00 am
ANSAR-UD-DEEN COLLEGE, ISOLO
VS
METHODIST GIRLS' HIGH SCHOOL, YABA
11:30 am
Male Team
ATLANTIC HALL, EPE
VS
ST. FINBARR'S COLLEGE, AKOKA
1:00 pm
BAPTIST ACADEMY, OBANIKORO
VS
ANWAR-UL- ISLAM MODEL COLLEGE, AGEGE
2:30 pm