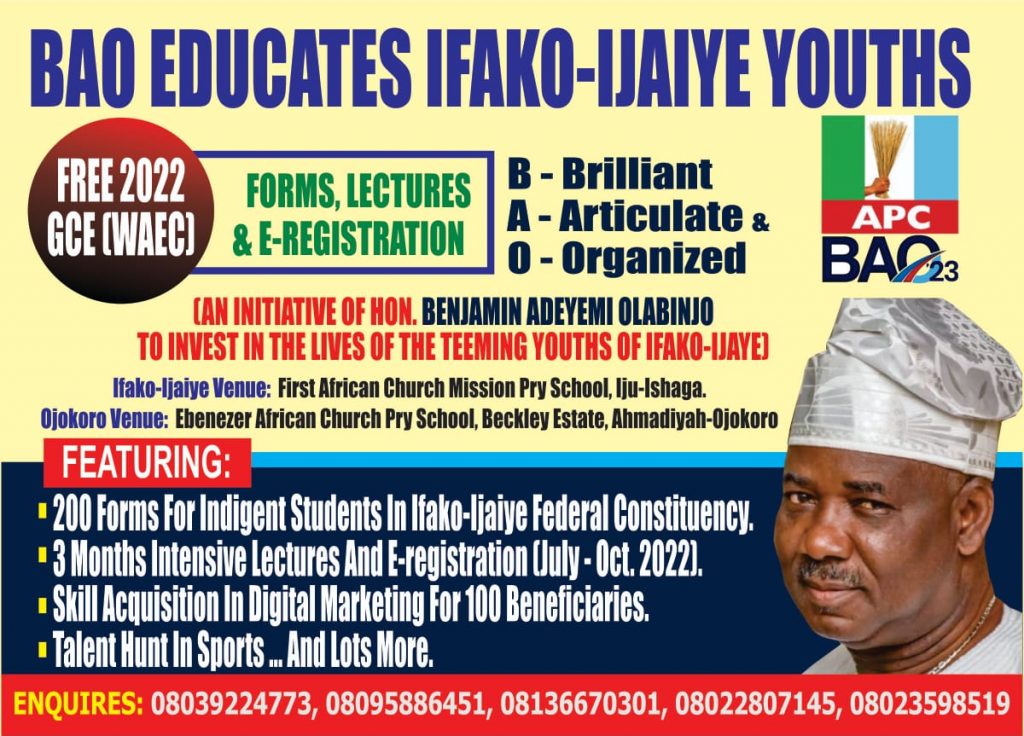 … begins free coaching for all youths writing the exam across Ifako-Ijaiye and Ojokoro"`
"`sets up digital hubs for those interested in digital marketing"`
Hon. Benjamin Adeyemi Olabinjo (BAO), the All Progressives Congress (APC) Candidate for the House of Representatives in Ifako/Ijaiye Federal Constituency has commenced the distribution of General Certificate Education (GCE) forms to no fewer than 200 youths of Ifako/Ijaiye Federal Constituency.
Olabinjo unveiled this gesture during the regular Tuesday's BAO Stakeholders Meeting at his residence, noting that aside from the free forms; anyone interested in writing the examination and has already gotten the form can take part at the free coaching which will be taking place at two different centres in Ifako-Ijaiye and Ojokoro.

Speaking at the meeting, "it is quite understandable that some may have gotten their forms by now but they can come for the free coaching. While that is going on, I have also made provisions for Digital Marketing classes at the venue for other sets of people who are interested in that field of study as well", he continued.
The two-term tenured Former Chairman of Ojokoro LCDA, further promised that beneficiaries will not be left to study for the examination on their own but there is an efficient and effective arrangement to give free tutorial sessions to these beneficiaries by highly qualified Teachers to adequately prepare the beneficiaries, not to just write, but to excel in the examination.
"We are setting up two tutorial centres for easy accessibility by the beneficiaries. The Centres are in Iju-Ishaga and Ojokoro areas of Ifako-Ijaiye L.G", he said.
"Those that are not writing exams can benefit from the Digital Marketing class and start to make money for themselves too", Olabinjo concluded.
It will be recalled that during his two-term tenure in Ojokoro LCDA, he worked ceaseless to see to the education transformation of the area culminating in his honour as the, *Gbekoniyi of Ifako-Ijaiye by the Nigerian Union of Teachers (NUT).*
BAO also revolutionalised the roads, health and infrastructural development of the LCDA including Busary for indigent students and the establishment of Cooperative Societies for the benefits of Traders in the area. These economic groups are still waxing stronger and are improving the economic well being of the people on a daily basis.