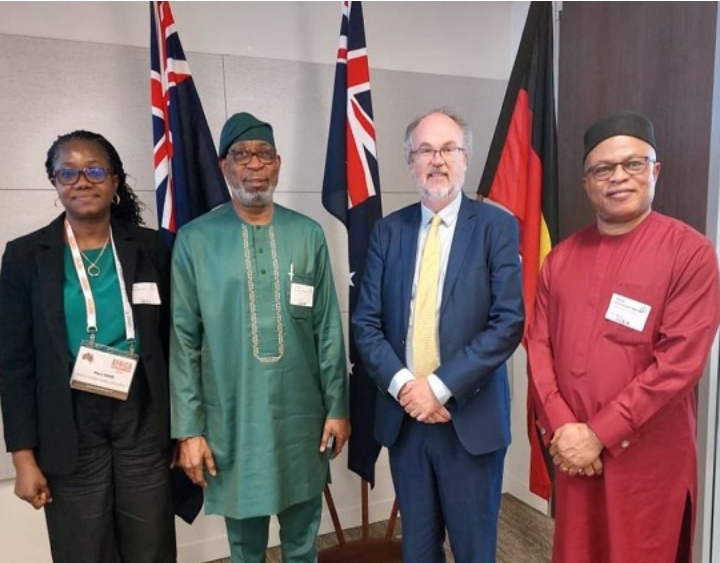 Local miners can now sharpen their and acquire modern techniques in Australia, the Federal Government said yesterday through Solid Minerals Minister, Dele Alake.
He said the arrangement for free study programmes/ trainings, study trips and exchange programmes for mineral professionals was part of the President Bola Ahmed Tinubu administration's efforts to transform the solid mineral sector.
The pact, the minister explained, was brokered by the minister at the 21st Africa Down Under Mining Conference held in Perth, Australia.
In a statement by the ministry's Deputy Director, Information, Alaba Balogun, the minister said Nigerian professionals in the solid minerals sector will soon travel to Australia for more studies, courtesy of the pact the minister made with his Australian counterpart, Bill Johnson, in Perth.
The statement reads: "Presenting the request to Hon. Bill Johnston, the Minister for Mines and Petroleum, Energy, Corrective Services and Industrial Relations of the government of Western Australia, on a courtesy visit, Alake acknowledged the progress achieved by the government in mineral development.

"Alake, who led the Nigerian delegation to the 21st Africa Down Under Mining Conference held in Perth, said Australia had acquired a lot of knowledge and skills in developing its modern mining industry, adding that Nigerians will benefit from training, study trips and exchanges of mineral professionals in its current effort to transform the sector.
"Alake said the government had launched a roadmap to attract foreign direct investment by investing in big data on minerals and the quantum of their deposits, forming a solid minerals corporation and joint venture agreements with multinationals in mining to enable the sector to compete globally.
"He informed the minister that Nigeria has vast deposits of precious minerals, including lithium, gold, coal, lead, zinc, baryte and iron ore.
"Alake proposed a programme enabling Nigerian mining professionals to study modern mining technology and practices in Western Australia with the government's support.
"Responding, Hon. Johnston appreciated the courtesy visit of the Minister of Solid Minerals and his delegation remarked that the meeting would pave the way for cordial relations.
"Accepting the proposal, Hon Johnston said the government of Western Australia would support the transfer of knowledge and skills to mining professionals from Nigeria and sponsor mining experts to visit Nigeria to impart knowledge.
"He urged the minister to make a formal request as soon as possible so both could work together to realise the goal.
"He promised to mobilise the public and private sectors to support the initiative, as many companies are willing to explore opportunities for developing the mining sector in Africa."