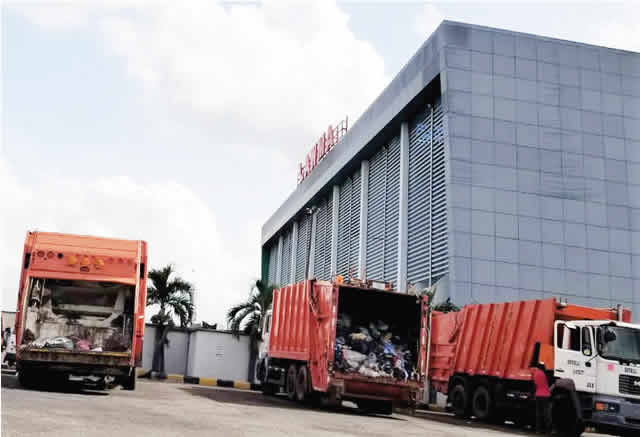 The new seven-storey 150-bed  Massey Street Children's Hospital being constructed by the Babajide Sanwo-Olu administration is located close to the Lagos State Waste Management Agency's refuse transfer loading station on Adeniji Adele Road, Lagos Island.
Our correspondent reports that during a visit to the construction site on Friday, the proposed children hospital is just a few metres from the LAWMA facility, noting that this might affect would-be users of the hospital when completed owing to environmental pollution.
During the visit, sighted refuse-laden LAWMA trucks parked inside the facility, even as the state Commissioner for Information and Strategy, Mr. Gbenga Omotoso, said that the LAWMA facility does not hold refuse.
Omotosho spoke on a live radio programme on Friday.
Apart from the proposed children hospital's closeness to the refuse transfer loading station, findings by our correspondent also showed that there was heavy vehicular movements, with the attendant loud blaring of horns and loud calls for passengers, as well as heavy commercial activities such as street trading ongoing in the area, which might affect smooth access to the hospital, especially during emergency.
Similarly Our media observed that the area is a den of the ubiquitous miscreants and street urchins, who have been known to pose security risk to Lagosians and may be a source of concerns to patients that seek care at the health facility when completed.

Sanwo- Olu had, on April 28, inaugurated the construction of Massey Street Children's Hospital, a 150-bed specialist facility for children in the state.
The governor said the construction of the facility reflected his administration's unwavering determination to bridge all gaps in the health sector.
"The current Massey Children's Hospital was established in 1914 as the First General Outpatient Clinic and Referral Centre in Lagos State. It was converted to a full-fledged Paediatrics Hospital in 1961," Sanwo-Olu had said.Findings by our correspondent further showed that the Adeniji Adele axis is characterised by a large amount of hustle and bustle characteristic of any big citiy.
The number of cars parked on the road and the volume of trucks plying it as of the time of the visit were overwhelming, our correspondent reported.
Some residents of the area who spoke to our  correspondent  said that siting a children's hospital in Adeniji Adele environ, being one of the heavy commercial areas in the state, is not ideal.
"You can see things for yourself. The hospital is close to a LAWMA facility that receives and transfers refuse on a daily basis.
"Apart from that, this area is too busy for a children's hospital to be located. You have lots of vehicles parked on the road. We witness obstruction of traffic every now and then and you have a lot of miscreants in this environment," a resident, Gbenga Ojo, told our correspondent during the visit.