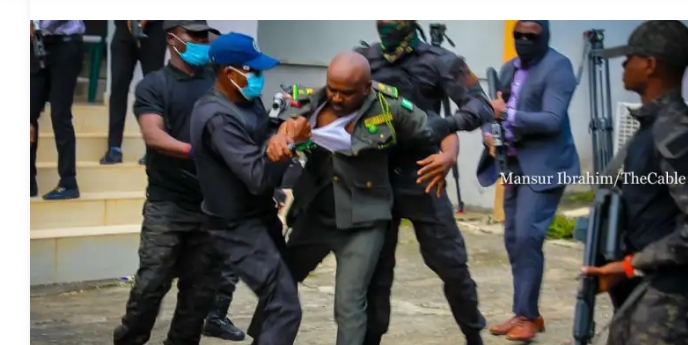 Operatives of the Department of State Security (DSS) and the Nigerian Correctional Services (Prisons) have re-arrested the suspended Central Bank of Nigeria (CBN) Governor Godwin Emefiele at the Federal High Court in Lagos.
The DSS seized Emefiele shortly after its operatives physically fought off operatives of the Nigerian Correctional Services (NCS) who attempted to take Emefiele away in compliance with the order of Justice Nicholas Oweibo.

Emefiele was arraigned by the Federal Government and pleaded not guilty to a two-count charge of possession of a firearm without a license.
Justice Oweibo granted Emefiele bail in the sum of N20million with one surety in like sum.
But he was not able to leave the courtroom because of the imbroglio between the sister agencies.
The DSS and NCS almost come to blows over who should take custody of Emefiele.
DSS operatives roughed up a Prisons Squadron Commander.
They pushed him out of the court and tore his shirt buttons.
Earlier, armed Prisons officials reinforced to carry out the court order.
But armed DSS operatives, who around in their numbers, blocked the court gates with their vehicles, preventing the Prisons officials from driving out.
Details