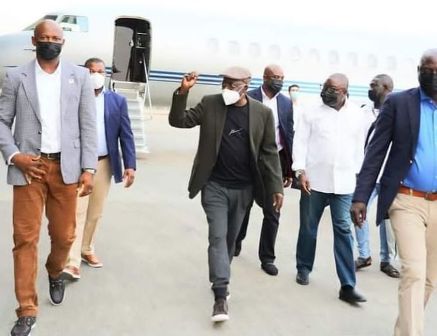 …..He arrives Lagos in good health
Former Governor of Lagos State, Asiwaju Bola Ahmed Tinubu, who has declared interest to run for President of Nigeria in 2023 has arrived Lagos, Nigeria after spending 10 days abroad.
The former governor left Lagos few days after he met with President Muhammadu Buhari to inform him of his intention to run as president in 2023. His departure fuelled many speculations in the social media, with many alleging that he was flown abroad in ambulance. But his mien after his arrival seems to betray all the speculations.

Asiwaju Bola Ahmed Tinubu who landed Sunday evening at the Murtala Muhammed International Airport, looks very clean and healthy, as he waves to cheering crowd up his arrival and seems quite prepared for the task ahead. He wrote that his arriving after 10 days of consultation with Nigerians and other stakeholders in the Diaspora and that he will continue with consultations in line with his intention to seek the office of the President of the Federal Republic of Nigeria. "After 10 days of consultations with Nigerians and other stakeholders in the diaspora, Asiwaju Bola Ahmed Tinubu promised to continue consultations in line with his intention to seek the office of The President of the Federal Republic of Nigeria", Asiwaju's promote wrote upon his return, hale and hearty