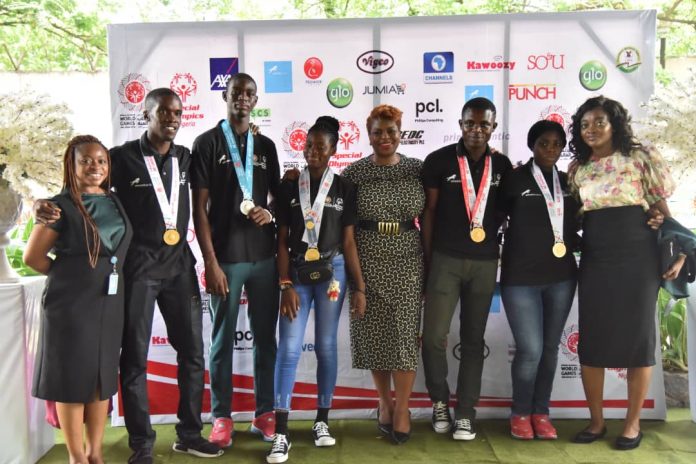 Union Bank, proud co-sponsors of Team Nigeria to the Special Olympics World Games in Abu Dhabi, joined the Board and Members of Special Olympics (SO) Nigeria at a reception to welcome the team. The 84-man delegation to the World Games was made up of 24 officials and 60 athletes who represented Nigeria in 8 sports categories including Athletics, Badminton, Basketball, Football, Table-tennis, Volleyball, Swimming and Cycling, winning a total of 63 medals.  Speaking at the welcome reception, Mrs. Ogochukwu Ekezie-Ekaidem, the Head of Corporate Communications and Marketing at Union Bank congratulated the athletes and commended their hard work, resilience and resolve. She also applauded the efforts and dedication of the officials who worked extensively with the teams ahead of the competition.   According to her;
"Union Bank is proud of the longstanding relationship we have developed with Special Olympics Nigeria, a platform that is focused on three areas we are passionate about – Talent development, Sports and Inclusion.    As an institution committed to enabling people succeed, we are inspired by the team's performance at the recent World Games, a testament to their hard work, determination and resilience."   Union Bank has been a consistent supporter of Special Olympics Nigeria and Sports in general. In 2015, the Bank sponsored Team Nigeria to the Special Olympics World Games in Los Angeles. The Bank was also the official corporate sponsor of the Nigerian team to the last Olympic Games in Rio.

This partnership with Special Olympics Nigeria highlights Union Bank's deep rooted support for inclusion and sports in Nigeria.
Union Bank Plc. was established in 1917 and listed on the Nigerian Stock Exchange in 1971, Union Bank of Nigeria Plc. is a household name and one of Nigeria's long-standing and most respected financial institutions. The Bank is a trusted and recognizable brand, with an extensive network of over 300 branches across Nigeria.
In late 2012, a new Board of Directors and Executive Management team were appointed to Union Bank and in 2014 the Bank began executing a transformation programme to re-establish it as a highly respected provider of quality financial services.
The Bank currently offers a variety of banking services to both individual and corporate clients including current, savings and deposit account services, funds transfer, foreign currency domiciliation, loans, overdrafts, equipment leasing and trade finance. The Bank also offers its customers convenient electronic banking channels and products including Online Banking, Mobile Banking, Debit Cards, ATMs and POS Systems.