Lagos State All Progressives Congress (APC) governorship aspirant Jide Sanwo-Olu yesterday announced his bid for the job. He called for "change for progress" in the Centre of Excellence.
He told the cheering crowd at the historic City Hall in the heart of Lagos Island that the time to take the state to a greater level had come.
He urged party faithful to vote for him at the September 25 direct primary, saying that he will not disappoint the platform as a loyal, committed, tested and trusted member.
The former Commissioner for Establishment, Training and Pensions spoke on his vision for Lagos. He promised to pursue the party's welfarist programmes, which he said were implemented by former Governor Bola Tinubu and his successor, Mr. Babatunde Fashola (SAN).
Describing himself as a "capable, competent and tested hand to make Lagos greater", Sanwo-Olu promised to remain loyal to the platform, if elected governor.
He said: "I declare that, I, Babajide Olusola Sanwo-Olu shall be a true party man in the real definition of the word by running an inclusive government, according to the ideology of the APC and the long-term benefits of the great citizens of Lagos State. Loyalty is the currency of politics. I shall be loyal to the people of Lagos State, the organs and the leadership of the party.
"I call on party members and citizens to join me to elevate our State in all facets of human endeavour through improvement, enlightenment and development."
He added: "I urge you all to come out with your membership cards and slips to vote for me at the direct primaries ordered by the party so that we can continue the journey towards peace, order and development for the good people of our dear Lagos State.
"History is not made in a day, but it is made on the day that you start to make the labours of the past and the hope for the future the touchstone of our endeavours. That day is today. I pray that God Almighty shall crown all our efforts with resounding success."
Sanwo-Olu, who hails from Lagos Island, will face two other contestants, Governor Akinwunmi Ambode and former Works & Infrastructure Commissioner Dr. Obafemi Hamzat, at the shadow poll.
Prominent APC leaders and elders, including Senator Gbenga Ashafa, the party's former deputy chairman, James Odunmbaku, vice chairman (Lagos West District), Prince Sunny Ajose, his East District counterpart, Ashipa Kaoli Olusanya, former Rural Development Commissioner Dr. Tola Kasali and his Housing counterpart, Dele Onabokun, hailed Sanwo-Olu's entry into the race, describing it as timely and strategic.
Accompanied by his wife, Dr. Ibironke, and his campaign manager, Tayo Ayinde, the aspirant stormed the hall around 2.40 pm, amid cheers by chairmen of 20 Local Government Areas and 37 Local Council Development Areas (LCDAs), and other party faithful from Lagos Island and environs, who reiterated their determination to support his bid.
At the City Hall were former Minister of State for Defence Demola Seriki, House of Representatives member Prince Rotimi Agunsoye, Alawiye King, Israel Ajao, Abdullahi Enilolobo, Kola Perry Grillo, Setonji Bamgbose, Ayodele Adewale, Rev. Sam Ogedengbe, Sola Giwa, Bolaji Ayinya, Segun Dawodu, Lanre Ope, Bolanle-Akinyemi-Obe, Afolabi Sofola, Abiodun Mafe, Ladi Balogun, Bayo Ajisebutu, Omolola Essien, Sesan Daini, Ademorin Kuye, Owolabi Martins, Adekunle Alli, Tunde Olorogun, Wale Adelana, and Mr. Bagostow.
Tracing the history of governance in the metropolis since 1922, Sanwo-Olu, who paid tribute to illustrious pathfinders, including Herbert Macaulay, Sir Kitoye Ajasa, Dr. John Randle, Sapara Williams, Henry Carr, Candido da Rocha, Dr. Adeniji Jones and Dr Caulcrick, said Lagos history had been shaped by their primacy and values of democratisation.
He also said future generations will treasure the contributions of two former governors – Brig-Gen. Mobolaji Johnson and Alhaji Lateef Jakande – and others who had worked for the progress of the state in the last 50 years.

Sanwo-Olu paid special tribute to the party stalwart and former governor of the state, Asiwaju Bola Tinubu, who he described as the celebrated tactician and renowned certified accountant, who laid the foundation of modern Lagos.
In his view, Tinubu has applied his knowledge to democracy and development, thereby earning the applause of progressives and other stakeholders across the country.
Highlighting Tinubu's achievements, he said: "The media has filled our consciousness with the courage displayed by our leader in reforming and modernising the revenue collection operations of Lagos State, converting government operations from analogue to digital and establishing a transparent, measurable and predictable system for running Lagos as a modern smart government."
Sanwo-Olu added: "The preparation of the visionary programme: ''The Lagos State Economic Empowerment and Development Strategy (LEEDS)," listing out the path to development of modern Lagos on four pillars across 25 years of expansion continues to provide the development blueprint for our people.
"This vision, put together by eminent economists and passionate patriots, prepared our State ahead of its growing challenges. It remains to this day the most concrete manifestation of Asiwaju's leadership and love for the great people of our State. I feel privileged to be part of the process that made it happen.
"I assure you all that it shall continue to be the roadmap when I become the next civilian governor of our dear state."
The aspirant noted that the foundation laid by Tinubu has survived the test of time because he recruited excellent and brilliant successors.
He thanked Lagosians for endorsing these successors for leadership in general elections, thereby making their election the popular choices of the people.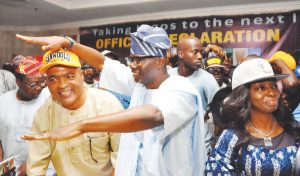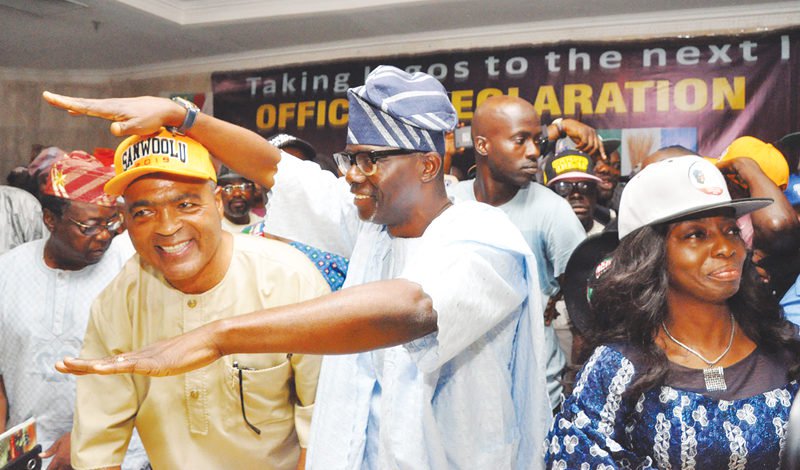 Also thanking Fashola for his contributions to what he described as "this glorious path", Sanwo-Olu said he was inspired by the courage and achievements of leaders who have charted the path of development for the state.
Quoting the famous American President John F. Kennedy's speech, he said: "I cannot continue to wait for what my state shall do for me, but to challenge myself on what to do for my State."
Sanwo-Olu flaunted his credentials, saying he is qualified to be governor, having previously served creditably as a Special Adviser to former Deputy Governor Olufemi Pedro, Acting Commissioner for Economic Planning and Budget, Commissioner for Commerce and Industry and Commissioner for Establishment, Training and Pensions.
He added: "My public sector career has crowned the glorious achievement of my journey through the private sector where I had worked in senior managerial positions in financial institutions such as Lead Merchant Bank, United Bank for Africa (UBA), First Atlantic Bank (now FCMB) and participated in major economic projects such as the privatisation and commercialisation of Federal Government-owned companies and parastatals."
Sanwo-Olu noted that the APC was established as a grassroots party of workers, artisans, middle class professionals and those who thirsted for progressive development.
He promised to pursue the welfarist agenda, improve the economy of the city-state, provide jobs for youths and secure the environment.
Reflecting on the refuse logjam, the aspirant said: "If elected, I shall immediately embark on the full restoration of the glory of Lagos and make you the people the cornerstone of government; to revamp the environment that has become a cause of serious anxiety to Lagosians and relieve Lagos of the persistent gridlocks that have made our lives brutish and nasty."
He added: "Our government's focal point shall be to provide the greatest good for the greatest number of the people of Lagos State. I have invited you here today to join me in the journey to take Lagos State to a new dimension by transforming the manifesto of our party to the programme of action.
"I am sending a clarion call to our party members, men and women, youth and the elderly, that there is a lot of work to be done to achieve the Lagos of our dreams."
Seriki said Lagos Island and indeed all Lagosians, were excited at Sanwo-Olu's entry in the race, assuring that the dream will become a reality.