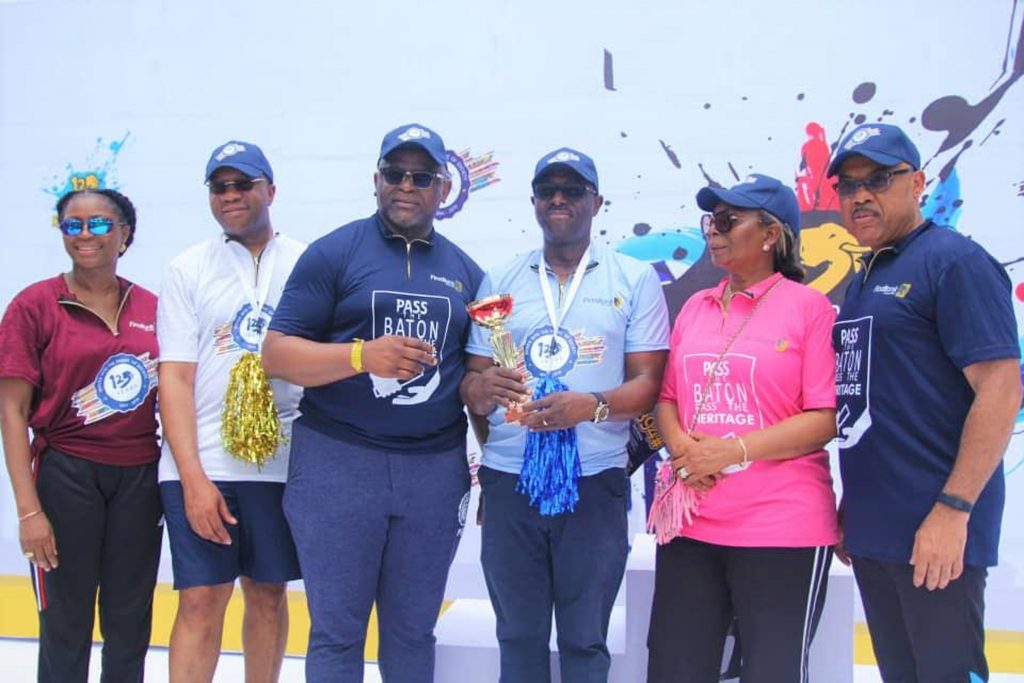 Group Head, Marketing & Corporate Communications, FirstBank, Folake Ani-Mumuney; Managing Director, FBNQuest Merchant Bank, Kayode Akinkugbe; Chief Executive Officer, FirstBank, Adesola Adeduntan; Group Executive, Commercial Banking Group, FirstBank, Seyi Oyefeso; Chairman, FirstBank Ibukun Awosika and Group Managing Director, FBNHoldings, UK Eke, following the FirstBank 125km Relay Walk, held to commemorate the 125 anniversary of FirstBank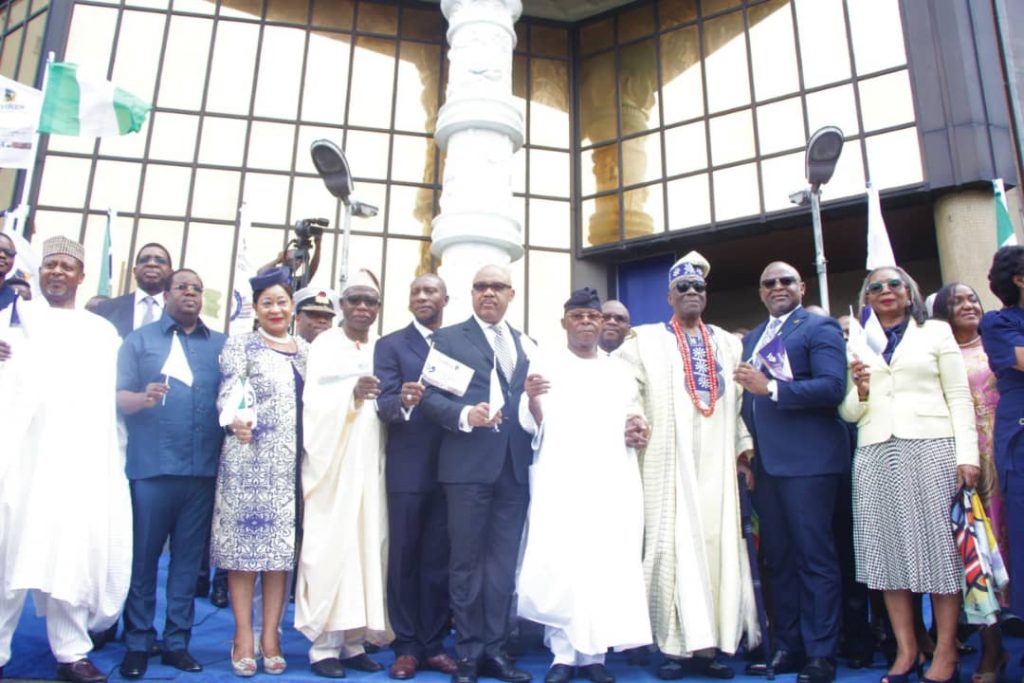 Nigeria's premier Bank, First Bank of Nigeria Limited, has reiterated its commitment to continue to provide quality services to its over 15 million customers, create value and exhibit wholesome teamwork and coordination among its staff.
The remark was the collective stand point of the Bank's principal officers as it held a 125 kilometres Relay Walk to celebrate the bank's 125 years of uninterrupted existence as a heavyweight in the financial industry and general corporate world.
The walk which took place simultaneously at major FirstBank stations across Nigeria, was described as a significant activity to prove that achievements involve everyone committing his own quota for the common good of the whole organization.
Speaking at the Mobolaji Bank Anthony, Ikeja branch of the bank, which hosted one of the walks, FirstBank's the Executive Director, Corporate Banking, Dr. Remi Oni, stated 'that it takes collaboration, working together, teamwork, empowering ourselves to be able to achieve what we have'.
He pointed out that everyone else's tiny bit of cooperation contributes to what the Bank has achieved.
He also said that the exchange of baton is "significant in the sense that it suggests that the present group has done their part and has passed on to the next generation that will continue the milestone achievements the bank is known for."
The walk moved to the headquarters at Marina where the leadership and customers of the bank assembled.
In his speech, the Bank's Chief Executive Officer, Dr. Adesola Adeduntan, said the bank remains committed to value creation and effective service delivery to all stakeholders in the years ahead.

He said the bank would continue to provide standard services and products to its customers and stakeholders for value creation to maintain its market share.
"What we intend to deliver to them will go up in terms of quality and in terms of value," he said.
Adeduntan reiterated Dr. Oni's stand that the Relay Walk was very significant because it shows greatness and synergy.
He explained that the 125km was a representation of the collaborative effort of not just FirstBank but all its entities in the last 125 years.
"The 125km is a mark of our incredible journey of delivering impeccable financial services to our customers as we leave no stone unturned to remain an icon of admiration in today's financial services industry in Africa.
"The Relay Walk is very significant and symbolic.
"It's symbolic because it's a collaborative efforts, not just FirstBank's but other operating entities within the FBNHoldings family.
"We came together to organise a relay and the significance is when you think of a relay, when you think of 125, if you want to run a relay of 125 on your own as an individual you can get tired but when you collaborate, together you can achieve it."
Adeduntan said the walk signified power synergy, noting that the leadership of the institution had moved from individual to individual, generation to generation in the last 125 years.
"What we are doing is to pass on the baton of this relay to the next generation of our staff," he said.
In his remarks, the Group Managing Director, FBN Holdings Plc, UK Eke, said the Bank has been able to create a network of partners in the last 125 years.
"What we have been able to achieve today by the Relay Walk is to create a network of partners.
"No other institution in Nigeria has achieved this and we belong to a unique club globally of those that have clocked 125 years and more and we are proud of this day."
Eke said the passing of baton shows that the bank has come to stay with successive leadership team, team spirit, innovation and self-development.
The Bank's Chairman, Mrs Ibukun Awosika, on her part, said the bank would continue to be the number one in the industry with long enduring legacy of value creation.
"If you had the kind of legacy we have had, we are 125 years, you can only look forward to the future.
"When you remember that the only way you can have the opportunity to celebrate 125 years today is because at different times, different generations from the least to the highest worker have added value and created value."
Also speaking, the Group Head, Marketing and Corporate Communication, Mrs. Folake Ani-Mumuney, said the bank would remain committed to helping customers build and grow their businesses as it has been committed to creating value for 125 years and counting.
She said: "We will continue to partner with our regulators to make sure there is a strong robust financial services system in Nigeria."
The anniversary celebration continues with more activities including a Jumat service on Friday, March 22, Church Thanksgiving service on Sunday, March 24 while a lecture will take place on Tuesday, March 26 with a prolific guest speaker, followed by a gala night.