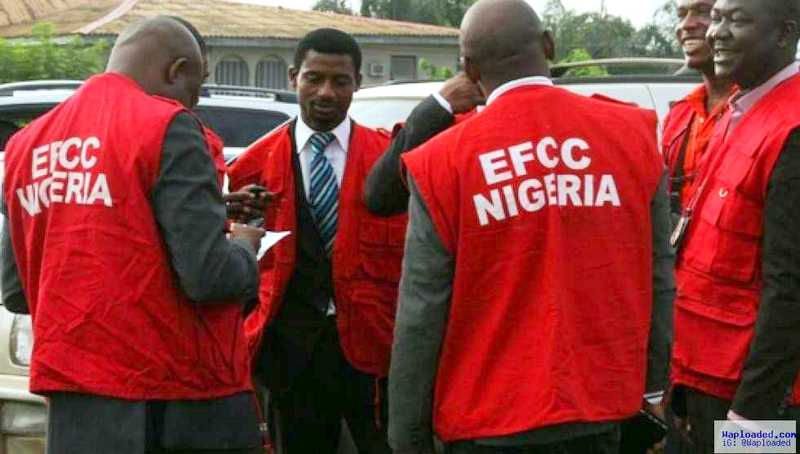 The court case instituted against Ecobank Nigeria by the Economic and Financial Crimes Commission (EFCC) involving Major General Umaru Mohammed is best described as that of a debtor trying to avoid the debt he owes the bank.
A credible source from Ecobank, who pleaded anonymity, stated that the bank is ready to pursue the case to its logical conclusion. The source disclosed that the indebtedness arose from a Mastercard Credit Card that General Umaru Mohammed obtained from Ecobank with an outstanding debt of over N9 million to the bank.
He claimed that Mohammed was indeed indebted to the Bank and only decided to retract paying his debt recently upon an upsurge in recovery activities on unpaid account. The Ecobank source queried why Mohammed did not act since 2013 when he discovered the said alleged fraud on his account.
The EFCC had on Thursday March 7, arraigned the Bank and one of its ex-staff, Aniekan Udoh for "negligently failing to exercise due diligence in relation to the conduct of financial transactions with Major General Mohammed." The defendants pleaded not guilty.

The Ecobank source who said he is privy to the transaction and have been following the case maintained that Ecobank is a financial institution in the business of taking deposits and lending money to the public and the issue at stake is purely a banker-customer relationship matter with no crime or intent to commit crime whatsoever.
According to him, Major General Mohammed appears to be using the court process to evade his obligations to the bank. He said everybody who knows the history of the case are surprised that the debtor could resort to legal ambush method. He does not believe however that his tactics will be successful given the antecedent of the Bank in recovering all unpaid debts in a bid to safeguard depositors' fund.
He further said that Ecobank Nigeria is one of the banks strictly guided by Central Bank of Nigeria (CBN) rules and Code of Conduct guiding financial institutions in its day to day operations, stressing that in dealing with customers, the bank believes in equity and fairness.
"Ecobank is an ethical bank that carries out its business in compliance with global best practices. The court I am sure will do justice in this matter. People should not use their position to avoid paying their debt".
At Tuesday's hearing, the Lawyer representing Ecobank, Emuobonuvie Majemite of Punuka Attorneys & Solicitors, maintained that the Bank will pursue the case to its logical conclusion to ensure justice.