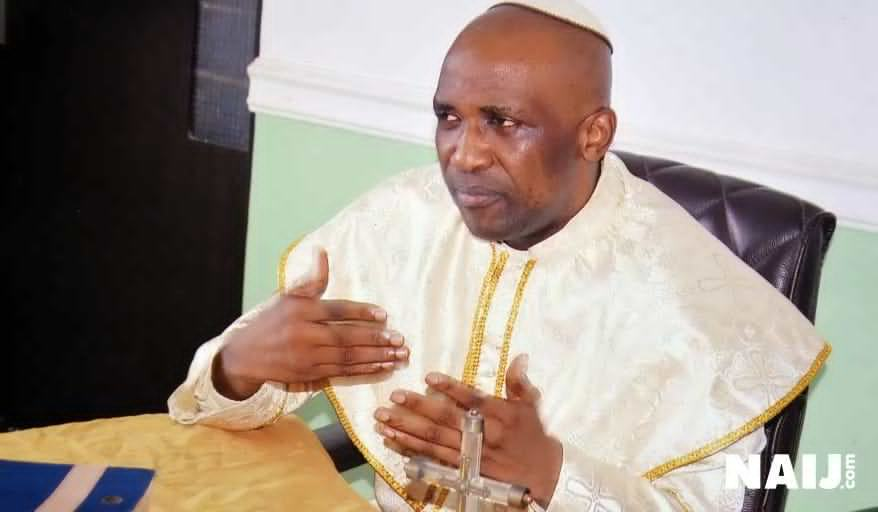 The leader of INRI Evangelical spiritual church, Primate Elijah Ayodele has released his much anticipated 2021 Prophecies yesterday during a world press conference at his Lagos prayer mountain.
In his prophecies for the coming year, The popular prophet talked about Kidnappings in Aso rock, CBN Governor running into crisis,  VP Yemi Osinbajo being implicated, death of a governor and senator, and many other shocking ones.
On his Prophecy on Aso rock, these were his words
'ASO VILLA
 I foresee kidnappings in the Aso Rock. The Villa needs cleansing because there will be fights in the villa. I foresee that some important documents will leak out of the Villa. There will be Classified Official leakages from the Villa. Let's pray not to lose anybody in the Villa. Aso Villa must be fortified against attacks. There will be speculations of attacks in the villa. Protests will be directed at the Aso Villa because protocols will be broken'
On Central Bank Of Nigeria, these were his words
'CENTRAL BANK OF NIGERIA- CBN
The CBN LOGO will still be changed in the future not now. I foresee that the LOGO will still be adjusted. CBN will mount pressure on banks that failed to comply with the recapitalization directives.
Banks will still merge. Many banks will be exposed.
CBN will carry out a review of its policy on stamp duty payments. Also, the percentage of interest as payable on loans will be reviewed. CBN will work on the activities of black market operators as revealed by the spirit of God. The Central Bank will inject more money into the Foreign Exchange Market in order to stabilize it. The CBN will face tough challenges because the economy will be fluctuating. The CBN governor must be careful not to be indicted by some governors because some money will be missing and even transactions in some accounts will be called for to enable proper analysis. The CBN will review their workers retirement packages.'
On His prophecy on VP Yemi Osibanjo, these were his words

'OSINBAJO
 Osinbajo will try to put things together. Osinbajo's enemies will come up with allegations as they want to bring continuous troubles to him but he will overcome. Osinbajo needs to be more prayerful because they want to implicate or indict him. The cabal in this government will fail in all their anticipations. The office of Osibanjo must be very careful'
On Death Of a Governor, these were his words
'Lets pray in Nigeria for God's protection so that no Governor's convoy, Minister's convoy will be attacked or involved in an accident.
Let's pray so we don't see record the death of a Governor, a one time Governor, a Minister, Publisher, a Professor, a one-time President, and an Elder statesman. I foresee that two Speakers will be removed and also a Deputy Speaker will be impeached'
Apart from these, Primate Elijah Ayodele gave some other prophecies that include:
–          In 2021, I foresee that Corona Virus is still going to affect so many people in Africa and the European nations despite the Vaccine
–          Africa will lose a prominent person. Let's pray against the death of a prominent Islamic scholar. Let's pray against ethnic crises and unexpected killings. Let's pray against earth tremors and earthquakes.
–          There will be the outbreak of a major sickness, which will emerge from Africa that will affect a lot of African Nations; it may not be now but in the nearest future.
–          Lets us pray that we don't see any serving president or Prime Minister dying in office.
–          Prince Charles must be watchful of his health and God will protect his life as the Queen will fall sick.
–          Let's pray not to lose any member of the Judiciary. Let us pray so there won't be the removal of Chief Judges at any level
–          Let's pray against the kidnapping of a King or an Emir. An Emir must pray against assassination.
–          The spirit of God says the Nigerian economy will not be as buoyant as expected due to the economic eclipse. The Central Bank of Nigeria will battle aggressively with the economy