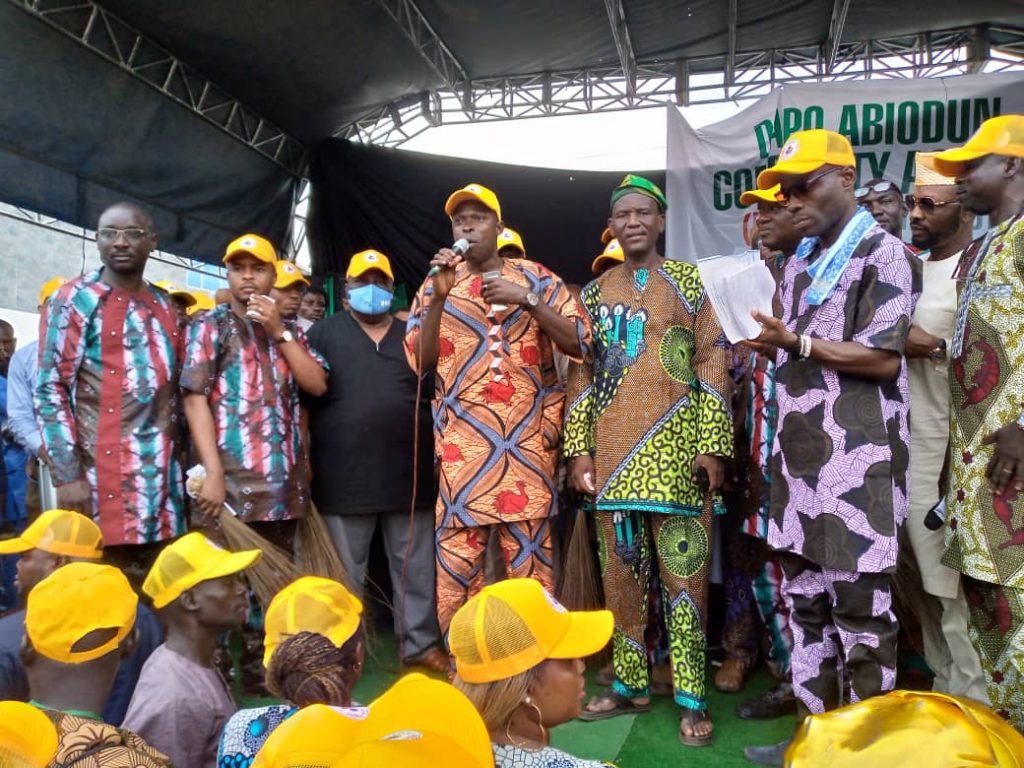 Johnson onifade Abeokuta
   A leading member of the ruling party in Abeokuta south local government area of Ogun state Hon.Nurudeen Olaleye has de lared that Abeokuta south local government would go into record as the first council area from the Gateway state to launch the laudable political innitiative for the sitting Excecutive ogun state Numero Uno Prince Dapo Abiodun tagged DAPO ABIODUN CONTINUITY AGENDA  (DACA).
   Hon Olaleye made this declaration at a rally held in the heart of Abeokuta south local government (Ake)where a Two in One programme was held to foster unity among different factions in the premier local government council.
  According to Hon Olaleye "Abeokuta south local government is the first council area to launch the DACA innitiative based on the great but quiet achievements of prince Dapo Abiodun administration and we are convinced that he deserves a second term .
Speaking further Hon Olaleye who is also a prominent Egba High Chief urged every member of the APC  in Abeokuta south to come together and work vigorously towards the forth coming council elections coming up in july 2021.
    'As from today please each one of you should see yourself as ambassador of DACA. Therefore go to all the 15 wards in the local government area and preach the Gospel according to DACA.
    Also speaking at the occasion the chairman of the consolidated chairmanship aspiratants in Abeokuta south local Hon.Toyosu Enilolobo appealed to members of the party to support the emmergence of a Hon Laja majekodunmi as the APC flag flagbearer in the forthcoming LG polls.
Hon Enilolobo assured the mammoth crowd of party loyalists at the programme to mobilize for beautiful outing ar the polls assuring that all the 10 chairmanship aspiratants have put the wrangling associated with the race behind "we are set to support our flagbearer at the polls.",he added.
   present at the colourful rally included Hon Remi Bakare Bishop Biodun Ajayi,Hom Tajudeen Egunjobi among others.
   members of the consolidated chairmanship aspiratants present are Hon. Toyosi Enilolobo,Hon kelani Taiwo,Hon omitogun muiz,Hon olujimi Desmond Hon Dare olumide.
   Others are Hon Adedapo Akintoye Hon Mustapha kodaolu Barr.Ayodejj Kehinde Hon saheed Balogun and Hon
Ayo Somide the incumbent chairman caretaker committee in the Abeokuta south local government.