The board of Access Bank Plc has recommended payment of N18.8 billion as cash dividend to shareholders for the 2017 business year. Shareholders will receive a final dividend of 40 kobo, in addition to interim dividend of 25 kobo, bringing the total dividend per share for 2017 to 65 kobo.
Key extracts of the audited report and accounts of Access Bank Plc for the year ended December 31, 2017 released yesterday at the Nigerian Stock Exchange (NSE) showed that gross earnings grew by 20 per cent to N459.08 billion in 2017 as against N381.32 billion recorded in 2016.
The top-line performance was boosted by a 29 per cent increase in interest income to N319.9 billion in 2017 as against N247.2 billion in 2016. Net interest income rose by 17 percent to N163.45 billion in 2017 compared with N139.148 billion in 2016. Non-interest income grew marginally by four per cent from N133.4 billion to N139.1 billion. With these, group's operating income rose to N302.6 billion in 2017 as against N272.6 billion in 2016.
The top-line performance underlined considerable expansion in the commercial bank's core lending business. Loans and advances grew by 11 per cent to N2.06 trillion in 2017 as against N1.855 trillion in 2016. Total assets rose by 18 per cent from N3.48 trillion to N4.10 trillion. Group's shareholders' funds had grown by 13 per cent from N454.49 billion in 2016 to N515.45 billion in 2017.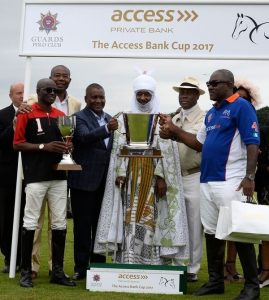 However, the bank's bottom-line contracted as pre-tax profit dropped by 11 per cent from N90.34 billion in 2016 to N80.07 billion in 2017. After taxes, net profit declined from N71.44 billion to N61.99 billion. With these, earnings per share dropped simultaneously from N2.50 in 2016 to N2.18 in 2017.
Group Managing Director, Access Bank Plc, Mr. Herbert Wigwe, Group Managing Director, Access Bank Plc, said the bank's operating performance in 2017 was impacted by the residual effects of macro-economic conditions of 2016, noting that the bank's fundamentals remain strong and the group remains poised for sustainable growth in the coming periods.
According to him, despite the macro and regulatory headwinds, the bank's underlying business remained strong as reflected in the gross earnings growth and its loan book.
He noted that 2017 was pivotal for the bank as it concluded its 2013-2017 corporate strategic plan, which successful implementation was hinged on discipline, hard work, and an unwavering commitment to set objectives.
"I am particularly excited about the next phase of the bank's evolution centred on an integrated global franchise. The execution of the 2018-2022 strategy commences with focus on deepening our retail offerings, underpinned by strong digital and payment solutions. Throughout the next phase, we will continue to invest in technology as we establish a universal payments gateway with an ecosystem of local and international partnerships," Wigwe said.
Access Bank's capital and liquidity levels of 22.5 per cent and 47.3 per cent respectfully remained robust, well above the required regulatory minimum, providing a strong buffer against the macro challenges and room to expand its business.