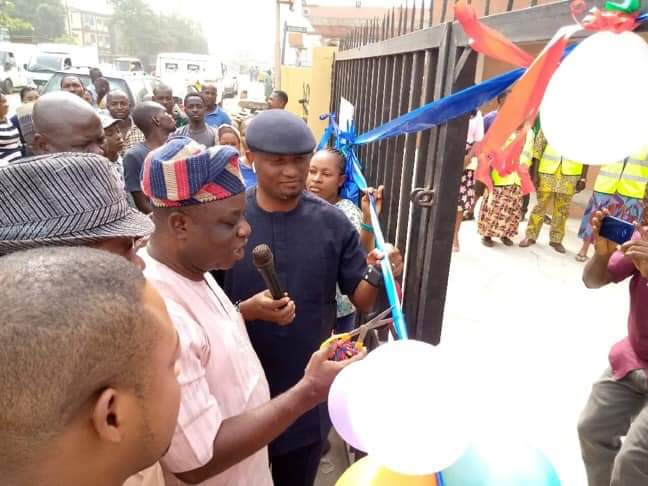 … As Egunjobi named Newly Renovated Majekodunmi Plaza after Obasa
…inspects other ongoing projects in Agege.
#AgegePulse Magazine

Special Adviser to the Governor of Lagos State on Parastatals Monitoring Office, PMO, Hon. Afolabi Ayantayo has today confidently said that Agege will soon become a 'BusinessHub' after the completion of all ongoing projects embarked upon by the all tiers of government in the country.
Ayantayo who ably represented the Governor of Lagos State, Mr. Babajide Olushola Sanwo-Olu, disclosed this at the official opening of the newly renovated Agege Local Government Plaza (formerly known as Majekodunmi Plaza) now named after the Lagos Speaker Rt. Hon. Mudashiru Ajayi Obasa for public use.
He said that the facility would improve the business activities and also generates internal revenue to the Council.
He stated that at the completion of Agege Pen Cinema Fly-over bridge and the rail system by the Federal government with the complimentary infrastructural development by the Council Chairman, Alhaji Ganiyu Kola Egunjobi; the standard of living of the Agege residents will increase and this will enhance the economic development in that vicinity.
Earlier, the Council Manager, Mr. Oluwafemi Esan, gave the background of the moribund state of Majekodunmi Plaza.
Esan stated that, the plaza has been under the control of a developer for decades before it was handed over to the Council management, he added that the former state of the plaza was bad.
"The Inauguration of these 74 Shops in this plaza will not only increase the IGR of the Council, but will also snowball into more projects delivery to the people of Agege at large". Mr. Esan asserted.
In another development, The Executive Chairman, Alhaji Ganiyu Kola Egunjobi, alongside the Special Adviser, Agege LG Excos, Councilors and Management staff went on inspection tour at the ongoing construction of Agege LG Legislative building that has recorded about 80% completion.
At the end, the edifice got the nods of the SA to the Governor, saying "Agege is fast becoming a pacesetter in terms of infrastructural development and service to humanity".