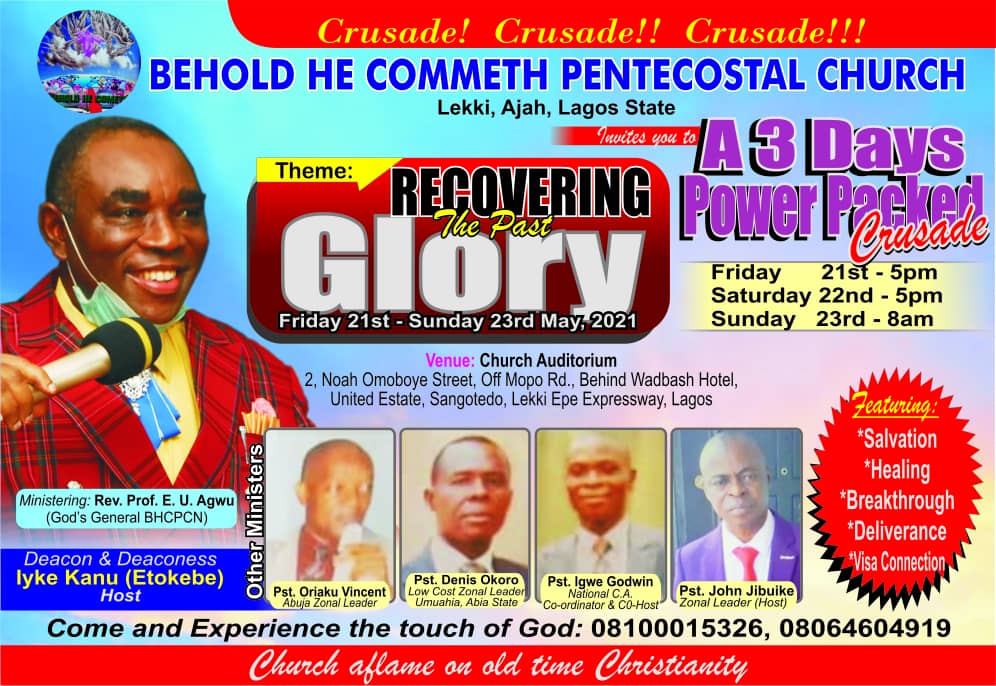 Evangelism is the promotion or act of publicly preaching the gospel with the intention of spreading the message and teachings of Jesus Christ. In this end time where the love of brother and nation is daily waxing cold, it is expedient as Christians to do more of evangelism work, to preach repentance, love of God and brother, salvation, holiness and message of hope to especially the impatient youths of these days, as charged in the book of Matthew 28:19-20 Therefore go and make disciples of all nations, baptizing them in the name of the Father and of the Son and of the Holy Spirit, and teaching them to obey everything I have commanded you. And surely I am with you always, to the very end of the age.
It is in the light of the foregoing that foremost salvation-inclined Pentecostal movement, Behold He Commeth Pentecostal Church, Ajah branch is embarking on a 3-Days Power Packed Crusade, to evangelize and bring the good news to the people of Ajah and its environ.
The General Overseer of the Umuahia, Abia State based church, Rev. Prof. E. U. Agwu, is all set to storm Lagos for three days of unprecedented release of the awesome powers of God between Friday 21st and Sunday 2rd of May, 2021.

The crusade which features Salvation, Healing, Breakthrough, Deliverance and Visa Connection, with theme Recovering the past Glory, is coming at a time when the devastating effects of Covid-19 has plunged a lot of households into abject poverty, with untold insecurity ravaging the length and breadth of the country; to restore hopes and bring deliverance to children of God.
Rev. Agwu, renowned for his faith and salvation ministrations, devoid of materialism and worldly possessions, is leaving no stones unturned in his quest to lead men to Christ, and Ajah Crusade is yet another veritable opportunity for him to lead children of God to repentance and salvation, while delivering them from the shackles of poverty, evil manipulations of the enemies, satanic bondage of sin, etc.
It is on record that his meetings never goes without the touch of God, as testimonies abounds of miracle babies, healings, deliverances, breakthroughs, these have become permanent features wherever he ministers.
Other men of God that are billed to minister at the crusade includes, Pastors Oriaku Vincent (Abuja Zonal Leader of the church), Pastor Denis Okoro (Low Cost Zonal Leader Umuahia), Pastor Igwe Godwin (National coordinator and co-host) and Pastor John Jibuike who is the resident pastor.
Serial entrepreneur and Kingdom financier, Deacon (Dr.) Iyke Kanu (Etokebe) and his lovely wife, Deaconess Blessing are the hosts of this epoch-making crusade, as part of their kingdom-expansion projects.