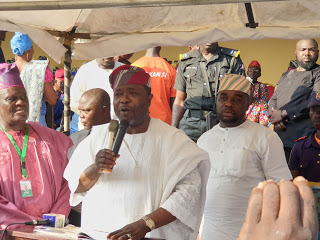 The Senator representing Lagos East Senatorial District in the Nigeria's Upper Legislative Chamber, Senator Sikiru Adebayo Osinowo, has rolled out bumper Covid-19 relief, Senator who is also the Chairman of the Senate Committee on Industry, while speaking on the programme, said he rolled out the food package to ameliorate the tension mounted by the Covid 19 lockdown.
Senator Osinowo stated further that, the programme, as usual, would be coordinated by members of the state House of Assembly, council chairman, APC local government chairman and Team Pepper coordinators for each of the councils in the senatorial district.

Representatives of the councils have picked up their packages at the constituency office of the Senator with Senate Osinowo also providing fund for each council to assist in transporting their packages to their respective councils.
The Senator stressed the need for people to adhere strictly to all the precautions issued by the health authorities. "We should adhere strictly to the rule on social gathering, washing and sanitising our hands as well as other measures put in place by health authorities to contain and curtail the deadly virus," he said.
package for his constituents. The food relief package which contains essential foodstuffs: 5kg each of Garri and Rice, according to a statement from the Media Office of the Senator, would be distributed to thousands of households spread across the 103 wards in the 16 local governments and local council development areas in the senatorial district.
This is the second phase of the Covid 19 relief package Senator Osinowo is rolling out to his constituents.
Few weeks back, he had released N30 million to be shared to the vulnerable families in the senatorial district.
The local governments and LCDAs in Lagos East Senatorial District are: Somolu LG, Bariga LCDA, Kosofe LG, Agboyi Ketu LCDA, Ikosi Isheri LCDA, Ikorodu LG, Ikorodu West LCDA, Ikorodu North LCDA, Ijede LCDA, Imota LCDA,
Igbogbo Bayeku LCDA, Epe LG, Ikosi Ejirin LCDA, Eredo LCDA, Ibeju Lekki LG and Ibeju LCDA.