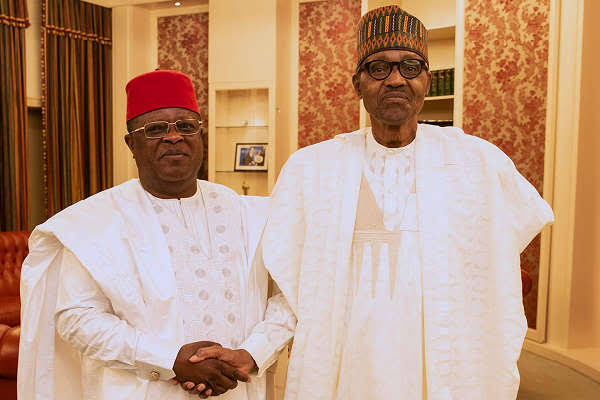 … Umahi by His Stoic and Wise Stand Has Demonstrated that Zik Has Resurrected At Last
… Commends Mr. President, the APC Leadership
As reactions continue to trail the recent defection of the Executive Governor of Ebonyi State, Apostle Dave Umahi, to the ruling All Progressives Congress, APC, Technical Adviser to the Governor on Media, Lady Monica Chidinma Ada Eze, has expressed disappointment over comments credited to some media urchins, whose tongues have been wagging on the subject; brandishing opinions which can at best be described as destitute of facts and far from reality.
In a statement made available to media houses, Lady Monica said Gov. Umahi is a stern believer in the principle that "man lives not by bread alone, but by giving a little thought to the lives of others", and his thoughts towards the good people of the South East informed his recent political realignment.
She said it is saddening to read comments imputing fictitious reasons and linking cocktail of lies to the underlying rationale behind Governor Umahi's defection from the crumbling Peoples Democratic Party to the ruling All Progressives Congress.
Describing the thoughts as misguided, Lady Monica said those still harboring the opinion that the PDP was fair to the South East based on some appointments made to the zone during her 16 years reign at the centre, are flamboyantly untutored, ridiculously ignorant and grossly dishonest.
Lady Monica AKA Ada Ebonyi further said only a group of unconscious and conscienceless mortals who have lost all sense of fairness will count political appointments as the fairest share due a particular region in a country of heterogeneous population like Nigeria.
Is it fair enough that after Chief Alex Ekweme, saw to the emergence of the democracy the country currently enjoys and especially, the formation of the PDP, no Igbo man is considered as being worthy to occupy the exalted position of the President of Nigeria? Lady Monica queried.
"I want to make it categorically clear that those who fail to understand the maverick politics of Governor Umahi only view the Igbos as second class citizens of this country who are not worthy to occupy the office of the President of this country and this is nothing but deliberate unfairness and it can longer be tolerated," She said.
The good people of South East collaborated with other zones to secure the Independence of this country and as a result, the Igbos have risen and are no longer ready to play the second fiddle in a country to which they have made much sacrifices.
Umahi, no matter the odds and regardless of what may be the position of anybody, has exposed the sins and wickedness of the PDP against the Igbos and has accordingly, laid the foundation for its total decimation in the South East if it continued with playing pranks with the future and destiny of the zone as regards the Presidency of this country.
Umahi, has by this action resurrected the spirit of the Owelle of Onitsha and one of the leading fathers of this nation, Dr. Nnamdi Azikwe and every patriotic Nigerian is ready to file behind the new Zik in his determined journey to salvage the fortunes and  future of the South East people and Nigerians in general.

Lady Monica Chidinma Ada Eze who also doubles as the Founder and President of David Umahi Nweze Akubaraoha Ebonyi Transformation Agenda (DUNAETA), a grassroots NGO based in Abakaliki, the capital of Ebonyi State, pleads that we should be guided with President Muhammadu Buhari's reaction to Governor Umahi's defection. Mr. President in his reaction described Umahi's defection  "as a bold move driven purely by principle rather than opportunistic motives. "I am proud of Governor David Umahi for taking this bold decision in accordance with his conscience and principles rather than any external influence or coercion. Good governance is very important to us in the APC, and I'm glad that the governor has cited this as a major factor in his decision to join us. I urge our citizens to pay less emphasis on identity politics if we want our democracy to make a positive impact on our country. With men like Umahi, I foresee a brighter future for our democracy because the voters will be more motivated by performance records of parties and their candidates. Let me once again; commend the boldness of Governor Umahi for taking this courageous decision in a country where principles are in short supply among many. I know people might call him names, but that is the price men of principles have to pay for acting according to their conscience and convictions"
Monica highlighted further that Dr Umahi never stated that he defected to the APC to struggle for any position. She therefore appealed to those who are using the 2023 Presidency as his reason for defecting to the APC to desist from such a calumnious campaign.
For avoidance of doubt, Monica presented the exact words of Governor Umahi on the reasons he defected, "Let me first clarify that I never sought for PDP presidential ticket and so, whosoever is saying that I moved to APC because they refused to zone the ticket to me is being very mischievous because even if PDP promises an individual a presidential ticket; how does it work when over 8000 delegates will be electing the person and such promise cannot happen with ten or twenty people. So, people are being very mischievous about that but there are a lot of prominent people from South East, I don't want to list them but I think the House of Assembly members in their letter to PDP listed very much more qualified personalities from the southeast that can take the Presidential slot of PDP".
 "Some people said I was promised this and that – there was no such discussion. APC never promised me any position, they never promised southeast any position. However, I offered this movement as a protest against the injustice being done to the southeast by PDP. That since 1998, 1999, the southeast people have supported PDP in all elections. At a time, the five states were all PDP and one of the founding members of PDP is from southeast, the late Vice President, His Excellency, Dr. Alex Ekwueme. And so, it is absurd that from 1998 going to 2023, the southeast will never be considered to run for Presidency under the ticket of PDP, this is absurd. And this is my position and will continue to be my position…."
Lady Monica said Umahi has truly justified why he is the Hero of Nigeria's nascent democracy and called on people of goodwill and lovers of democracy to support the course championed by Gov. Umahi.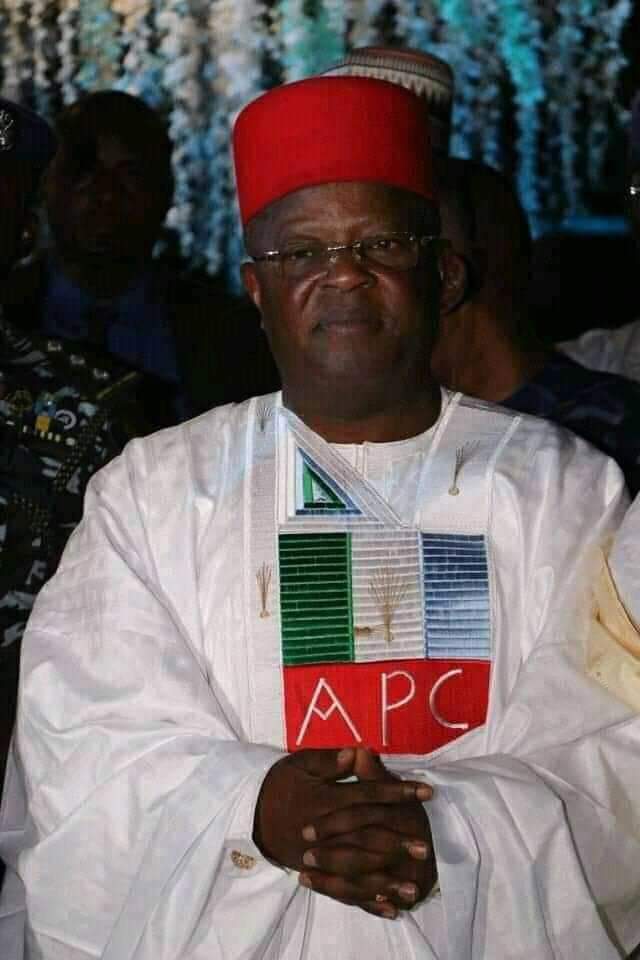 Monica commended Governor Mai Mala Buni-led All Progressives Congress (APC) Caretaker/Extraordinary Convention Planning Committee (CECPC) for formally receiving the peoples Governor to the great party and for setting up a very strong and commendable APC Leadership in the State as I am very convinced that Stanley Okoro led State Exco will surely take the State to higher heights.