The Senate President, Dr. Bukola Saraki, on Tuesday, opened and closed his defence before the Code of Conduct Tribunal in respect of the three charges of false assets declaration instituted against him.
Saraki's defence team announced that they were closing their case after calling their only witness on Tuesday.
The closing of the case was dramatic as the defence had earlier announced on Tuesday that there were four defence witnesses.
But shortly after the witness, a former member of the Code of Conduct Bureau, Dr. Ademola Adebo, gave evidence and was cross-examined by the prosecution on Tuesday, the defence team announced that they were closing their case.
A member of the defence team, Mr. Paul Usoro (SAN), who led Adebo in evidence, had announced at the beginning of the Tuesday's proceedings that they had proposed four defence witnesses.
After the cross-examination of the witness by the prosecuting counsel, Mr. Rotimi Jacobs (SAN), Usoro attempted to ask two re-examination questions.

The re-examination questions were objected to by the prosecution.
The tribunal sustained the objections.
Usoro was still engaging the two CCT members on the next hearing date for continuation of the defence when the lead defence counsel, Chief Kanu Agabi (SAN), approached Saraki who was seated in the dock.
Agabi, after chatting with Saraki for a few seconds, returned to his seat to announce the closing of the defence's case.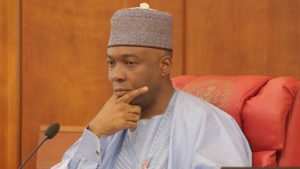 The CCT chairman, Danladi Umar, fixed February 27 for adoption of addresses.
A date for judgment would be fixed after parties adopt their addresses on February 27.
Saraki's trial resumed on Tuesday following the December 12, 2017 judgment of the Court of Appeal in Abuja, which restored three out of the entire 18 counts earlier dismissed by the CCT led by Danladi Umar.
Following the judgment of the Court of Appeal, the CCT had issued a hearing notice inviting parties to the case to resume trial on the three charges today (Tuesday).
At the resumed hearing of the case on Tuesday, Saraki's team called Adebo as the first defence witness.