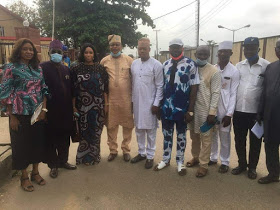 Lagos State House of Assembly through its Committee on Judiciary, Human Rights, Public Petition and LASIEC has charged Local governments in the State on the need to bolster the election processes, especially during the forthcoming election.
Chairman, Hon. Victor Akande who led the Committee on an Inspection to the State Independent Electoral Commission, LASIEC in various Local Governments, LG and Local Council Development Areas, LCDA of the State expressed that the tour was to examine the level of preparedness of the Commission towards the forthcoming elections as well as to understand the present challenges of LASIEC in their respective Councils and proffer solutions.
Hon. Akande noted that LASIEC may need more personnel and thus suggested the employment of support-staff to reduce work load and increase effectiveness. In his words "there is a need to provide LASIEC with Support-Staff as the present staff strength cannot bear the enormous work load and this could undermine the efficacy of the Commission."

Mrs. Bakare Mariam, LASIEC Electoral Officer at Agege LGA attested to the major challenge which is the need for additional support- staff, but stated that LASIEC is prepared for the upcoming elections in the State; she also explained that some of the materials required are currently situated at the Commission until the day of election when the supplies will be distributed to approved centres for security reasons.
Hon. Egunjobi Ganiu, Chairman, Agege LGA, assured both the Committee and Commission of the continued support from Agege Local Government as well as a standard office and store for the electoral personnel assigned to the Area before the end of the year.
At the Orile Agege, LCDA Electoral Office; Electoral Officer, Mr. Akinsewe Oludotun confirmed a good working relationship with the Council Chairman and Staff which has bolstered LASIEC; implored the Council Chairman to expedite action on acquiring a secured store and other facilities that would assist the responsibilities of the Commission.