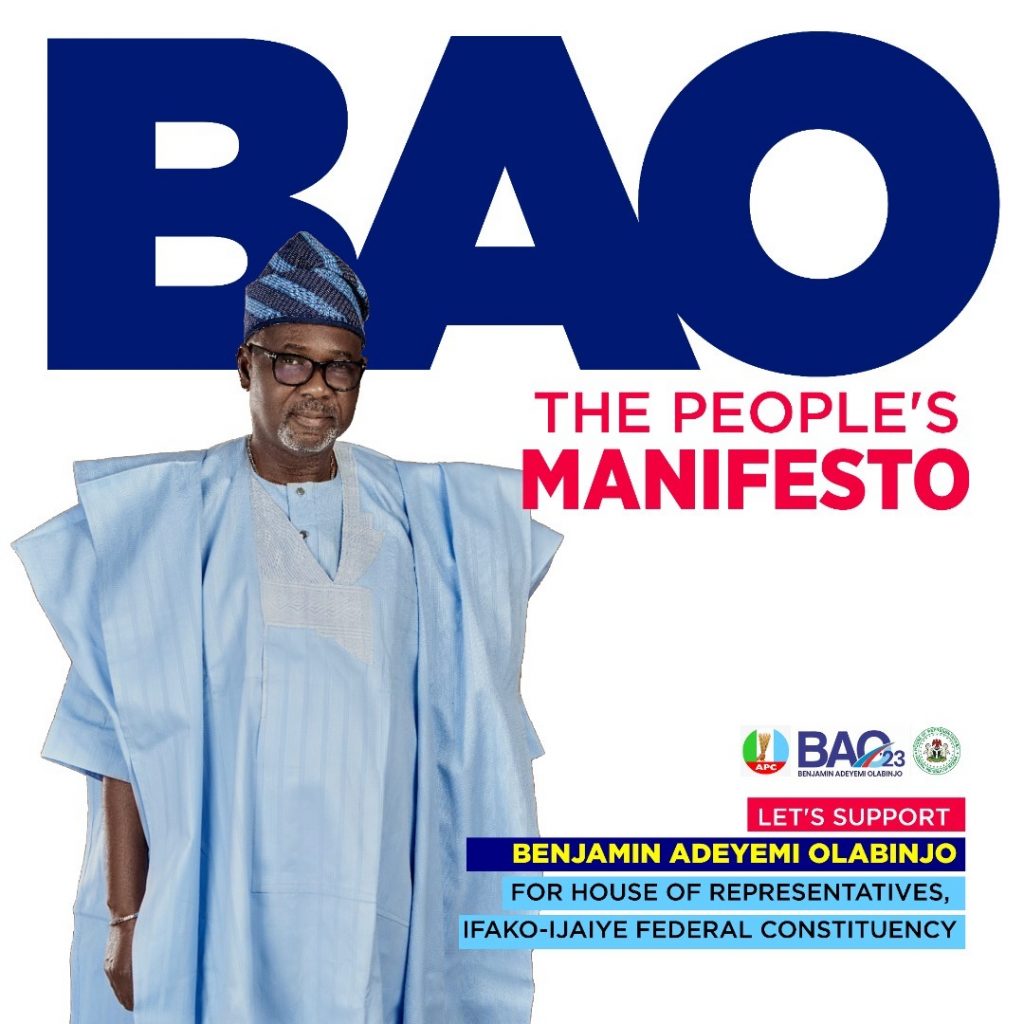 Of all the four, at least for now, who are having a close shot at the revered and plum seat of the Ifako/Ijaiye Federal Constituency in the Green Chamber in Abuja, the Federal Capital Territory, FCT, one name that resonates and still reverberates as a very revered and an unusual player of politics without bitterness, and never a do-or-die affair is the calm and simple former Chairman of Ojokoro Local Council Development Area (LCDA), Honourable Benjamin Olabinjo, popularly known in political circles as BAO.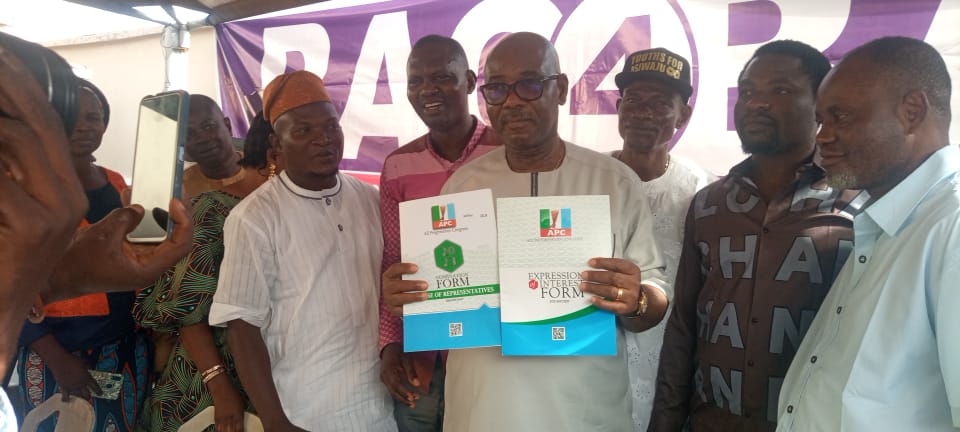 In his renewed and very audacious aspiration for the House of Reps seat, BAO is most humble and very calculated in his approach when he launched out, hinging his mission to serve without any attempt to bring down or rubbish any of his fellow aspirants before, during and even after the election: win or lose. The former articulate LG base has been going around his campaign with unusual calmness and equanimity, without throwing or splashing dust or mud on anybody. He believes so much in his antecedents as a deeply-grass-rooted politician without any blemish in his many years of joining the political fray, either as a party man or elected officer. He was so much in his elements when some pertinent questions were thrown at him, without any fear of contradiction.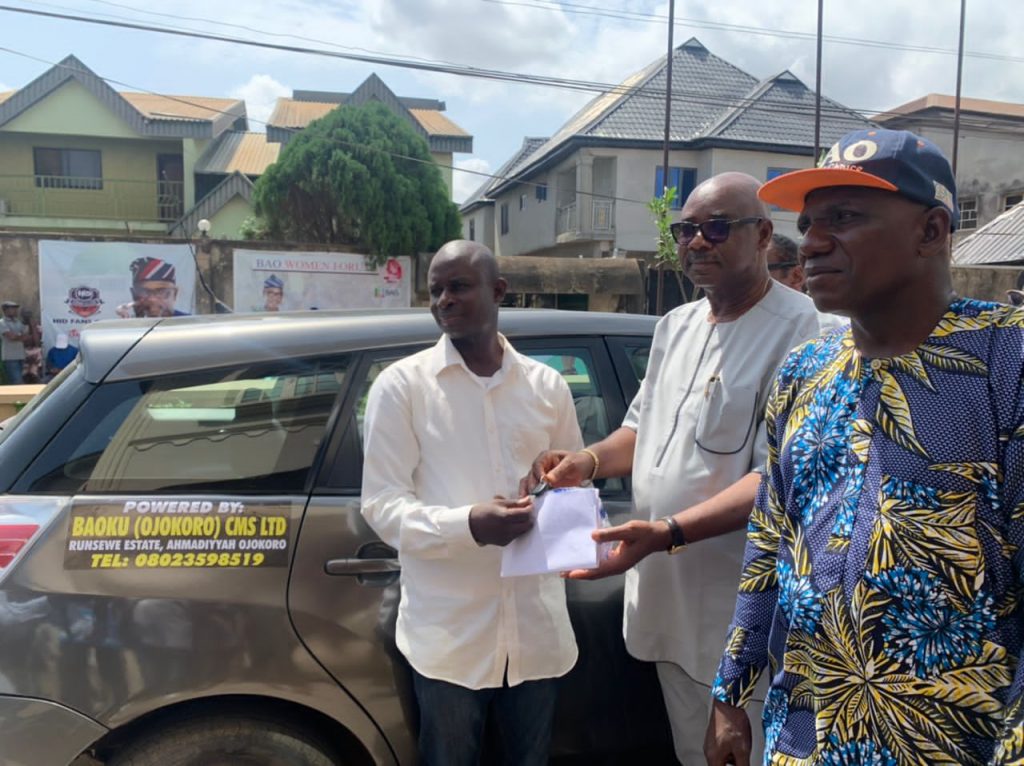 HEAR HIM:
Thank you so much, my name is Hon. Benjamin Olabinjo, a former chairman of this (Ojokoro LCDA) local government and former special adviser to the governor of Lagos state. First and foremost, I love serving my people, I'm a community man, and this has been so since I've been in politics, I put my people's interest first. I always listen to what my people want me to do, if they're interested in something and they want me to do it, I always abide by it and I agree with them to do it.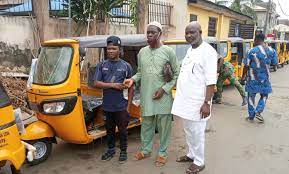 People have gone round but my antecedents speak enormously and eloquently for me at all times; all of which always want me to represent them, and I have always yielded them in their demand through especially with supports coming from them.
For example, my people asked my to contest the last time for this same house of representatives though I did not want to but since they want me, I listened to them. I contested and won at the party primaries but the party decision is supreme. I didn't contest the stand of the party but if I wanted to contest it I would've, I have all the evidence, this is it the result that every poll, the video recording of the result of every poll, I have them with me but as a party man, I chose not to harbor any grudge. Well, to God be the glory, Honourable James Adisa Owolabi, who they gave it to then, came here to tell my people that he did not actually win the election in the real sense, and that it was just the grace of God and we agreed with him that you know God is above every one of us.
You can plan your life that you're going to the right side and God would say you're going to the left direction, who are we then to query God or who are we to query our leaders of whoever that did it? So, now that one is gone. Another one is here now, and my people still want me to contest due to my antecedents while I was serving as a chairman of the local government and the special adviser to the governor of the state, so this is the reason why I am contesting now.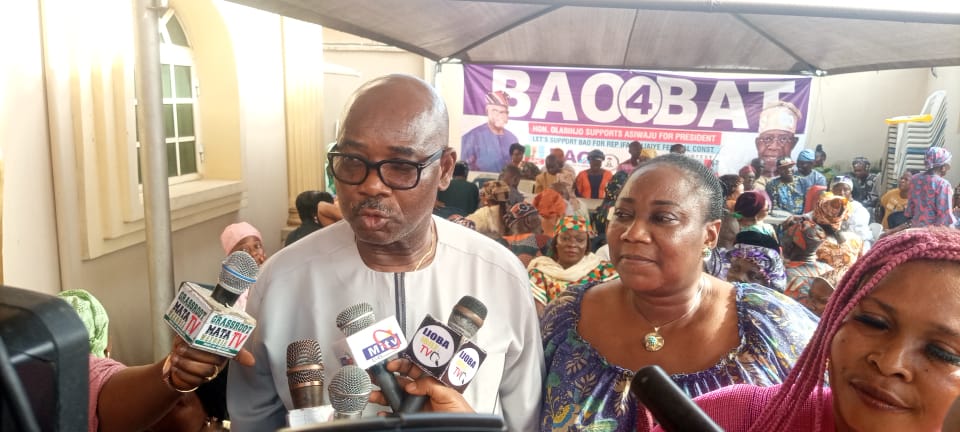 On his achievements as a former LGA boss, BAO says emphatically that, well, the opportunity I have in life is that I know how to lobby, if you're a politician and you can't lobby, forget about it.
When I lobby, I am not lobbying for myself but I am lobbying for my community and I believe if I lobby for my community, my own will come thereafter. Just like this as I am talking to you, I don't have a plot of land to my name on the Island, likewise in Agege, to the extent that the allocation given to me by the government during my last dispensation was never utilized.
All my properties, I have them here in Ojokoro. So it is a matter of must, that I must look for the development of the local government, and to that extent, if I try all my best to look for the development of the local government, thereafter, whatever I have in the local government will now pay me back and that is my own, not by looking for additional money to myself. So I believe in doing whatever I can do to uplift the development of the local government.
If you look at Ojokoro secretariat, the three buildings there and the road to the building, I facilitated them. Then we were using the NRC house, I met the NRC house there as the council secretariat, so that meant we didn't have offices, I'm the one that did those buildings we use now. There are also a lot of roads that I constructed in this local government, a lot of developments that I brought to this place during my tenure as chairman of the local government. When I became a special adviser to the governor, I facilitated the construction and renovation of about 42 streets out of which Mr. Governor, Mr. Babajide Sanwo-olu later commissioned about 31 because the projects were on-going when he became the governor of the state. So that will show you that I'm not the type of person that will be looking for what to eat or what to get for my personal self and family.
I went to the governor then, that His Excellency, my local government which is Ojokoro and Ifako-Ijaye want you, and we came fourth, if you're going to count my local government, Ojokoro, came third but about 20 local government came fourth. I challenged him that if you want us and if you're a good politician and you want people to vote for you for another term, you look for the places where people voted for you a lot, you go back to those places to impress them so next time they'll vote for you more than your expectations. But if they vote for you and you don't compensate them with projects they can see, not by giving money, food and all that, but by making an impact on both landlords and tenants, if you do all these, it'll be an easy way for you. And he mentioned that what do I want, I mentioned Temple road, getting to Temple road, the commissioner for works said Temple road is under high tension, why can't we do the road from Railway to Fagba junction. So I went back to the governor and he said I should go look for another street, there are so many streets, from there I started penetrating, even when they were doing it, I called the Chairman of Ifako-Ijaye, Oloruntoba Oke, that this is what is going on here, there's a lot of construction going on at Ojokoro, but I called on someone that I want some jobs to be done at Ifako, the person disagreed with me that there's an issue between you, Toba and him, this is Oloruntoba Oke, now how do we do that. I have my witnesses on this matter, I called on the chairman but instead of him to calm down for the person that was involved, he never agreed and person decided that forget about it.

He said any assistance I want, they will provide for Ojokoro instead of Ifako-Ijaye. I was begging the person that look, there's no how I can do election in Ojokoro and leave Ifako-Ijaye, so when I saw the person wasn't ready to do anything, I had to concentrate on my local government, that is why you see the turn-out at my local government that even though they don't count the votes I have at Ifako-Ijaye I still won the election. If you want to confirm this, you can go to the present Chairman he will confirm it for you.
In terms of empowerment, because as we all know that empowerment is very important and now that you're going to the Green Chamber, can you tell us one or two things you've done in terms of empowerment, and also concerning the issue , was there any meeting to let the people of Ifako-Ijaye know the reason why all that happened.
In his characteristic calm manner, BAO said, 'I've tried all my possible best to let them know what transpired then, even then I didn't mention anybody's names, I didn't say anything because I didn't want any issue there while he was in power. And now, like I have said, empowerment is the major thing in my life, it is the most important thing to me, I love empowering people, instead of me just giving them things or pecuniary hand-outs, I go out of my way to make sure people are empowered. How do I go out of my way?
For example, we have cooperatives that we established, about 5 different cooperatives, so the cooperatives, I go out to sort them out for my society, we in conjunction with the Bank of Agric.
All that was asked was that I should be a guarantor for them in which I stood as a guarantor, and money was given to them and everything was in order. Part of the empowerment, if you go out there you'll notice there are a lot of tricycles out there, there were times I gave about 20-30 out, I think two times, at least to empower them. There was also a time we did another one that we gave them freezers, those who wanted to do dry-cleaning, we gave them washing machines, and so on and so on.
We ask them, what is your problem exactly, not that you'll just bring anything and tell hair dresser to go home with washing machines, what is she going to do with that machine?
We gave them all these just to empower them, you know if you're working you'll be able to manage your life, your family, and empower your family at the same time. Because if you look at the problem out there, a lot of people are into politics, why are they into politics? Because there is no job and nothing for them to do, so they believe joining politics will assist them one way or another. I'm not the type of person that will be giving you N5,000, N10,000, rather I'll sit you down to discuss with you about what you can do to better your life, it is when you discuss with me, we'll figure a way out.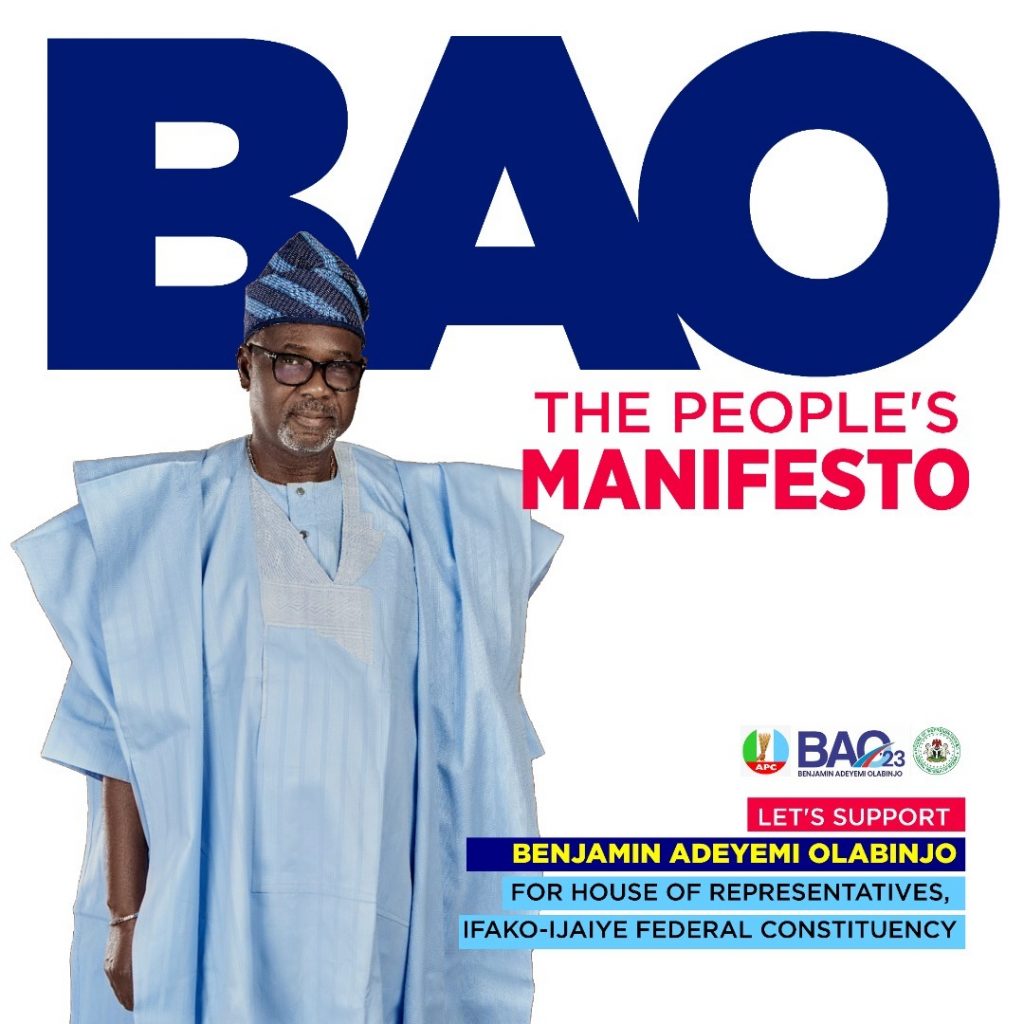 Talking about Ojokoro and about all you've done and also the crisis in Ifako-Ijaye, you've deprived them the benefit from what you've done, so since that administration has passed and all that, have you tried to make any entery back to Ifako-Ijaye, for your position to be really established in the course of your ambition?
Yes, I have done that, if you look at the people coming to my house for meetings, a lot of them are from Ifako- Ijaye, so they're my eyes over there, so any questions you want to ask, anything you want to say, they are up to the task to answer your questions because I can't be here and there at the same time, so I have my representatives at Ifako-Ijaye and they're doing their jobs.
Definitely, you have done well as the local government chairman of Ojokoro, now you're coming to house of reps, what are your manifestos, what are you telling the people of Ifako-Ijaye that you are taking to them at the federal level. Insecurity has also been a serious problem across all places, you talked about Endsars, we know that Fagba was also a main point for the Endsars, when you go through that abattoir, the railway around Fagba, you see the way the Hausas have taken over that area becoming a major threat, you know most times they burgle people's shops around that area, what are you doing and also going to do towards providing security of life and properties around Ifako-Ijaye?
Thank you so much, I will advise we leave that area for now, because if I start telling you my strategies before getting into power, I will be at a disadvantage; that was what happened to Chief Obafemi Awolowo then when he said he was going to do this and that, they did not allow him to do it because they already knew he was going to do it. About the Endsars time, the youth came out for a reason and some others came out for other purposes, those that came out for other purposes were there because they had nothing to do, if they had, they wouldn't have been there.
This goes back to why we need to empower people, who do we need to empower?
The less privileged, I mean you can't be driving a Mercedes and I'll come and say I want to empower you, for what. But the less privileged, those boys on the streets that have nothing doing, so I call them to my side, sit them down, advise them, "ok join cooperatives", some won't even have money to register, I'll give them the money to register.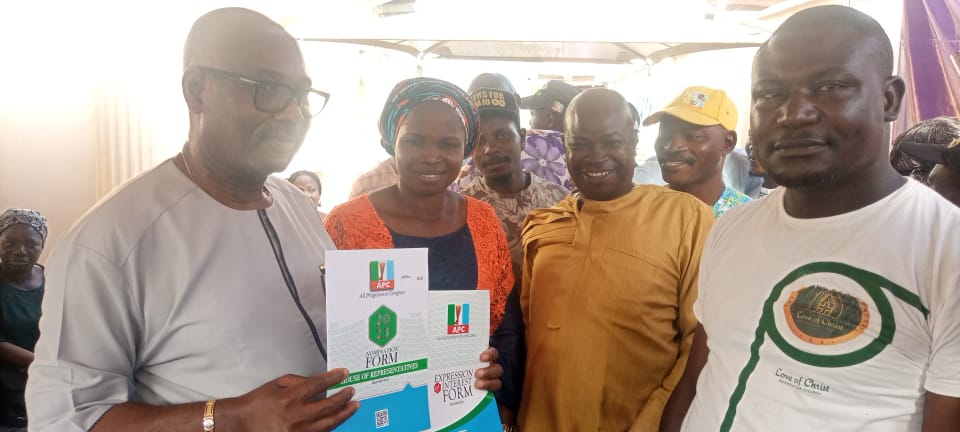 Getting to the Green Chamber, a lot of opportunities are there, I know how to govern, if I can be special adviser to the governor of this state and he permitted me to have 31 roads commissioned out of 42, and he gave me that opportunity that should say a lot about what I will do there when I get there. You see, in terms of contribution, Ojokoro contributes a lot, if you go to INEC office, the land there, I was the one who facilitated the land because they were looking for an office and Ifako wasn't ready to give them anything.
We all know this is a delegates' election, what is your advice to the delegates?
My advice to the delegates is that they should satisfy their conscience.
And what are you doing to lobby the electoral college?
Of course, I have to lobby them, I will canvass them, I'll tell them about myself, I'll let them know my achievements, what I've done to the local government, and so on.
Looking at what happened to you in the last elections, we know you won the last election but it was given to another person, what are the measures you've taken to make sure this doesn't happen again?
Well that's a political game let's leave that, because as we say in politics, we will know how to cross the river when we get there. All I know is that my chances are brighter now than ever.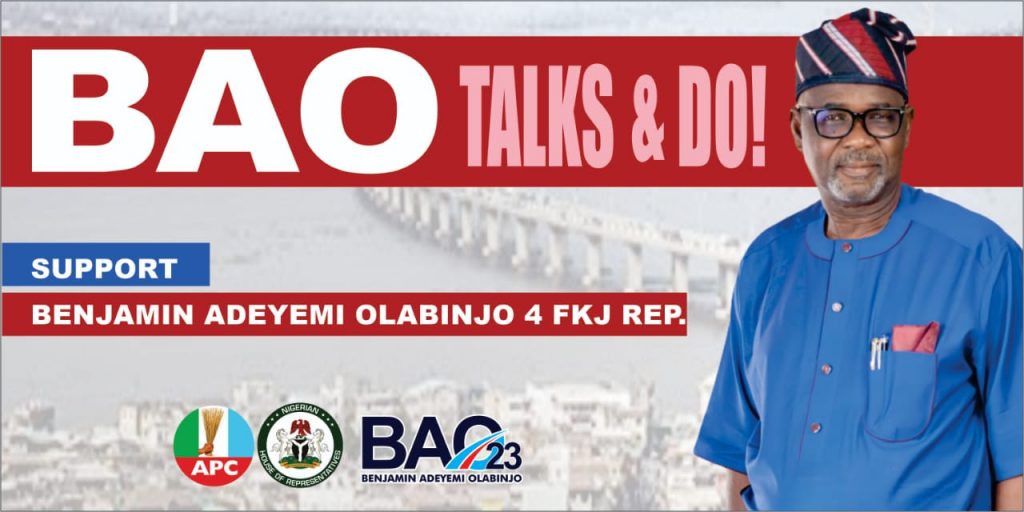 OUR PLAN FOR THE YOUTH*
"`Let me start by acknowledging the fact that our youths are not lazy.
Ifako Ijaye Ojokoro is blessed with intelligent, vibrant and focused youths. We shall harnessed these potential in our Youth by helping with academic aspiration through admissions. And education support funds.
We shall facilitate acquiring skills that are relevant through deliberate ICT programs.
"`
*We build the youth and build the nation.*
– Hon Benjamin Adeyemi Olabinjo (BAO)
*©️ BAO '23 MEDIA