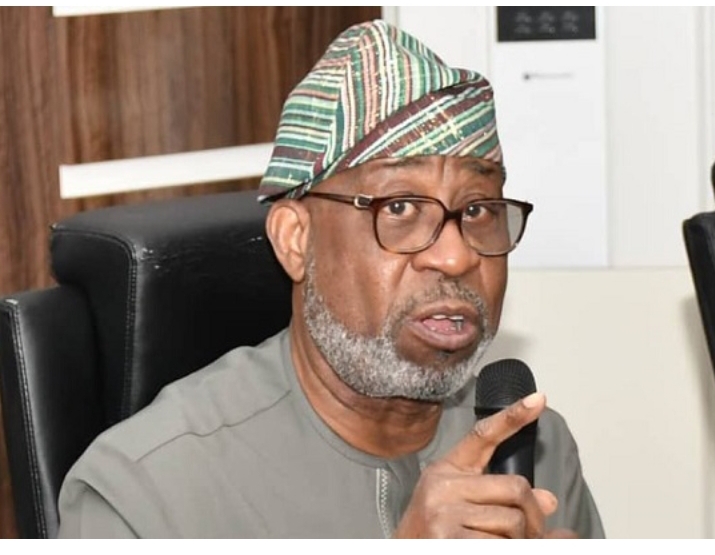 The Minister of Solid Minerals Development, Dele Alake, said Nigeria's minerals deposit is worth $ 700 billion, saying the nation's mineral resources make it one of the top 10 players in the energy sector.
Alake said this at a special session on the sidelines of the ongoing United Nations General Assembly (UNGA) in New York, where he added that Nigeria is ready to play an important role in meeting the global demand for critical minerals.
The minister spoke on the topic: "From critical minerals to energy transition: Africa in the driver's seat" at the event organised by the Corporate Council of Africa.
The deputy director of information, Ministry of Solid Minerals, Alaba Balogun, made this known in a press release.
Balogun added: "Alake who was speaking at a special session on the sidelines of the ongoing United Nations General Assembly in New York, said the nation's mineral resources make it one of the top 10 players in the energy sector.
"He said despite being behind other African countries in mining, Nigeria's mineral deposit is valued at over $700bn with very huge potential to increase. Speaking broadly of the continent, Alake said Africa is fit for the driver's seat of the global energy transition that will be driven by critical minerals."
He said: "Nigeria has always occupied a special position in global energy discourse. Nigeria played a vital role as a key oil exporter during the era of hydrocarbon and became a top 10 exporter of oil. As the face of global energy changes, Nigeria once again emerges as a key supplier of gas which we know is an important energy transition fuel today. Last year in the midst of the Russia-Ukraine crisis, Nigeria was one of the top exporters of LNG to Europe and was the 6th largest LNG global exporter in 2022. As you can see, there is a clear trend, whenever Nigeria is active in the global energy space, it emerges as a top 10 global player and it will be no different with critical minerals.
"Nigeria is endowed with a vast deposit of minerals critical to our new world. In our new world mobility requires a new form of energy driven by minerals in our new electric vehicle world; technology is more mineral-dependent; our energy source will depend more on the energy converted from the sun and other sources; and energy storage is even more mineral-reliable.

"This trend does not have any reversal in sight and demand will only continue particularly as the world seeks and envisions a lower carbon future where environment, social, and governance (ESG) factors are prioritized in governance and investment decisions. Therefore, minerals are at the forefront.
"He also traced the transition from different sources of energy to the now prominent renewable sources of energy. The shift from fossil-based energy systems to renewable energy such as wind and solar has meant that minerals that were not a part of general and public parlance have become a part of everyday speech. Today, lithium for example is woven through everyday conversations, and this is only just the beginning.
"Without a doubt, minerals are a major focus of our world today, and rightly so. Nigeria is well-positioned to play an important role in our new world. Our Solid mineral sector is valued at over USD$700bn and we know there is more to be discovered. Endowed with critical minerals, Nigeria should not and dare I say, cannot be ignored.
"We may not have a strong historic mining history like some of our neighbours such as Ghana, Mali and those in the South such as South Africa, Botswana, etc. but things are about to change."
According to him, Lithium pegmatite rocks are available in Nigeria across states such as Nasarawa, Kwara, Oyo, Abuja, Kebbi, and much more and Graphite is found in states such as Kaduna.
One of the key objectives of President Bola Tinubu's administration according to Alake is to develop the entire value chain in-country – in the case of lithium, saying "We want to go from Ore to concentrate to lithium hydroxide to end product."
He also listed states with rare Earth elements critical for wind turbines and EV motors as Nasarawa and Plateau.
He added: "Platinum group minerals can be seen in the middle belt such as Benue and other regions. We have nickel in Kaduna and other locations. Zinc which is vital to offshore and onshore wind power generation has been a mainstay in Nigeria and is available in Ebonyi, Nasarawa, Plateau and many other Nigerian states.
"He further added that the nation was ready for foreign investment in the solid mineral sector, with President Bola Tinubu giving it prominence.
"It is clear that Nigeria is important to the world and we are ready for investment, collaboration, and partnerships in our solid mineral sector. Our new president, President Bola Ahmed Tinubu has made the solid mineral development sector vital in his administration and we are committed to making it a key contributor to our national GDP. A lot of work has been done in the sector under former administrations and we plan to take it further. Nigeria is prime to becoming a mining destination on the continent and it will happen in our time."