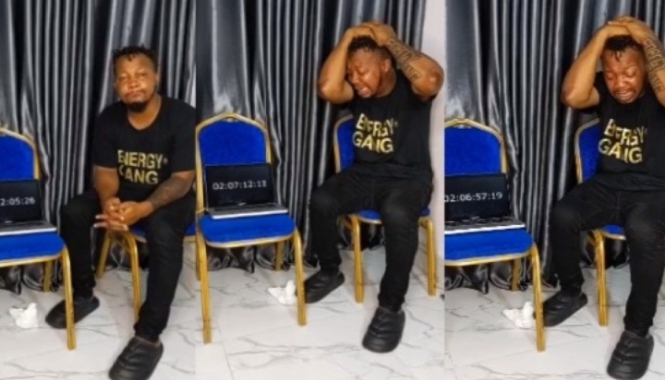 Cameroonian skit maker Tembu Daniel, fondly called Town Cryer attempting to break the Guinness World Record (GWR) for the longest crying marathon by an individual has gone partially blind.
Recall Nigerian masseur, Joyce Ijeoma who was attempting to break the world record for the longest massage on different individuals, recently collapsed.

In an Instagram post last week, the comedian, who is based in Lagos, had said he will be crying nonstop for 100 hours.
In an accompanying flier, the skit maker had claimed he had the permission of GWR to proceed with the attempt.
Backtracking, Daniel, told BBC that he experienced serious health issues.
"I had headaches, a swollen face, went partially blind for 45 minutes and has puffed eyes."
"I had to re-strategise and reduce my wailing". he added.
Daniel added that he was determined to see it through and so he is sobbing towards his target, even though he has not applied to GWR, so it won't be an official record.
Last week, GWR had issued a short statement to people attempting to break world records.
The statement followed after Danny Zara, another Cameroonian, announced her intention to set a world record for the longest-sex marathon.