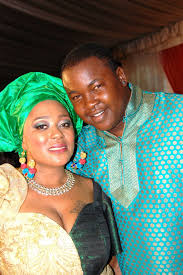 Contrary to claims in her interview with Daddy Freeze that her first marriage crashed due to domestic violence,fresh facts have emerged that it was infact Yetunde that was the violent one in the marriage and stories of her violence towards other men including Actor Baba Tee is not new and is in the public domain .It was alleged that Yetunde would bring out knives and break bottles at the slightest provocation.
According to a reliable source,Yetunde is in the habit of slapping men at will.
The source went further that Yetunde's first marriage aside from being violent crashed due to infidelity.
"It was her ex-husband who walked away from the marriage due to his discovery of Yetunde's dating an actor and other men during their marriage and this was all over the soft-sell
magazines at the time.
Our source also revealed how the mother of two also maltreated and assaulted her second husband,Actor Baba Tee.
'I know Yetunde very well.She is always the violent one and she lies a lot.She herself has written that she suffers from Biopolar before. She posted that on  Facebook before deleting the post a few days later, but she still claims to suffer from Depression.
If she kills,she might go free due to this.Her mental state might be the issue in her relationships and I think she needs to seek help.
'On one occassion,after Yetunde and Baba Tee left Lagbaja's Mothelan where they had gone for a show,an argument ensued at Baba Tee's Ikorodu home and before one could say Jack Robbison,Yetunde had broken a plate on the actor's head. It was actress, Remi Surutu that took him to a hospital in Ikorodu for treatment. She can't deny this,you can ask her,revealed the source.

On another instance,she attacked Baba Tee,breaking his head the second time. This time in her kitchen in London during an argument on either a Fathers Day or Mother's Day. They had just returned from church and had a little argument.The boy was not at fault.His clothes were soaked in blood and he had to leave,packing his clothes in a black bin bag.'
The actor we were told left for Remi Surutu 's brother Tunde's house where Remi Surutu was also staying at that time.
In a previous interview with a blog,Baba Tee disclosed how he later discovered many stories Yetunde had sold to him about her ex husband to be untrue.
Those who know this lady in person know she is not stable.'.'Obviously,she has realised her mistakes and feels ashamed.She is twisting facts to cover her shame and to win public sympathy. We all know her ex husband left her because she was cheating and even got pregnant for one of her boyfriends while married.
She was dating another actor and then dated the actor's brother as well just to spite the older one.
Our source also revealed how Yetunde disgraced and threatened to destroy a Medical Doctor in Uk,who she was introduced to many years back.The relationship didn't last due to what the Doctor called'anger management problems.
"And this is a woman going about now claiming and lying to unsuspecting women about how she became a single lady all in a bid to win sympathy to herself.Women need to be careful who they seek advice from " the source concluded.