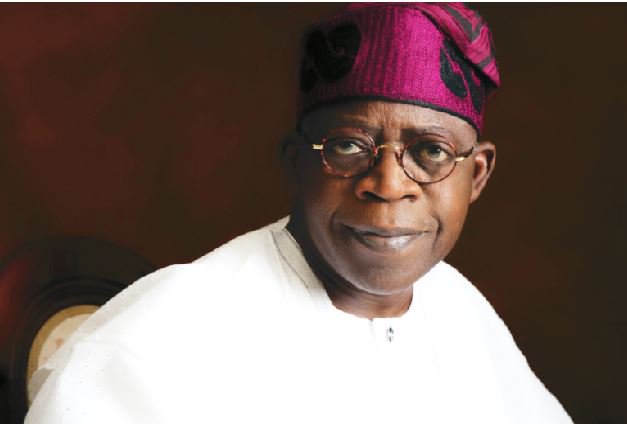 …. says Saraki sold APC mandate for pot of pottage
Former Lagos state governor and National Leader of the All Progressives Congress (APC), Asiwaju Bola Ahmed Tinubu has said that Nigerians must not allow the nation to return to part of destruction and retrogression which the People Democratic Party (PDP) led government subjected it to for 16 years but aim to move forward in building a nation that every citizen will be proud of.
Tinubu who spoke at a National, consultative forum organised by the National Committee of Buhari Support Groups in Abuja accused the Atiku Campaign Organisation and the People Democratic Party of trying to blackmail the Independent National Electoral Commission (INEC) and the Police with the accusation of plots to rig the 2019 elections because "they knew that they will not win".
Read Also:2019 poll: Why Buhari must continue, by Tinubu
He also accused Senate President, Senator Bukola Saraki of using the mandate of the APC to negotiate and give lifeline to the opposition, saying "he left the PDP, joined us, got elected, got our mandate, our majority and sold it for a pot of pottage. God is honest, Saraki is not".
The former Lagos state governor also recalled how the rigging machineries of the PDP almost denied him his re-election in 2003 when INEC published what he described as fake results of the governorship election in Lagos state on its website, saying it took the then Resident Electoral Commissioner's courage to insist that what was published was not the real results for his election to be validated.
He said: "Come February, we will re-elect Buhari. It is not easy to put together a National Committee, but we are in the same family. As free minded people, you are all free to be doing other things this morning, but you are here because you have the vision and the determination that Nigeria must continue the foundation and the progress of the future.
"Working together to re-elect Buhari is a task that must be achieved. Why are they complaining? Buhari is too busy to exchange words with them because he is building foundation of a prosperous Nigeria that will magnify the economy and provide employment for everyone regardless of the status in the society.
"A fervent man like him will not have time for the nonsense being thrown at him. I give you one message for them and there will be many such messages. Their candidate who is supposed to beat Buhari has been in our party and many other parties. He has more party members to build a house.
"All you have to do is to go out there and tell him that a house built on cards will be collapsed with a single stroke of broom. He said they are reformed, but reformed what? Reformed PDP. No. Tell them as you go out that we accept the admission of guilty that they were vagabond before and now being reformed.
"But they have not served enough probation. You can only be reformed if you are an ex-convict, a drug addict or a political prostitute. It is because Buhari has not temperament and no tolerance for corruption, he is vigorously ridding the nation of blemish and looting, a bad reputation.
"I can see them celebrating the visa. What a shame? Yet you want to lead this country with the most vibrant economy in Africa? Why should we allow them?
They ran this country from 1999 till 2015. They were planning for 60 years of doing nothing, lack of direction and concern for the citizens.
"Are we still in this nation where visionary leadership is required? If yes, then they are not competent and not qualified to be leading Nigeria again and say they want to come back to government. If they left our schools in such dilapidated condition, left out hospitals without Medicare, they don't deserve to come back.
"They say we should not talk about their past anymore because they are ashamed of it, but we cannot go without talking about it because a nation has no history if there are no reference. If you give me an application for Employment which is the application of Atiku Abubakar, I must look at what you have done before, you experience.
"We have to look at Halliburton and why they left Nigeria. Go and ask those questions. They spent 16 billion dollars of NEPA money and what they give us is darkness and when they knew that we were kicking them out, they shared the company through irregularities called privatization which I called personalization of the wealth of Nigeria.
"We won't allow that to happen again and I will recommend that we Campaign on that. We should find a way to technically dissolve those companies they shared among themselves. There is no way you can industrialize a nation without providing electricity.

"So many industries in Kaduna, Ikeja and other parts of the country. What were they doing for 16 years? That is why we believe that President Buhari is the best person to lead us and got him elected in 2015.
"They said he will die, but he did not die and is back hale and healthy and when they saw seriousness on his part, they now said he was cloned. That is because they know so much about forgery. I am glad he told them he is real. They exist to lie.
"Take their new found Jehovah Witness, former President Obasanjo. After they disgraced the office of the President, fighting in public and abusing each other, telling us how they stole money and dancing naked in the market square, Obasanjo said he has spoken to God never to allow Atiku to become President.
"Which God is he now talking to, to say Atiku should be President? I believe he is not telling the truth and not to the God we know. He is just talking to himself.
We have sacrificed too much under the PDP and we cannot go back.
"People must ask you why you belong to this support group. Tell them that you are members of a very committed rescue mission that started in 2015. I remember how things were. So, remind them of what happened because they can't shut us up.
"They had the best opportunity for prosperity, but they are now complaining. They were there for 16 years and never added one barrel capacity to the refineries in Nigeria. They didn't even pay counterpart funding for our rail, electricity and we cannot industrialist a nation without the power source.
"I stand before you as a very proud individual. When I introduced Independent power generation to fire the industries at Ikeja industrial estate, they killed it because there was bribe under the table.
"Imagine what Buhari is doing today in rail and in feeding our children which creates opportunity for the farmers, it creates small scale business for those cooking the food and a lot of people involved are doing better and we are battling poverty with the best weapon which is education.
"They are busy changing parties and that is why they are confused. Atiku is now PDP Aladdin. He is going to create 14 million jobs and I say how? They will turn Atlantic into fuel to crash the prices without the refineries working and the population is expanding and people must move around. He just talks of crashing the prices of fuel. They are lying again because a leopard cannot change its skin.
"They had 16 billion of unprecedented resources and yet, they didn't bring power to Nigeria. They invested that money in their personal industries. They bought turbines from General Electric and did it add one pipe line to bring gas to the plant.
"They can say anything now about Buhari. I agree with Okonjo Iweala that it is difficult to fight corruption. The agents of destruction are there fighting us, but we will win with strong determination.
"Don't let them sweep things under the carpet that when we came in as a government, before then they had too much resources in their hands, but Buhari funded states to pay salaries. In that period, 27 states were unable to pay salaries as at May 2015. The states and local economy would have collapsed long time ago.
"If PDP members truly love this country, those should humbly step aside and allow Buhari continue with the work of addressing the ills in our nation. However, since they seem to obstruct and remain focus as applicants, we say no job for them.
"No matter what they say, don't listen to them, don't kind them. What they want is to continue to distract with the talk of rigging because they know that they are losing. They want to blackmail INEC and the police. I remember my own election for my second term.
"On the website of INEC, they announced a funny result, but a woman of great character who was the State Resident Electoral Commissioner said no, the result she got from the field are the valid results and not the fake ones published and upheld our election. They know they cannot win.
"That is why all the noise from either Saraki, a man who used our mandate to negotiate and give lifeline to the opposition. Leadership is about character. How can he now ask us to vote for PDP. he left the PDP, joined us, got elected, got our mandate, our majority and sold it for a lot of portage. God is honest, Saraki is not.
"They talk about farmers and herders clashes. If they are honest, they should know that it also happened during their time, but they have no way of thinking; they have no capacity to convert tragedy into economic prosperity. We have the capacity in this country to do irrigation and utilize our water resources, to create pastures and ranches so that we can convert those miseries, that tragedy to opportunity for our people. Livestock is economy.
"It is not about intellectual talent alone. There are so many unrewarded talents across the world. It is about character, determination, the love of a country and our commitment to nation building. That is what PDP is opposed to and APC is determined to continue as a progressive entity and the man to lead the nation on that part is President Buhari. Tell Nigerians that after Moses crossed the Red Sea, he is not going to return to Egypt."