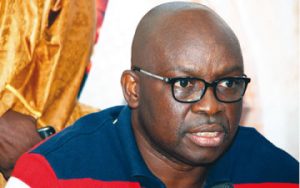 The governor of Ekiti State, Mr. Ayodele Fayose, has said he won't attend the inauguration of Dr. Kayode Fayemi on Tuesday because he has a date with the office of the Economic and Financial Crimes Commission.
The governor also advised members of the Ekiti State House of Assembly to co-operate with Fayemi and work for the interest of the state.

Fayemi had, on Wednesday, said he had invited Fayose and was expecting him to attend the swearing-in on Tuesday.
But speaking at the state press conference in Ado Ekiti on Thursday, Fayose said he might play into the hands of his enemies if he fails to report at the EFCC office.
He said, "If I should attend the programme, some politicians might use the chance to harass me, even when they are not sent by Fayemi.
"This will further destroy (our) relationship. Issues between me and Fayemi are not personal. I have been cooperating with the committee set up by Fayemi on this transition
"Again, I have to be in EFCC office in Abuja on Tuesday. But, let me say clearly that I am ready to appear before any panel set up by incoming government to probe my administration," he said.