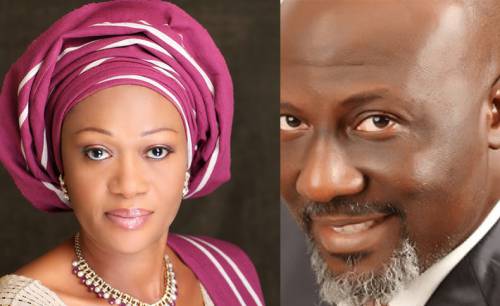 Nigeria Senate sources, speaking about the rancorous closed-door meeting yesterday have disclosed further damaging details of the outburst of Kogi State Senator Dino Melaye, including his use of the F-word on a female colleague.
Yesterday, SaharaReporters published an article on how Mr. Melaye threatened and made defamatory remarks to Senator Remi Tinubu (APC Lagos Central Senatorial District)
Mr. Melaye also threatened to kill anyone who showed up to testify against Senate President Bukola Saraki and Deputy Senate President Ike Ekweremadu in their ongoing forgery case.
Senators present during the meeting told that Mr. Melaye's meltdown was far worse than initial reports suggested. It would be recalled that SaharaReporters reported that Mr. Melaye threatened, in effect, to rape Mrs. Tinubu, saying he would beat her up and 'impregnate' her on [the floor of the Senate] "and nothing will happen."
In a related report on Wednesday, Premium Times quoted one of the Senators as confirming Mr. Melaye's full statement to be, "Look this is not Bourdillon (the Lagos residence of Mrs. Tinubu's politician husband, APC National Leader Ahmed Bola Tinubu).  I will beat you up…impregnate you and nothing will happen."
The source described the event as being one of those dirty sessions in the Senate, saying, "There [were] ramblings, uproar and profanities. It was so sad."
Our Senate sources said that Mr. Melaye let Mrs. Tinubu have the full brunt of his anger, telling her "F… you!"
Apparently then thinking about what he had just said, he added condescendingly that he would not actually do that because it would be like being with a dried-up Bonga (dry fish).  "I would rather be with a more robust and beautiful woman like Stella Oduah," Mr. Melaye assured Mrs. Tinubu.
Melaye has over time proved to have a problem with women, with his volatile marriages the source of juicy gossip in the media in recent years because of reported abuse allegations against him.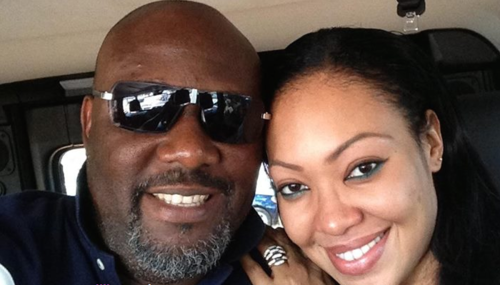 His first wife, Tokunbo Melaye, reported that he had repeatedly beaten her when she was pregnant, and later posted photos online to show the public how abusive Mr. Melaye had been to her.
He became embroiled in a messy adultery case during his marriage to Tokunbo when Nollywood actress Bisi Ibidapo Obe accused him of being responsible for her pregnancy.
On Twitter, Tokunbo accused him of lying about his relationship with the actress, stating among other choice words, "You have a Masters degree in lying, but I have a Ph.D. in detecting bullsh*t!"
In 2015, Melaye used unlawful bank accounts he opened and runs in the United States to remove a tattoo of his second wife, Alero Melaye, from his body while he was on an official trip to the United Nations with embattled Senate President Bukola Saraki.  His marriage to Alero, which was also short-lived, was similarly marred by allegations of physical abuse, and ended in 2014.
In the wake of the public humiliation following that report, as well as a series of reports questioning how Mr. Melaye is able to afford the lifestyle of a king on the salary of a public servant, he suffered another meltdown and appeared in the Senate Chambers dressed up as a Babalawo.

Earlier this year, in a contribution on the floor of the Senate concerning the need for Nigerians to patronize made-in-Nigeria goods, Mr. Melaye criticized Edo State Governor Adams Oshiomhole for "importing his wife" rather than marrying a Nigerian woman.  Mrs. Lara Oshiomhole is from Cape Verde. In response, the governor noted that it is no secret that Senator Melaye cannot maintain a decent matrimonial home, hence his ability to descend to using the hallowed chambers of the Senate "to 'cargorise' women as if they were pieces of items for purchase."
Dismissing him, Governor Oshiomhole said, "Any responsible individual that is truly worth to be called a Senator, a position that convokes respect, decorum, and decent public conduct, should know the limits of his verbal diarrhoea."
[His] outbursts have become more frequent from Mr. Melaye, who gained considerable notoriety for protesting against Mrs. Oduah following her BMW car scandal in 2014 during her tenure as Minister of Aviation.
It will be recalled that last February in Lagos, Mr. Melaye refused to answer questions concerning his August 2015 New York tattoo removal at a time he was supposed to have been at the 4th United Nations Conference of Parliamentary Heads with Senate President Bukola Saraki.  Mr. Melaye also became very hostile to SaharaReporters when asked about how he has amassed enough wealth to purchase his many cars and properties in Nigeria.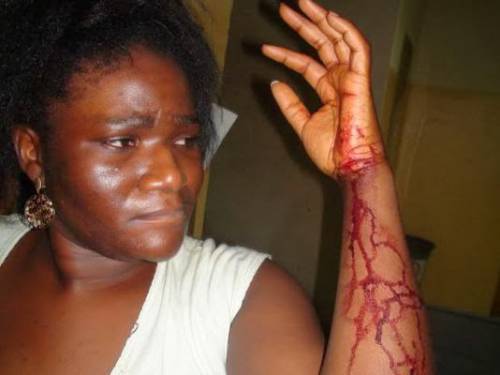 He subsequently went on to become one of the major proponents of the social media bill, which was laughed out of relevance and out of the Senate by Nigerians. Since yesterday, Mr. Melaye has attacked SaharaReporters and other platforms for reporting on his threats and vulgar comments in the Senate, but he has neither denied making the remarks nor retracted them. Nigerians have been criticizing Senator Melaye in droves.  Since yesterday, our initial report on his latest meltdown has attracted over 600 comments, over half of them in the first couple of hours.
Senator Remi Tinubu and Dino Melaye
Dino Melaye and his estranged wife Alero Falope Melaye