Telecommunications solutions provider, Globacom,unveiled another mouth- watering product tagged "Oga SIM" which offers an unprecedented 125 percent bonus on data bundle subscriptions on the network.
Globacom's Regional Chief Marketing Officer, Ashok Israni, disclosed at the product launch held at the Mike Adenuga Towers, Lagos head office of the company that "Oga SIM is the king of all products in the telecommunications industry. With the product, you do not need to look any further for value and reliability".
He enthused that the product guarantees the best value to prospective Glo Data customers. The company revealed that old data subscribers who have not utilised Glo data services in the last three months will equally enjoy the benefits. Both categories however need not do anything other than buy a data subscription of their choice.
Said Israni, "This is the best offer at the market place at this point in time in this country," Israni said, adding, "no other offer comes close. This consolidates Globacom's position as the company that gives unbeatable value to all categories of its customers".
According to him, a new subscriber who purchases N500 worth of data subscription will automatically get 1.8GB of data instead of the usual 800MB; while one who subscribes to a N1000 data package receives a 3.6GB in place of 1.6GB." N2000 gives the subscriber 8.2GB instead of 3.6GB, while N2,500 gives a whopping 12.9GB instead of 5.7GB.

He opined that the product is the biggest data offering in Nigeria and enjoined telecommunications subscribers in the country to avail themselves of the Glo "unmatchable offer" and further said that subscribers who wish to enjoy the offer should dial *777# in order to glimpse the data bundles available and choose one according to their purchasing power.
While describing "Oga SIM" as a 'must have' for everybody, he averred that the value to be derived from "Oga SIM" can be shared or gifted.
According to Israni, Globacom has invested millions of dollars into optimising and upgrading its network thereby enhancing , its capacity to provide excellent experience to consumers on the network.
The telecommunications giant is the only operator with a wholly-owned submarine cable, Glo-1, linking Europe and America to West Africa. This feat, said Israni, has enabled the company to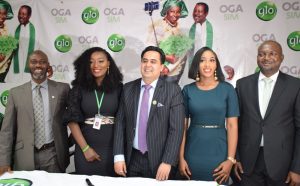 consolidate its reputation for delivering a much faster and robust connectivity for voice, data and video to subscribers in the West African sub region.