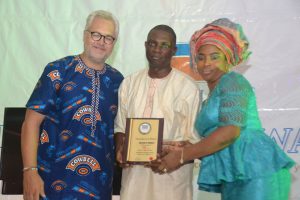 Mathematics students and their teachers exuded enthusiasm at the Port Harcourt edition of the Cowbellpedia Academy, which was held at the Rivers State capital last week.
The prime beneficiaries of the initiative, sponsored by Cowbell milk, the flagship product of Promasidor Nigeria Limited, commended the organisers for what they described as an unparalleled intervention to support Mathematics education in Nigeria.
The Cowbellpedia Academy is part of the activities to commemorate the 20th anniversary of Cowbell and Mathematics in Nigeria. It is primarily aimed at driving support and interest in Mathematics by exposing 500 students and 150 teachers across the country to various teaching and learning techniques in achieving, sustaining and managing academic feats especially in the subject.
One of the teachers at the academy, Mr. Peter Okpeleye from Deeper Life High School, Calabar, Cross River State, gave kudos to Cowbell Milk for organising such a workshop. According to him, I have learnt new Mathematical strategies that I have never come across in my life. What I got here is beyond my expectations. Cowbell milk has done well for organising this kind of workshop and I promise to impact all I learnt today on my students."

Another teacher, Olatunde Ayorinde Emmanuel from Graceland International School, Port Harcourt, Rivers State, described the Cowbellpedia Academy as interesting and an eye opener. He explained that although he was exposed to a lot of new strategies, his take away would be the tactics for allowing students discover themselves.
Chiamaka Okechukwu, a student of University of Nigeria Secondary School, Nsukka, Enugu State, said that she learnt various approaches to solving a particular Mathematical problem. I am very happy to be part of this programme. It was a rare opportunity for me and I thank Promasidor for this. I learnt a lot of things. For instance, creative thinking is what the facilitator taught very well, she recalled.
One of the facilitators, Bernardo Recaman Santos, a Mathematics lecturer from the Universidad de los Andes, Bogota, Colombia, affirmed that Mathematics is not a spectacle but something you learn. You dont teach students to obey instructions like computer but teach them to come out with the whole ideas," he counselled the participating teachers
Topics examined by the facilitators include Exploratory Mathematics, Foundation of Problem Solving, Engineering, Computer Programming and Design. Others are: Art of Problem Solving, Geometry, Number Theory, Design Thinking & Recreational Mathematics.
The Cowbellpedia Academy started with the Lagos edition and was also held in Abuja.