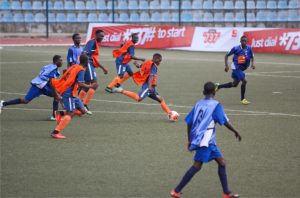 The 2018 GTBank Masters Cup went into its Quarter Final stage earlier this week. The matches which were played over two days took place at the Agege Mini Stadium on the 8th& 9th of May 2018.
Day one began with Ansar-UdDeen Girls' High School, Itire winning its match with Greensprings School, Lekki 7-0 with AleemAishat scoring a hat trick.
The second game of the day saw Queens College Yaba edge Corona School, Agbara 1-0.
The third game and first game for the boys save Kings college Lagos triumph over Chrisland School Ikeja 4-2. Kings College had led 4-0 until a late rally from Chrisland produced two goals for the scores to end 4-2.
The last game of the day was an evenly matched contest between Igbobi College Yaba and Eko Boys High School Mushin. The former equalizing towards the end of regular time to make the scores 1-1 before winning a penalty shootout 4-3.
Day 2 started with a 1-0 winforAnsar-Ud-Deen College, Isolo over Methodist Girls High School, Yaba. Soon afterwards the Atlantic Hall, Epe female team showed a lethal touch as their captain was one goal short of completing a hat-trick, though her team mate capitalised on a golden opportunity to end the game 3 – 0 in favour of the Atlantic Hall female team. Unfortunately, the male team was unable to repeat that success as they crashed out of the competition due to a late goal from the returning champions of the competition, St Finbarrs College Akoka.
The day ended with the Anwar-Ul-Islam Model College, Agege, male team, showing the crowd that they came here with championship glory in mind as they, delivered a 6-0defeatto the young men of Baptist Academy, Obanikoro.
The matches will continue as we see the male and female semifinalists square off to determine which Teams will go on to seek Masters Cup championship glory in the finals.

Tuesday 8th May, 2018 @ Agege Stadium
Time
Female Team
Ansar-UdDeen Girls' High School, Itire
7 – 0
Greensprings School, Lekki
FT
Queens College, Yaba
1 – 0
Corona School, Agbara
FT
Male Team
Chrisland Schools, Ikeja
2 – 4
King's College, Lagos
FT
Igbobi College, Yaba
1 – 1

P (4 – 3)

Eko Boys High School, Mushin
FT
Wednesday 9th May, 2018 @ Agege Stadium
Time
Female Team
Ansar-Ud-Deen College, Isolo
1 – 0
Methodist Girls High School,  Yaba
FT
Atlantic Hall, Epe
3 – 0
Federal Science And Technical College, Yaba
FT
Male Team
Atlantic Hall, Epe
0 – 1
St. Finbarr's College, Akoka
FT
Baptist Academy, Obanikoro
0 – 6
Anwar-Ul-Islam Model College,Agege
FT
Follow the facebook community '…Playing by the rules' for updates.
You can also get updates from www.gtbank.com/football and @gtbank social media handles.