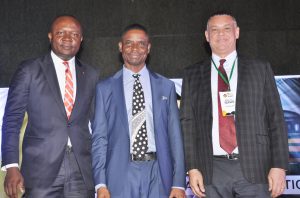 Pix 1 dsc 3459, MD/CEO, Transcorp Hotels Plc, Valentine Ozigbo; National President, (ITP/Chairman LOC, NTTS), Abiodun Odusanwwo and Gay Murray Bruce at the National Tourism Transport  Summit and Expo held in Abuja
The managing director/chief executive officer of Transcorp Hotels Plc, Mr. Valentine Ozigbo, has lamented the neglect of the Nigeria's tourism sector by governments at all levels.
Ozigbo revealed that this was demonstrated by the abysmal marketing of the sector by relevant ministries and agencies of government.
Speaking at a national tourism transport summit and expo in Abuja, yesterday, he advised the relevant ministries and agencies of government at the federal and state levels to spearhead the marketing of the tourism sector in Nigeria, saying doing so would help in leapfrogging the sector into a major revenue earner.
He said: ''If well harnessed,  the tourism sector,  with its vast potential, could displace oil as the nation's highest revenue earner.''
Ozigbo, who was a panel discussant in one of the sessions of the event on "Marketing Destinations in Nigeria: What Role for the Transportation and Tourism Sectors",  stated that everywhere in the world, governments play the critical role of enablers and marketers of the tourism sector while the private  sector  acts as the  driver.
According to him, with the kind of symbiotic relationship between the government and the private sector in the tourism business, the former should spearhead the marketing role while the latter drives the process.

He noted that the Minister of the Federal Capital Territory (FCT), Abuja, for instance was expected to be the chief marketing officer of the tourism potential in the nation's capital.
According to him, doing so would equipped the minister with the challenges in the sector and propel him to seek solutions with a view to boosting it.
He also explained that with the absence of a potent marketing of the tourism potential in the FCT, Transcorp Hotels Plc had gone out of the way to market and ensure that its customers are availed of the pleasure of visiting some tourism sites in the FCT.
"In Transcorp, we're not only serving our customers, but selling the city. We've been putting together tourism destinations.  Our job will be made easier when the government plays their role," he said.
He also recalled the strides of a former governor of Cross River State, Mr. Donald Duke in marketing the tourism potential of that state, which eventually etched the Obudu Resort and other sites in the state on the global map.
Pix tourism 1 shows, L-r,  Director, National Council for Arts and Culture (NCAC),  Sam Agbi, representing the DG, (NCAC) Otunba Runsewe;  DG/CEO, National  Institute of Hospitality and Tourism (NIHOTOUR) Mrs Chika Balogun and MD/CEO, Transcorp Hotel Plc, Valentine Ozigbo at the National Tourism Transport Summit and Expo yesterday in Abuja.