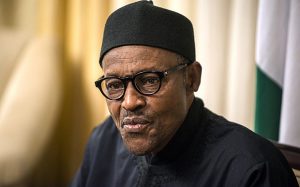 President Muhammad Buhari on Monday told stakeholders in Makurdi that he did not know that the Inspector General of Police, Ibrahim Idris, flouted his express directive to relocate to Benue State during the crisis in which scores of people were killed.
In the wake of the killings in January, president Buhari had ordered  Idris to relocate to the state but the IG only spent one day and left.
Buhari, who paid official visit to Benue State on Monday, said he did the needful by ordering the IG to relocate to the state but added, "I did not know that IG did not stay in the state."
He insisted that the relationship between farmers and herdsmen would continue, hence, the need for people of the state to learn to live with peacefully.

Buhari also denounced the insinuations that he abandoned the people of the state in their trying moments, saying, "I have friends here in the state, there is no way I can deliberately overlook what is happening here and other parts of the country."
"Let me appeal to our people in the state to apply more restraint, the relationship between farmers and herders will continue, it behoves on us to keep encouraging ourselves to continue to live together peacefully," the President counselled.
He noted that despite the situation in which the country has found itself, some Nigerians are not sympathetic with government.
He recalled that because of the general situation of the country before he came to office, "security, economy and corruption were the bases of our campaigns."
While saying that he had taken note of all what the stakeholders said,Buhari said he would not make any promise until next time he visits the state.
Earlier, Governor Samuel Ortom had told the President that the state had lost many lives after the mass burial of 73 victims of New Year attack.
He said, "65 more people have been killed after the mass burial of 73 persons, also 26 more were killed in Okpokwu, with over 5,000 displaced in Mbatoho community.