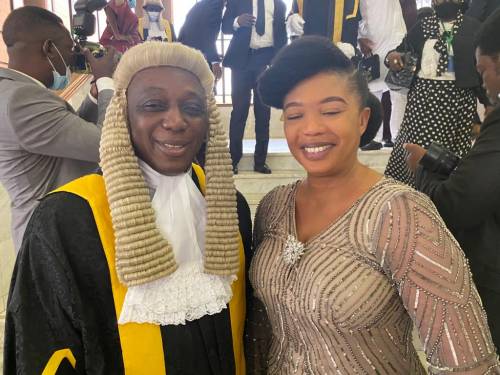 Claims by immediate past Delta State's Attorney-General and Commissioner for Justice, Peter Mrakpor, that he divorced his estranged wife, Joan Onyeamachi Mrakpor in July 2020 due to what he described as "Irreconcilable behavioural patterns" are not true, according to findings by our correspondent.
Investigation showed that the ex-Attorney General on December, 14, 2020, went with his wife, Joan, and were pictured rejoicing together, during his conferment with the rank of a Senior Advocate of Nigeria (SAN), in Abuja, the nation's capital.
Newthumb had on Tuesday reported that Mrakpor, confirming the divorce in statement signed by Akpovoke Otiti, his Media Assistant, had stated that his marriage with his estranged wife, Joan broke down in July 2020.

Sources had revealed that the couple's breakup was connected to the 2023 governorship election where the past Attorney-General who hails from Delta Central senatorial district of the state was said to be eyeing the governor's seat while his estranged wife who hails from Delta North senatorial district was interested in becoming the deputy governor.
Joan Onyeamachi Mrakpor, a former Delta State house of Assembly and former House of Representatives member and the ex-Attorney General, Peter Mrakpor, had legalised their marriage in 2010.
Also, several group photographs of the investiture of Mrakpor as SAN in December, 14, 2020 in Abuja, obtained by  Newsthumb showed that Mrakpor adorned in his SAN dress after his investiture event and was flanked by his estranged wife who he claimed to have divorced since July 2020.
It was also revealed that, the estranged wife, who is the current Director General, (DG), Delta State Capital Territory Development Agency, accompanied the ex-Attorney General to his SAN investiture in December 2020 in Abuja and also featured prominently at Mrakpor's reception shortly after his SAN conferment ceremony.

Mrakpor's divorce plan stirs anger among Delta's political cclas
The decision by the former Attorney General of Delta State, Mr. Peter Mrakpor (SAN), to name "disgruntled politicians" in his press statement announcing his divorce from his wife has stirred the political class in the state.
In a press release issued on Monday, August 9, 2021 announcing his decision to end his marriage, the former Attorney General had referenced what he said is the rumour that a woman was pregnant with his baby.
Mrakpor said the "allegation is totally false and satanic agenda to destroy his hard-earned reputation as no person is pregnant for him or has a child for him as falsely alleged by a desperate group of disgruntled politicians and enemies".
Although political leaders in the state have elected not to speak on Mrakpor's allegation, some have expressed anger.
However, a politician who preferred not to be named said while the former Attorney General's wife seemed to have been silent on the press release, those he called "disgruntled politicians" may have taken exception to his allegation.
He said that they know the person Mrakpor referred to as "disgruntled politicians," a man who, according to him, has made his name in politics, governance and business.
"It is funny that Peter Mrakpor talks of his 'hard earned reputation'. While the wife may ignore the statement because most female politicians prefer position and fame to what marriage has to offer, those of us who knew Peter a long time ago after spending wasteful years in Lagos will want to ask him which reputation was hard earned. Was it the reputation from taking the woman of his benefactor in Lagos which led to his first marriage that ended empty"?
The politician who was visibly angry disclosed that the former Attorney General's benefactor "who he took his woman and married laid a curse on him and he returned empty to Delta the way he left."
"It was on his return from his failed Lagos sojourn after dissolving his first marriage that he married a politician who maybe was also desperate to marry that she failed to ask questions about who really is Peter Mrakpor. The same Mrakpor who did not know the efforts of the leaders in his local government area to keep the PDP [Peoples Democratic Party], on being nominated a commissioner by his wife, Hon. Joan Mrakpor, destroyed the political unity and leadership of his local government area to the present disjointed piece that it is today, causing those he met to leave for other parties.
"How can he complain about 'disgruntled politicians' and hard earned reputation? Is it the reputation of victimizing female staff who refused to warm his bed and appearing every day at the judicial committee over sexual abuse on female staff even few weeks ago in Abuja?"
Still in a rage, the political leader boasted that since the former Attorney General has called them disgruntled, they are going to "make the world see the deceit in his character and personality."
The politician said that to show how inconsistent, deceitful and confused Mrakpor is, he showed pictures from his SAN investiture inside the Supreme Court in December 2020 as uploaded by the media, including the correspondents from Delta State that covered the event and it was relayed on news on the same marriage he claimed ended in July 2020.
"So why did he showcase the woman that he claimed in his press release to have ended marriage with six months later? Is it because of the so many petitions against him as at that time for his dubious activities? Did he need to paint the picture of what he is not?"
Who really is Peter Mrakpor? Time will tell.