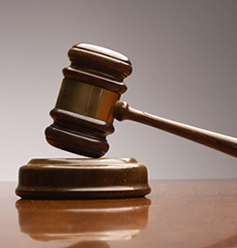 An Agege Customary Court, Lagos, on Thursday dissolved the 11-year-marriage between a civil servant, Adeola Ajulo, 45 and his wife, Isiwat, over incompatibility.
The President of the court, Mrs Ibironke Elabor said she observed that the estranged couple was tired of the marriage as all efforts to reconcile them failed.
"Since both parties consented to the dissolution of the marriage, this court has no choice but to dissolve the marriage.
"The court pronounced the marriage between Mr. Adeola Ajulo and Mrs. Isiwat Ajulo dissolved today, both parties henceforth ceased to be husband and wife.
She gave the custody of the children to the respondent and instructed the petitioner to pay N30, 000 monthly for their upkeep, education and other bills.
"Both parties are free to go their separate ways without any hindrances and molestation," she said.
Earlier, Adeola told the court that he was fed up with his wife's bad character.
"My wife is adulterous, not trustworthy, and troublesome. She also steals my money.
"She failed to tell me that she had had a child before we got married.

"She lied to me that the child was her elder sister's, I later discovered that she was hers," he said.
The petitioner told the court that his wife did not care about him and she was non-charlatan about the welfare of their three children.
"I want peace, l do not want any problems in my life, the court should end our marriage as I am no longer in love with her,'' he said.
In her response, Isiwat, 38, a food vendor, said she was in support of the divorce because her husband was a violent and fetish man.
"My husband is diabolical and fetish, he always comes home with charms which he sprinkles around the house and my fear is that he may kill me one day if I do not end the marriage."
Isiwat said she had to move out of their matrimonial home without his consent because he turned her into a punching bag.
"My husband beats me all the time, even in front of our children and neighbours.
"As a result of the frequent beating, sometimes in May 2017, I packed my belongings from his house and moved to my church with the children."
She said her husband was as an irresponsible man and ungrateful.
"I have been responsible for our children's upkeep and I am the one who pays their school fees.
"My husband is violent and l can no longer bear the pains; l do not want to lose my life.
"I pray the court to separate us so that I can live comfortably with my children," she said.