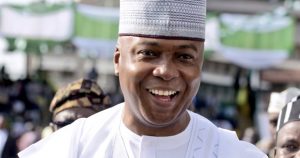 Presidential aspirant, Bukola Saraki, on Wednesday said that Nigeria needs a "digital" President that is abreast with the new world social order.

Saraki, who visited Governor Ben Ayade of Cross River State Wednesday to seek support for his presidential ambition, said Nigeria desires a dynamic leadership that is private sector inclusive.
"I am in Cross River to solicit delegates' support in the forthcoming presidential primaries of the People's Democratic Party (PDP). I have the intellectual ability and capacity to rule Nigeria and that is why I am soliciting the support of all Nigeria to achieve this aim," he said
Governor Ben Ayade commended Saraki for coming out to seek for the office of the President, adding that he has the capacity to lead Nigeria to a greater heights.
He raised alarm over the increasing number of Cameroonian refugees into the state due to the current crisis in Cameroon over the demand for Ambazonia Republic.
Ayade told Saraki that Cross River was currently facing security challenges with the discovery of 27 illegal routes used by the Cameroonians to gain access into the state.