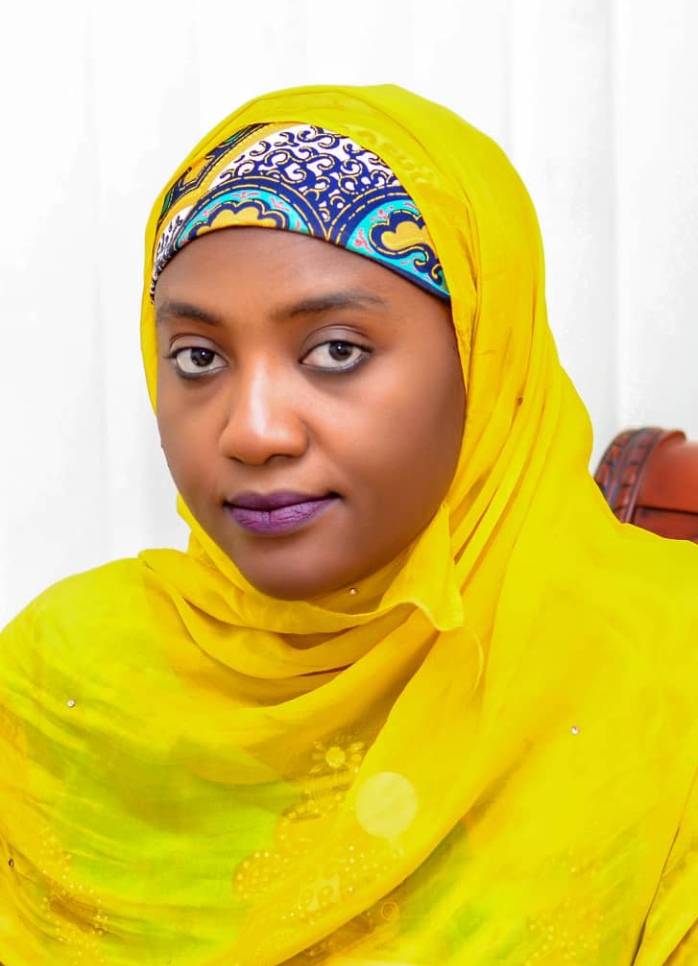 Sa'adatu Aliyu is the MD/CEO of Rural Homes Limited and a
Chemical Engineer by profession.She is a holder of a Bachelors of Science Degree in Chemical Engineering from the Technical University of Budapest of Technology & Science, Budapest Hungary including a MSc. in Food Production & Management from the University of Nottingham, England.
She has added an invaluable dimension to the company both in managerial and the technical part of the daily operations of RuralHomes.
She is a recipient of awards including: Certificate of Merit, Charity Community Development Services, 8th October 2010, FCT/Abuja, Nigeria- In honour and recognition of 'immeasurable services, outstanding achievement, commitment and laudable contribution towards humanity'/ received because of funds raised for aiding in completion of building a primary school in one of the villages of the FCT, Nigeria. nd ž Second (2 ) Place Award for Kerry Prize best Product development Project (England) – Post Graduate Category.
She not only runs this esteemed company but contributes to the development of her community and country likewise. She fund raises monthly for women and children in Funtua town, Katsina, Nigeria who are widowed and orphaned that have nothing to live on.
Our Sa'adatu Aliyu also belongs to Smile Foundation, a non-profit, non-governmental organisation that raises funds and supports orphanages in Nigeria.
She brings in a fresh, unique, practical but innovative style of management that is tailor perfect to change the face of operations and project delivery in the Nigerian construction sector.
In his interview with NewsThumb Publisher/Editor-In-Chief, SOTAYO OLAYINKA a couple of days back in her office, Abuja. She spoke on a numbers of issues concerning Rural Homes Ltd and Karmo District Market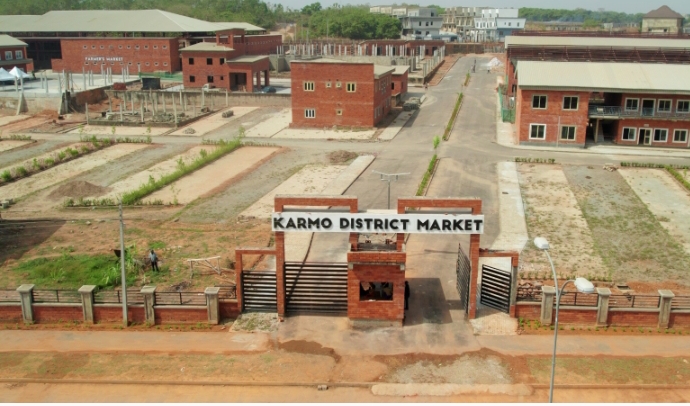 Can you share more about yourself concerning being the MD of this organization?
Rural Homes Ltd is a construction company, we've been in existence for over 15 years doing some minor projects until we started our main project. The company started properly from 2016 when I was made the MD from the get go. Rural Homes does commercial properties as well as low cost housing.
What is the motive behind the expansion of the business and company as a whole?
Let me explain a bit on Karmo District Market, our project. KDM is a partnership between us, Rural homes and Abuja Investment Company Ltd (AIC). We started the project with the intention of bringing a modern market in place so that coming to trade will not be a chore especially for the average Nigerian. This market has over 3000 stalls and shopping units. It's on 10 hectares of land, and we have different shop sizes ranging from 4 square meters all the way to 100 square meter houses. So, we've built this market with the intention of satisfying what traders as well as customers will come to do in a marketplace. We've looked at the needs of each stakeholder in the market and we've taken care of it comfortably. We created this market to also satisfy the different zones, we have the farmers market where you can get fresh produce, staples et cetera. We also have the meat section, cold room section, all separate. This is to create a means to make it easier for every individual. So, if you want something you know where exactly to go to. Our warehouses were also built to standards. If you're a big wholesaler, standard warehouses have been provided, 100 square meters and 200 square meters with a minimum height of 12 meters. The volume is substantial to provide for every need of the dealer, most of which have been subscribed. I don't think we have any more of that left. We have 9 square meters shops, we call them the standard unit, we have 18 square meters shops, we also have 36 and 60 square meters. We also have the textile space which we call the textile market and so on and so forth. The market is set to start what we call soft operations on the 23rd of September, 2023. This is to encourage trade to start within the market before we do an official opening in a few months time after we finish up the few sections that we have to complete. This market in Karmo district is the only structured market that is set to trade here. The infrastructures here are standard, there is stable electricity and water here in Karmo. So, I believe there wouldn't be any issues on that end. We also made provisions for parking space because we know the importance of parking space in a commercial place so if you look at our market you'd see that there is ample parking space for people to come in and go out comfortably. And we hope that this goes on to be a market that will leave a legacy, not only to Karimo district but to the entire FCT. And I hope that we will see a remodeling of our market in several states because of how we took our time to plan this market. We hope that this will be the benchmark for the Nigerian trading areas.

What is the provision for security and safety in case of fire and robbery incidents, God forbids?
All over the market there is fire hydrants. We also have a dedicated fire service in the market. There is also a police station inside the market.We also have a clinic inside the market. So, the social amenities have been taken care of. These fire hydrants together with the fire service will hopefully mitigate a catastrophe if at all in the future there is one. Building the shops in the market, Red bricks were used, this is to try to create a cozy environment in the market even on hot summer days. There is also something special about the red bricks as well, they're fire resistant. So, if at all there is a fire outbreak, the material itself will control the spread while there are other solutions around the market. This is a serviced market, there is also a facilities management, under that we have the security outfit and the facility that takes care of the internal debris. That is waste management and so on. Then, the facility management is there in the market for as long as the market is open. So, security is well taken care of. We also have a perimeter fencing with protections on the fencing. At night we have the vigilantes so the traders can have peace of mind that their goods are very well protected. Generally, the lighting here is very excellent, but we have also provided solar panels for the street lights so that once there's any outage, the market is still lit up. The proximity of this market to Ido industrial area is a plus for the traders and consumers, the proximity of this market to the railway station is a plus. One of the advantages of shop and warehouse owners here is that the cost of transportation is reduced by the time goods are collected from the railway and brought to the market. So, all that have been taken care of and this is a fantastic market for families to come, and we do hope to see a lot of people on the 23rd of September 2023.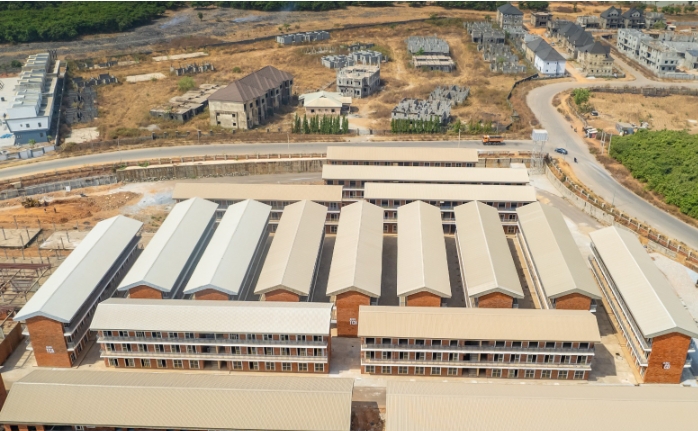 So for those interested in getting shops in the market, what are the procedures they need to follow?
We have our marketing line that I'll advise people to quickly call in because the shops are selling out fast. And the marketing line is 09093419999, call into this number to make enquiries on what is currently available in the market, you can also go through our Facebook page (rural homes limited) our Instagram page (@ruralhomeslimited) and our twitter also to chat up our digital marketers who are always available. You also can check our website ruralhomes.com.ng for what is available, the prices and so on. There are also opportunities for rentals, all these information will be provided when you call in and reach us. For the time being, entry into the market is free so we urge everybody to come in and visit us.
Are there also provisions to pay in installments?
Yes. In fact, we've been selling for quite some time now and a lot of them enjoy the advantage of paying in installments. So we have installmental payments available. The opportunity is there.
When marketers wants to make payments, what bank have you people collaborated with to facilitate this?
You can make payment to us through most of the major banks. Our main banks are Taj bank, Fidelity bank and Zenith bank. Those are the three main banks we operate with.
What is your advice for people around here that are looking for where to get their goods when this market takes off
They don't even have to look for where to get their goods, all they need to do is come to Karmo district, they will find whatever they are looking for here. In fact it's safe to say I envy those who live around this area because they will enjoy more of what this market has to offer. We are quite confident that there is nothing they won't find here.
You know this is s cashless generation, have any provisions been made to help in this in terms of ATM and so on.
In fact we have spaces dedicated for POS traders, each section will have a designated POS dealer. We also have a dedicated banking space in the market about two or three of that. So, we do hope that the banks will come up and take up those spaces and quickly set up shops to start trading with the traders who are going to occupy these spaces. Our main banks which is Taj bank, Fidelity bank and Zenith banks have already shown interest in this aspect. They have been with us from the start and they have been greatly helpful to us in the success of our company and this project in particular.
Lastly, what should people expect from Karmo District Market?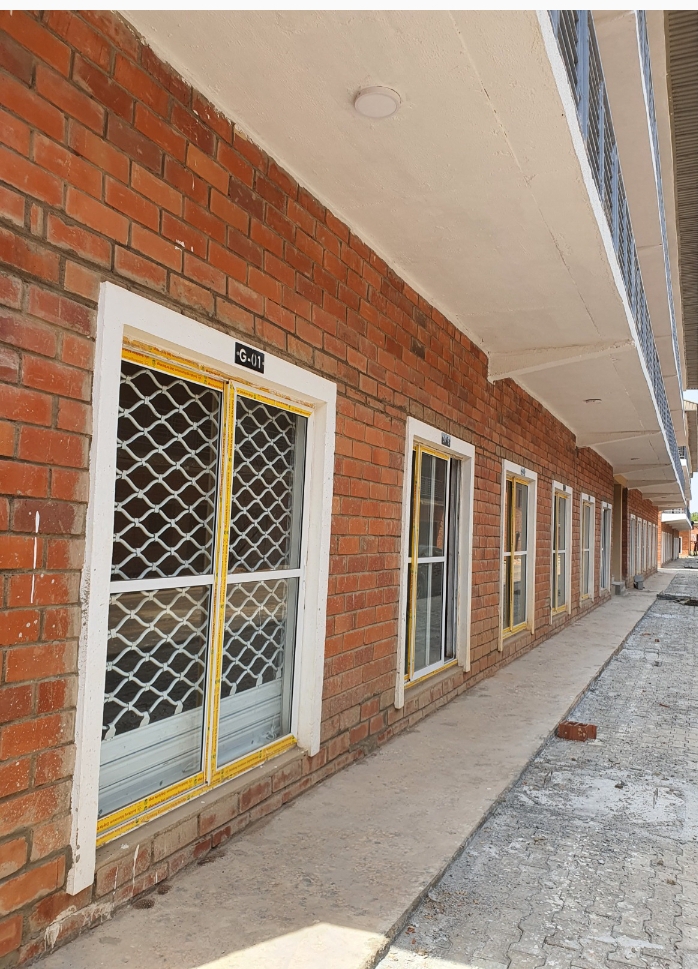 I implore citizens of the FCT to come and see this marvel that has been built. I'll advise that we are engaged for further building of more commercial areas because we are specialized in this kind of real estate development. I do hope that this market will become the best market not only in the FCT, but in Nigeria as a whole. Thank you very much.