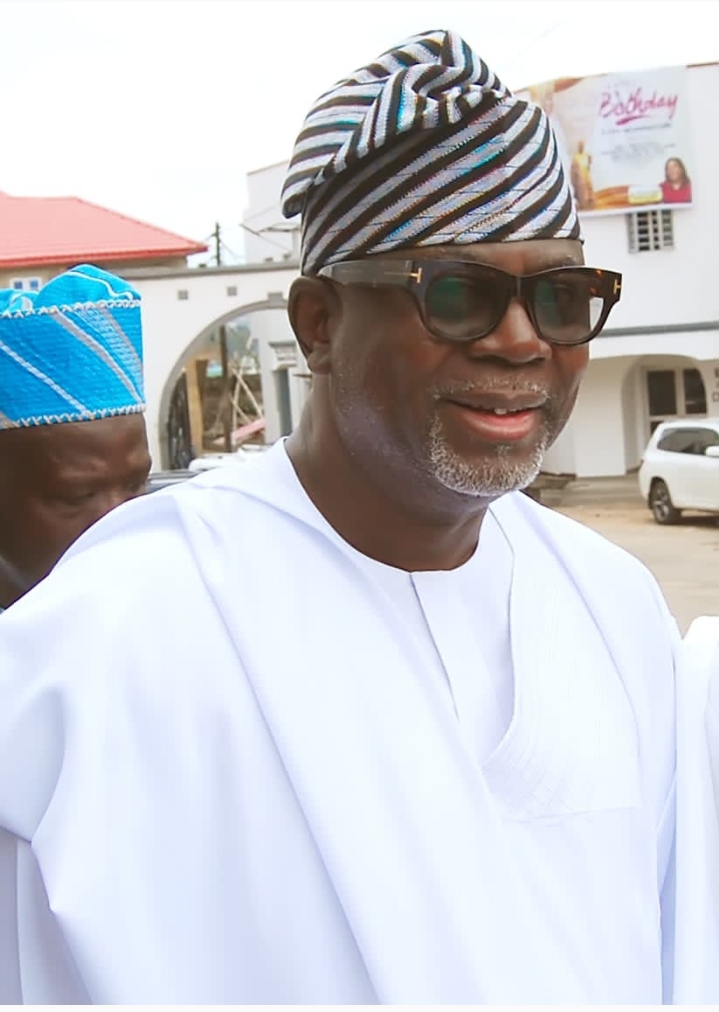 Otunba .Wale Abdul Bello is from Ikirun, Osun state but based in Abuja. He returned from the UK and has been in Nigeria since 1990, following his successful stay in the queen's land for several years. And he has since embarked in politics and business activities. The Ikirun, Osun born politician is also an ambassador of a popular global association, Future Trend Group which is responsible for projecting the image of African countries, especially in the area of their economic viability and capacity development to the outside world.
In this interview with NewsThumb magazine a couple of days back in Abuja, the astute politician cum technocrat spoke on a number of issues, including his belief in President Bola Ahmed Tinubu in his bid to turn around the fortunes of Nigeria for the betterment of all and sundry.
Can you just let us know your background, where you come from and all that? Also, how long you have been in Abuja, what you specialize in and how long you've been in politics?
Politics is part of me. So, I can't really say precisely how long I've been into politics, I can't figure that out. Also, there's a group called Future Trend Group that cuts across 50+ countries, whatever China is today, it's the work of this group and I am the ambassador at large for the group all over Africa and some other foreign countries.
Can you tell us how long this group has been existing?
It's been ages, about 30-35 years
What are the aims and objectives of this organization?
The aim and objective is simply to make Africa to be the best and to show that we shouldn't be borrowing money from the western world. Instead, they should be the ones borrowing from us. And all over like Zimbabwe, Madagascar and even Ghana, their presidents visited the president of the Future Trade Group in Dubai. The president is also well connected to Nigeria. He is well known by the president, he hasn't met the president yet though but he met with the vice president and they're all rooting for him to come back to meet with the National Assembly to tell them what Africa stands for. And also I can send some documents and photos to you of the future trade so you can also see yourself. They are ready to make Africa great.
We know you have been in Abuja for a long time and we know your contributions during the military era, now that we're in a democratic regime, we heard that you are very close to Mr President, Asiwaju Bola Ahmed Tinubu, and it's been 100 days he's been in office. Can you just tell us one or two things that you know about him and what you expect from him?
Yes, Asiwaju is a different person, I told our people, during the election that the man was going to be the next president because the man was the last man standing, because if you look at everybody being who they are, when they get the money none of them can give it out to the people who need it but Asiwaju will always assist without knowing who you are. He will give you the money, he will tell you to go ahead and do whatever you want to do. He's not a fool, but he just wants everybody to develop and to grow. This is a gentleman that is ready to support everybody. And when he said "emi lo kan" he's right, it's his turn. He has helped a lot of people across the country. He's a fighter, that's why I believe in him.
Do you believe he still has the capacity to turn things around??
He is a goal getter, I believe he will do his best and turn things around for the country, I really believe in that.
Recently, President Tinubu announced his cabinet, what do you expect from these people in terms of performance?

They're going to perform. I believe in Asiwaju's decision making so when he puts you in charge of anything he has seen your potentials and everybody knows the man so they can't joke with that opportunity because if they do they'll be kicked out. That's is why I believe they would perform.
We can see that you always have people around you, how do you feel about this?
Well, I'm used to it. It's always been like that. It's's not because I'm looking good and all of that that you see people around me, it's because I'm just a free person and I give out. I try to support people. I just want everybody to feel good the way I feel too.
Can you tell us about your background?
I have six children from 4 women, Igbo, Yoruba, Hausa. My dad died long ago. Also, I politician, I still have my mum with me, I travelled to London in 1985, I have my children in England. I came back in 1990 and since 1990 I've not stepped out of this country apart from some African countries like Ghana, Senegal, Cotonou. Former president of Cotonou happens to be a good friend of mine. That's all I can give about my background.
With your busy schedules, and always having people around you. How do you get time to relax and enjoy yourself?
I create time for myself, and seeing people is also part of my enjoyment. I enjoy having people all around me. I'm a very jolly fellow, I'm always very happy about it. Seeing people around gives me joy. It's part of it, and that's me.
As an experienced person, what is your advice for Mr President, because we know when one enters office he gets surrounded by a lot of people with different opinions?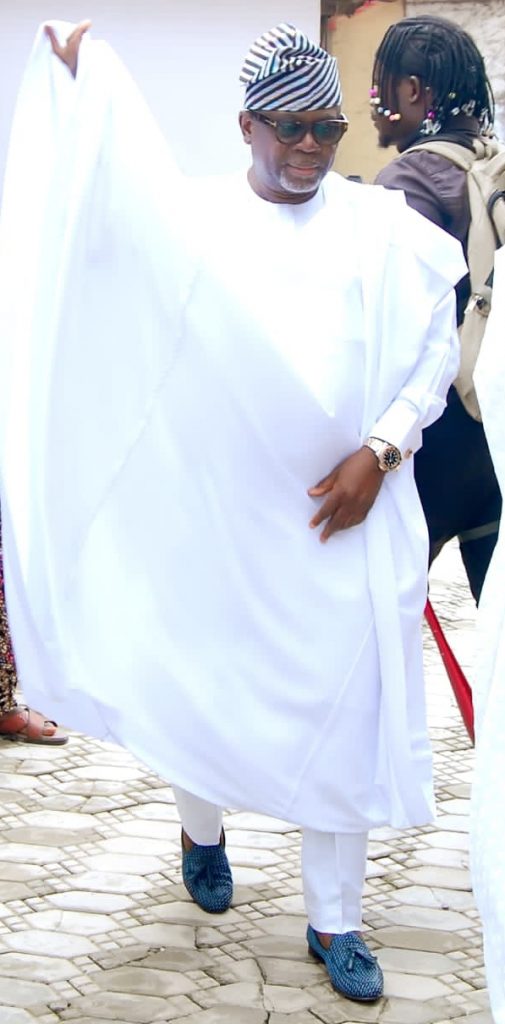 It is not his first time, he has been surrounded by a lot of people, good and bad. The man is still the same man, they can't convince him not to do good and nobody can't change him. He will still do what he thinks is best, he is still the same person. So, he can never go wrong. I can assure you of that, 100%. That's the man we need for Nigeria to develop and I'm telling you today that Nigeria is going to be what China is today in the whole world because my president Farzam Kamabaladi is bringing the same system he used in China, and Nigeria is going to be the first country that he uses in that step. So, I'm sure Nigeria is going to be great.
We know how confident you are in Asiwaju and how highly you speak of him. What is your advice for Nigerians because we know that the expectations are high?
Nigerians, we believe in fake stories and a lot of people don't think before they talk, Asiwaju is this and that whereas that's not what it is. So, the best for everybody is to pray for this man that he loves to do what God sent him to do. Nigerians should be patient with him because he is driving Nigeria towards becoming one of the greatest countries in the world. Nigerians should be patient. They're going to get the best of him.
Lastly sir, the Presidential Election Petition Tribunal just gave the judgment and you know some Nigerians, they're not ready to accept defeat. Most of them said they're still going to the Supreme Court, what do you have to say about this?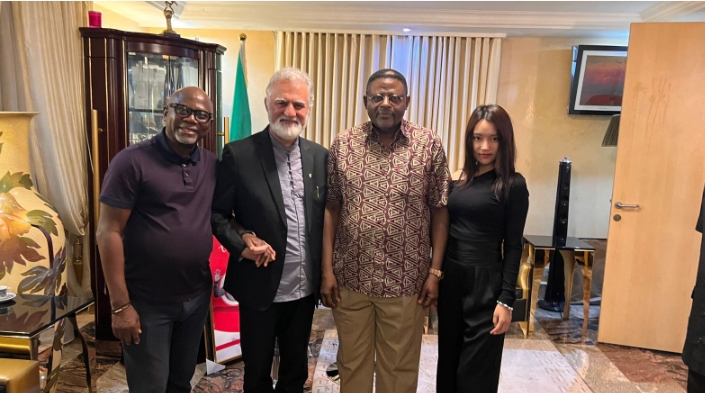 I wish them luck, they should go. It's part of democracy, but they will still lose out there.