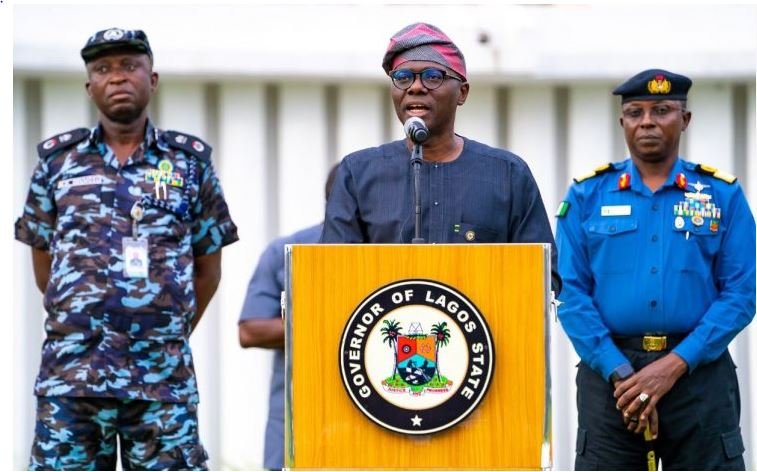 It is over two years that a successful banker and seasoned administrator, Mr. Babajide Sanwo-Olu took over mantle of leadership as the 15th Governor of Lagos State. Sanwo-Olu, who was once a three-time commissioner and Managing Director/CEO of the Lagos State Development and Property Corporation (LSDPC), took the oath of office along with his deputy, Dr. Obafemi Hamzat on May 29, 2019.
Governor Sanwo-Olu, in his inauguration speech, spoke passionately on his plans for Lagos State, especially his dream of a 'Greater Lagos,' anchored by a six-pillar THEMES developmental agenda.
Governor Sanwo-Olu is passionate about Lagos and his vision for the Centre of Excellence has made him to deliver good governance and dividends of democracy to millions of Lagosians within his 834 days in office. With massive support and cooperation from his deputy, Dr. Hamzat and other members of the State Executive Council as well as major stakeholders in Lagos State, Governor Sanwo-Olu has taken Lagos to a greater height.
Governor Sanwo-Olu has shown leadership in managing the affairs of Lagos State and protecting the citizens of the state, especially during the COVID-19 pandemic. Since Lagos became the epicenter of the pandemic in Nigeria in February 2020, the governor has been up to the task assuming the position of Incident Commander and ensuring that the pandemic is well managed in Lagos State and today, Nigerians have a relief from the deadly virus as infections rate has reduced drastically going by daily account of the Nigeria Centre for Disease Control (NCDC).
Apart from COVID-19 pandemic, Lagos was also hit last year by massive destruction of properties worth billions of naira destroyed during last year's #EndSARS protests hijacked by hoodlums. Despite these challenges, Governor Sanwo-Olu took the bull by the horn to put Lagos on the path of success through the Lagos Rebuild initiative.
Governor Sanwo-Olu, who seems to be very conscious of the number of days and years he is constitutionally allowed to spend in office as a democratically elected Chief Executive of the Centre of Excellence, believes that his mid-term in office must be marked with visible and iconic projects that will cut across all the sectors itemised in the THEMES' developmental agenda, despite the negative impact of the global COVID-19 pandemic and the #EndSARS protest that almost grounded Lagos as a results of hoodlums hijacking peaceful agitations by Nigerian youths.
Speaking at the "2021 State of the State Address" held at the Lagos House, Ikeja on Thursday May 27 in commemoration of his second year in office, which was attended by his deputy, Dr. Obafemi Hamzat, members of his cabinet, traditional rulers, political gladiators, captains of industries and media executives, among others, Governor Sanwo-Olu said the Greater Lagos collectively envisioned by Lagosians is closer now than ever before.
Traffic Management and Transportation
The Babajide Sanwo-Olu administration has developed a reliable intermodal system of transportation by investing heavily in waterways and light rail transportation system as well as road transportation to make life easy for Lagosians.
The State Government has reduced traffic congestion in different parts of Lagos by resolving key gridlock points, maintenance of road infrastructures, decongestion of traffic by connecting more communities with new link roads and bridges, provision of intelligent transport systems to optimise the transport network and completion of ongoing strategic transport projects in rail, water and road. The administration has developed Lagos Bus Reform Initiative, which is designed to provide comfortable and reliable bus service for commuters. Governor Sanwo-Olu, few months ago commissioned 500 First and Last Mile Buses to ease transportation system in Lagos. The incumbent administration also has a success story in the water transportation.
In works and infrastructure, the Babajide Sanwo-Olu administration within two years delivered 51 iconic projects in Lagos State. Among the iconic projects are Pen-Cinema fly over, ramp and road networks at Lagos-Ogun boundary and other parts of the State. The administration also constructed and rehabilitated 301 inner roads in the 20 Local Government Areas and 37 Local Council Development Areas (LCDAs). It also commissioned the Oshodi-Abule Egba BRT lane and rolled out hundreds of buses plying different routes in Lagos State.
Health and Environment
Babajide Sanwo-Olu's administration has also made significant impact in touching the lives of millions of Lagosians in the areas of health and environment, which is the second pillar of the THEMES developmental agenda. The incumbent government in the last two years, believes that nothing should be spared to give Lagosians quality health care. It has made a lot of intervention in the health sector for Lagos residents to feel the presence of the government, especially during the COVID-19 pandemic.
The proactive and efficient management of the COVID-19 pandemic by Lagos State Government has been adjudged as the most significant achievement of the Health and Environment pillar of the THEMES development agenda. 
The State has also witnessed improved capacity and capability in area of infrastructure and personnel. Aside from the comprehensive renovation of medical facilities at Ebute-Metta Health Centre, Harvey Road Health Centre, General Hospitals at Odan, Isolo and Ketu-Ejinrin, the State has also developed new facilities, such as the New Massey Children Hospital, New General Hospital in Ojo, and a Rehabilitation and Mental Health facility in Ketu Ejinrin.
The State Government is also building a 300-bed Isolation Centre and a Research Institute at IDH, Yaba. The administration recently commissioned three Oxygen Plants and new Doctors' Quarters built at Gbagada and Isolo. The administration has also improved maternal and child health care in Lagos State, with the inauguration of the Mother and Child Centres (MCCs) in Eti-Osa, Igando, Badagry and Epe.
In the Environment, the Babajide Sanwo-Olu administration within two years in office has invested significantly in the waste collection capacity of LAWMA. It has also increased the capacity of PSP operators from 320 compactor-trips to 720 compactor-trips daily, and commissioned a mini-effluent treatment plant to determine waste toxicity before release into the atmosphere. The administration has also made significant improvement in Drainage management and maintenance.
Education and Technology
Education and Technology is the third pillar in the THEMES Agenda of the Babajide Sanwo-Olu administration and since his assumption in office on May 29, 2019, Governor Sanwo-Olu has never paid lip service to education in the State.
The incumbent administration has completed more than 1,097 school projects in just two years. It built six Secondary Schools, provided over 100,000 tables and chairs, built 450 classrooms and provided 2,000 hostel beds in model schools. It also introduced EKO EXCEL – an education reform programme targeted at developing highly skilled teachers through training, support and motivation. The EKO EXCEL initiative has reached about 1,009 schools, 13,000 teachers and 450,000 pupils.
Since the inception of the administration, over 2,000 teachers have been recruited for public secondary schools. It has also stretched the opportunity for continuous learning with the establishment of additional 21 Adult Literacy Centres, which took the number of such centres in Lagos State to 1,284.
It is also worthy of note that the global ranking of Lagos State University (LASU), the state-owned tertiary institution has gone up. It is a reflection of the level and quality of support provided to tertiary institutions in Lagos State by the incumbent administration. LASU moved to prominence, and occupies a regal position in the hierarchy of universities in Nigeria. Like LASU, other Lagos State-owned institutions have received both ample materials and financial support that have adequately strengthened their operations and boosted their competitiveness internationally. The administration has also concluded plans to upgrade Lagos State Polytechnic (LASPOTECH) and Lagos State College of Education (LACOED) to Universities.

As a State that caters for its students, Lagos State Government paid a total sum of N218, 795,000 million as bursary awards to 6,411 students of the state's origin in various higher institutions of learning to support their education. The government also provided sum of N217, 732,955.44 million as scholarship awards to a total number of 981 beneficiaries.
The popular narrative that teachers' rewards are in heaven is changing gradually with Lagos State Governor, Mr. Babajide Sanwo-Olu, as he preaches that teachers' reward should no longer be in heaven but on earth. He believes that teachers should reap the reward of their labour while on earth and not after death. This new belief made Governor Sanwo-Olu present handsome rewards to teachers adjudged to have made quality impacts in Lagos State's teaching service. Setting new records of reward for teachers in the State, Governor Sanwo-Olu few months ago presented three-bedroom and two-bedroom flats to two teachers and also rewarded 13 teachers and school administrators with a brand new cars each at the Year 2020 Teachers' Merit Award organised by the Ministry of Education for making quality impacts in the State's teaching service.
Lagos State Government under Governor Babajide Sanwo-Olu is standing up to the call to implant technology at the heart of everything in Lagos. The vision of becoming #DigitalLagos or a smart city of relevance, has started to crystallise with the laying of 3,000km fibre across the State. The administration has covered 1,800km, which has provided connection to 100 schools and 12 hospitals.
Riding on the Fibre infrastructure is the Smart City Project, which will enhance traffic management and security, with the planned installation of about 2,000 cameras at strategic locations. The test-run has begun, with the installation of about 150 smart cameras on the streets.
As part of the measures put in place for formal and informal education, the Ministry of Women Affairs and Poverty Alleviation through the Women Affairs Department organised a series of programmes and activities aimed at improving the status of Women in Lagos State and making them economically independent. The Lagos State Employment Trust Fund (LSETF) has also provided financial support to residents of Lagos State for jobs, wealth creation and employment. It has promoted entrepreneurship by improving access to finance, strengthening the institutional capacity of MSMEs and formulating policies designed to improve the business environment in Lagos State. So far, the initiative has supported over 14,646 small businesses in Lagos State and created more than 123,720 jobs, especially for young persons in the State.
Making Lagos a 21st century economy
The fourth pillar of the THEMES developmental agenda is Making Lagos a 21st century economy. To achieve this, the incumbent government has recorded a milestone in infrastructural development in various parts of the State, amongst which is heavy investments by public and private sectors at the Lekki Free zones. Lagos State Government has also provided business-friendly environment and ease of doing business for many investors to set up business empires in the Centre of Excellence.
The Babajide Sanwo-Olu administration has also made significant progress in the area of housing by increasing access to home ownership with emphasis on first-time home owners and enhancing the rent-to-own policy; maintaining existing and newly commissioned housing schemes through facility managers to prevent dilapidation of estates and renewal of dilapidated estates.
Within two years in office, Lagos State Government through the Ministry of Housing has completed and commissioned 492 homes unit at Alhaji Lateef Kayode Jakande Gardens in Igando, 360 homes at Prince Abiodun Ogunleye Estate in Igbogbo and 124 home units at Lekki Phase 1. The Ministry of Housing through Joint Ventures agreements has provided 252 two bedroom Bungalows at Lagos State Affordable Public Housing Scheme Idale, Badagry; 124 homes at LagosHOMS Lekki Phase II and 132 homes at Babatunde Raji Fashola Estate at Iponri.
Lagos State Government through the LSDPC provided six units of two bedroom flats in Olutunda Ilupeju, 120 home units at Courtland Villas at Igbokushu, Eti-Osa and Bayview Estate Ikate-Elegushi with 100 units (32 units three-bedroom flats and 68 units 4 bedroom Terraces with Maid's room) and Sunnyville Apartments located in Nob Oluwa, Ogba (32 units of 2 bedroom flats).
It is noteworthy that the Babajide Sanwo-Olu's administration strengthened its policy of delivering homes to Lagosians through the existing Rent-To-Own Mortgage System. Under this arrangement, individuals are required to pay only five per cent of the cost of the housing unit as the commitment fee and the balance spread over a period of 10 years with minimum interest obtainable under the scheme.
The Sanwo-Olu administration has done so much in the area of agriculture and food security. Lagos has developed and commenced implementation of a five-year Agricultural and Food Security Road Map. The full implementation of the strategy will enable the state to achieve 40 per cent sufficiency in food production by 2025.
With initiatives such as the Agro Processing, Productivity Enhancement and Livelihood Improvement Support (APPEALS) Project amongst others, which were designed to empower, train and build capacity development of the youth and women, especially in selected key value chains such as fisheries, poultry, rice, aquaculture and horticulture, the State Government has trained and empowered thousands of farmers in the State.
The State Government under Governor Babajide Sanwo-Olu unveiled a five-year Agricultural Road Map  between year 2021 to 2025. This road map will enable the State Government actualise her dreams of food security within the stipulated time frame.
The long awaited 32 metric tonnes per hour Imota rice mill, one of the largest in sub-Sahara Africa is at over 85 per cent completion stage. When completed it will provide over 250 thousand direct and indirect jobs across different value chains.
Entertainment and Tourism
Among the numerous transformational initiatives deployed to strengthen the socio-economic positioning of Lagos State globally, the energy of the city, fuelled by a thriving entertainment industry is unmistakable. And this is why Governor Babajide Sanwo-Olu has made huge investment in Entertainment and Tourism, the fifth pillar of the developmental agenda.
Aside from landmark facilities and initiatives like the J.K Randle Centre for Yoruba history, Glover Memorial Hall, Lagos Theatre in Badagry, Badagry Museum and major Tourist attractions in Badagry, the incumbent administration is also working with the Federal Government to rehabilitate the National Arts Theatre Iganmu into a world class entertainment, fashion, music, technology and cultural hub as a deliberate and purposeful mission to boost the tourism appeal of Lagos State.
The Babajide Sanwo-Olu administration's empowerment drive through partnerships with the Ebony Life Academy and Del York Creative Academy, is yielding positive result with no fewer than 2,000 youths receiving training in different aspects of cinematography; such as Scriptwriting, Directing and others. This is aimed at unlocking the huge talent and potential in the creative arts space.
The administration has also launched the Lagos Creative Initiative (LACI) for focused development of the creative industry, which has birthed the 100-hecterLagos Film City in Ejinrin. Besides, it has given financial support in excess of N1billion to operators to cushion the effect of COVID-19 on the industry.
Security and Governance
In line with the Governor Babajide Sanwo-Olu's THEMES Agenda, the administration has worked tirelessly to ensure that Lagos is safe and secure for the residents of the State and investors. As at today, security agencies in Lagos State can boast of modern day armoury. On Thursday, June 10, President Muhammadu Buhari joined Governor Sanwo-Olu to officially handover patrol vehicles and various security equipment to security agencies in Lagos State. The equipment were; 150 Double Cabin Vehicles, 30 Saloon Patrol Vehicles, 1,000 Ballistic Vests, 1,000 Ballistic Helmets, 1,000 Handheld Police Radios/Walkie Talkies, 100 Security Patrol Bikes, two Armored Personnel Carriers (APCs), four High Capacity Troop Carriers, two Anti-Riot Water Cannon Vehicles and  Office/Command Furniture and other Ancillary Support Resources.
Lagos State Civil Service, which has many ministries, departments and agencies are role models to many states in Nigeria as a result of several developmental strides of the Babajide Sanwo-Olu administration.
Despite delivering on his campaign promises, Governor Sanwo-Olu is not looking back as he is marching on towards the attainment of the "Greater Lagos" dream.