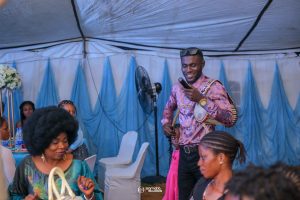 Nigeria's most celebrated talking drummer, Gabination, over the weekend drummed his way into the hearts of the senior citizens of Nigeria at a dinner organised to celebrate them.
The talented percussionist lived up to expectations during his short stint on stage as most of the senior citizens danced and sang along to the conscious messages emanating from the talking drummer.

After his performance, Gabination heaped praises on the senior citizens, while calling on the Nigerian society at large to prioritise the happiness of the elderly ones.
"In life, there are few things money can't buy and age is one of those things. These people have at one point or the other make sacrifices for the nation and it is now up to us to also prioritise their happiness.
"If I have the chance to make the senior citizens enjoy conscious music like they did tonight, I will do that over and over again. I wish my performance tonight can be a continuum, it is fun putting smiles on the faces of the elders," he said.
The dinner for the senior citizens was organised by the Welfare and Safety Committee, Cityview Estate Residents Association, Wawa, Ogun State, and had in attendance 50-years-old and above from all walks of life.