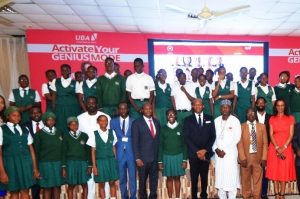 l-r: Eniola Cameron Cole;  Vice Principal Academic, International School, UNILAG, Mr. K.O Amusan ; Executive Director, Lagos and West Bank, Marketing; Liadi Ayoku; Group Managing Director, United Bank for Africa, Mr. Kennedy Uzoka; Principal  Dr. M. Brai Malik; Vice Principal, Administration, International School, UNILAG. Mr. Mr AO. Popoola and  Group Head, Marketing and Corporate Communications, United Bank for Africa, Mrs Bola Atta , flanked by students of ISL, during the launch of the bank's online Learning Platform for students which was held at ISL, Lagos.
The pan-African Financial Institution, United Bank for Africa(UBA) has introduced a unique and innovative product, called 'UBA Learn' targeted at helping students achieve all round academic success.
The Product, an online Learning Platform for students powered by Roducate, was launched yesterday, May 17, 2018 with particular emphasis on helping students within the age range of 5-16years and 17-24 attain academic excellence, while ensuring that the parents and teachers keep track and monitor their ward's educational developments and performance.
UBA Learn is accessible online, through a downloadable mobile app and  USSD (*919*33#) and is open to both existing customers and non-customers.  Intending customers can have account numbers automatically generated once they enrol on the platform. The platform features academic curricula (e.g. WAEC), NECO, Continuous assessments and tests, financial education, learning/fun games, etc.
Speaking at the launch of the Product, Group Managing Director, Kennedy Uzoka said: "United Bank for Africa is a technology-driven company with enormous capability in business. Because education is key to us and is a fundamental human right, we felt a need to extend our capability to education, by revolutionising access to education through technology. "
That's the main reason we are here today- to bring knowledge to the doorstep of everyone across Africa and other parts of the world, through this Unique innovation, called UBA learn"

Uzoka continued: "The app is a distinctive and well-tailored product loaded with all the needed learning tools and required subjects put together in a robust manner that is guaranteed to grow with the student early on to when he or she becomes a young adult."UBA Learn was carefully conceptualised to suit a niche focus of our customers who are mostly students; because more than anything, we are a bank that is particularly passionate about the growth and development of youths especially as it concerns their academic growth as is evidenced in the plethora of campaigns and Corporate Social Responsibility Initiatives (CSR) targeted at helping them find their paths in life, e.g.  Read Africa Initiative, Campus Ambassadors, National Essay Competition among others". said Anant Rao, Group Executive, Digital & Consumer Banking.Rao further explained: "UBA Learn is unique in the banking industry because it is a product that suits a special need. The app which empowers student through their mobile device  and available in Google play store and app store is a concept where the bank is taking on a mentorship role intended to equip and guide students into a bright future, life of prosperity." Anant explained."That is why there is a conscious effort aimed at helping them grow, because we understand, that the future is only secure when they are empowered". "The UBA Learn platform is designed to appeal to the young and aspiring youth who is looking to actualise his or her dream likewise get to the exalted height only education can guarantee. UBA is more than aware that there is an urgent need to effectively guide them to actualising success and more, that is why we introduced UBA Learn".He further said, the benefits of enrolling and using 'UBA Learn' are enormous. Apart from preparing them academically it also aids them to becoming financially independent. At this stage, account holders will enjoy exclusive invitations to job and career fairs as well as entrepreneurship workshops."Also speaking, Dr. Brai Malik, appreciated the bank for picking International School UNILAG, out of many to officially launch the one of a kind, product. He  also noted that UBA learn is a great initiative deserving of commendation. According to Malik, "UBA as a financial institution and innovator of the wonderful product deserve applause for demystifying learning with this application". Malik also stated that, ISL is a school with  good taste that recognises quality and  in line with its foresight for the future the school will encourage teachers to join the train and also take advantage of the innovation in their classroom activities."Account holders will also have access to 24 hour online banking services on UBA's highly acclaimed internet banking platform, particularly Leo the Virtual banker which is now a hit with students besides other privileges like specially branded debit card, interest bearing savings accounts, career advisory, scholarships, work place experience schemes with the UBA Group, entrepreneurial skills development workshops and social media engagements.
UBA was incorporated in Nigeria as a limited liability company after taking over the assets of the British and French Bank Limited who had been operating in Nigeria since 1949.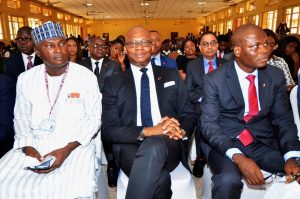 Principal, International School UNILAG, Dr. M. Brai Malik, Group Managing Director, United Bank for Africa, Mr. Kennedy Uzoka and Executive Director, Lagos and West Bank, Marketing, Liadi Ayoku, during the launch of the bank's online Learning Platform for students that was held at ISL, Lagos.