Edo State Governor, Godwin Obaseki, has opened up on the brewing crisis between him and the Deputy Governor, Comrade Philip Shaibu.
Speaking at meeting with the elders and leaders of the party from Etsako, in Edo North weekend, Governor Obaseki said his deputy's actions amounted to a coup and an attempt to forcefully remove him from office
Excerpts:
Will you say that you are shocked by the unfolding drama between you and your deputy, Comrade Philip Shaibu?
If I tell you that what happened in the last few weeks have not been a shock to me, I will be lying, because I never expected that we will find ourselves in this sort of situation again. You have heard my deputy say many times that he escorted me to PDP, and you know that we have had challenges in terms of integrating into the PDP platform like you will have in any marriage. But since we started, because of my background, I said look, you have to learn to give people responsibility.
Because what is important is to build institutions, not individuals as individuals will come and go but institutions will remain. That is why in anything we are doing, I call the deputy governor, call the Secretary to the State Government (SSG) saying this is what I am doing just in case of tomorrow. When I'm not able to do something, I say please go and do this. When I'm going on vacation, I say I hand over power to you.
The first time, he called me when I was on vacation and said "what do I do sir? I said "you are in charge, make your mistakes, when I come I will correct it. Because, I'm an individual, God forbid if I didn't come back from that journey, will Edo not continue. This power is not my own, God put me there.
Why did you give that broad latitude to your deputy when in most states across the country the reverse is the case?
The way we operated was as it should be. That is to say government must continue, everybody must know what we are doing, everybody must know what each person is doing. And you can only do that if there is absolute trust, that the person will not go back and say or do something else. That is how we ran Edo, through all the crisis we have had in the last seven years. But you cannot continue to live in crisis, you must at some point look for peace.
At what point did you think the relationship between you and your deputy governor go sour?
I think it came to a head with the Chairmanship of Akoko Edo. We first had a problem with Owan East, then Akoko Edo, where the people from Akoko Edo said, this is the person we want for chairmanship, but the deputy governor said this is the person that we will give you.
But I said give the people what they want. I called round, who is the person who can help us put this LG together and run this LG, they said it is this person. When the party chairman asked me, I said give the people what they want. That is democracy.
I did that, and before now, the constitution makes me the Governor of Edo State, and I know the powers of a Governor. The constitution does not provide for a co-governor, does it? It provides for a deputy governor who does and carries out the responsibility the governor gives to him. The constitution does not give him the power of the governor.
What then happened after that incident?
He left, went to Abuja without telling me and the next day I saw him on television at the inauguration of the National Assembly. Before we knew what was happening, he was going around saying he was consulting. After the National Assembly election, we met, we had a small meeting and I said, look, I know the next major election will be gubernatorial election, how to choose the person who will succeed me, but it is too early. The things we do now, how we finish well, will determine how strong we are to sell the person who will take over.
But more importantly, we must solidify our party, because, PDP must by the grace of God produce the next governor. So the work we must be doing now is how to consolidate the party; how to reconcile the party and how to make the party one again.
That is why I took specific interest in the LG election so that we can consolidate and unify our party. When all these issues were coming out in the LG nominations, everywhere I went, there were already camps, this is for deputy governor, this is for this person, and I said, but I have not finished my term, won't you allow me finish. I said, stop this!
Does it mean that the deputy governor did not first consult or inform you of his intention to run as governor while all these were going on?
No, till tomorrow, the deputy governor has never come to meet me one-on-one to say, "Oga, you know what, I'm thinking of running, I want to see how I can succeed you when you finish". Meanwhile, he said he is consulting. I sat and kept quiet. He has been going round, doing all sorts. But let me go back to the main issue, what really happened and created this problem.

I proclaimed the House of Assembly, he was in Abuja. Before he left, I called the chairman of the party. I said, look, I want nominations for commissioners, what we normally do, we will sit down, about five of us, look at the lists, LGA by LGA what has been submitted. Ask the chairman, that morning, I called him for the meeting, what did he say? He said he would not attend.
That is why Etsako does not have a commissioner. He said he would not attend. I said okay, let us go ahead, I will still give him that respect for us to consider his nominations when he is ready. He then went to Abuja, and was boasting, he said he has connections in Abuja, he knows people in the National Assembly, they are all with the President now, they will take care of him.
If he cannot get the ticket in PDP, he knows what to do. I kept quiet and said, I thought we were together. But what struck me, and I have never said this to anybody, is that after I proclaimed the House of Assembly, we were now going to elect principal officers in the House of Assembly, he was in Abuja. He came back that day. I am the Chief Security Officer of this State, I get any information I need, but I have that responsibility to keep quiet and use the information properly.
My deputy called a leader in APC telling him that during the election the next day of principal officers, particularly the Speaker of the House of Assembly that he has five members who are loyal to him, and that he would love the seven members of APC to work with the five members of PDP to produce a Speaker.
This information will still be corroborated by somebody else. At that point I called the PDP members to my house just to familiarise with them and as usual he tried to barge in. I said you cannot just come to my house, it is my private house, it is not even Government House. You have to have the courtesy, but now it is my prerogative whether I want you to come in or not. After I heard what he had done, I said, you can't come into our meeting. We met, agreed, the next day we went to the House of Assembly, he went there, and we did what we did.
Does that mean he was opposed to your wish and not working in your interest and that of the party?
As far as I'm concerned, that was not working in our common interest. Why will the deputy governor seek to have another Speakership candidate outside of what the governor wants? Are we working together? That is when I now knew that we had a problem. To say the deputy governor has become so desperate to take over that he would do anything, against his governor. How can you say you are loyal and then you do that sort of a thing?
The rest, you observed. He was going around, he would go to places as if we are not the same government again. When you ask him about something, he would agree to it, but the next day he would be doing something else. His Excellency, Mike Ogiadome called for a meeting, he called Senator Francis Alimikhena for that meeting in his house. I went to the meeting. The deputy governor said, oh no, he was just consulting.
Nothing will happen again. He would just keep quiet until it is time. I said the timetable for the election is not even out. Why not wait, there is a lot for us to do. Let us not be distracted. But for him, no! He continued. I didn't say a word. And I haven't said a word to him. The next thing I knew, he went to court. He said he was going on holiday, I approved as usual for him to go on his annual holidays.
He travelled, he didn't even tell me he was travelling. And the next thing I knew was that they were serving us summons that he has gone to court, that there was a plan to impeach him. I said, what have you done? If you want to run for the office of governor, there is nothing wrong, it's your constitutional right to run for the office if you want to. However, you are in the same cabinet with me, please, there is a way you do something. Try and show respect to the people. If people see you now, even before the time, going around,
What do you expect all the other candidates and all the other people who have an interest to do?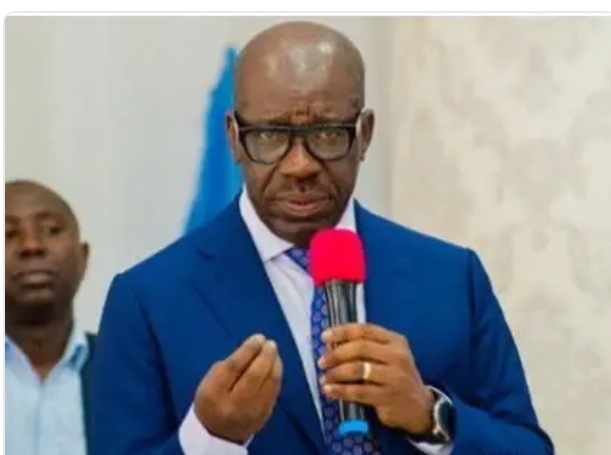 He says we want to impeach him, I called the Speaker, what am I hearing, is there anything? That was when the Speaker told me that he phoned and said that they wanted to impeach him. And I said what did you tell him? He said he told him that there was nothing of the sort.
I then called and asked, who wants to impeach you and why? Before you know what I got a summons saying that he wants to get an order preventing us, stopping us from impeaching him. I said what, since there is no such plan, it doesn't bother me. But what was disturbing was the excuses he gave in his petition. This is a matter before the court. I don't want to talk much about it. How can somebody swear to an Affidavit, a public officer, with information that is patently wrong and false?