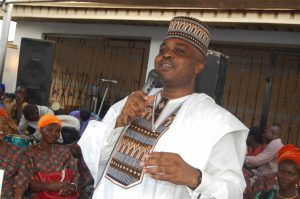 A couple of days back, likeable politician representing Ifako-Ijaiye constituency 1 at Lagos House of Assembly, Hon. Saka Dayo Fafunmi played host to the publishers of The Message International and Newsthumb magazines, Tade Asifat and Sotayo Olayinka in his Alausa, Ikeja office where he spoke on sundry issues including his interest on Ifako-Ijaiye House of Representatives seat come 2019 and much more.
Your tenure as a Member of Lagos House of Assembly, representing Ifako-Ijaiye come January 1, will end in 2019, what are your plans ahead that time? I will start by first appreciating God for giving me the grace to representing the people of Ifako-Ijaiye for a period of three times. It has never happened for a person to represent his constituency either at a state Assembly or House of Representatives. So, I want to first appreciate the leadership and the electorate and the vibrant youths who stood by me to ensure victory at all my polls. Having said that, it's my aspiration to see myself at the lower chamber of the National Assembly come 2019. In terms of political experience, I have it. I have nurtured my political ambition for over 10 years, and I would say that my interest is to serve the people of Ifako-Ijaiye at that higher pedestal.
 Be that as it may, how do you think your chances of clinching the ticket is bright on account of the fact that the person representing the constituency presently will also want to go for the second term? The fact is that it's the people of Ifako-Ijaiye that will decide who they want to represent them. I will say I have raised the bar of representation in the history of the constituency. I have been able to do much more than it's expected of a law maker at any state House of Assembly. I think I tried the best of my ability and within the limited resources to meet the needs of my people. And having done that for a period of over 10 years, in terms of experience therefore, I would say I am the most experienced among all the aspirants to the lower chamber of National Assembly. And in terms of qualification, I would say most of us not all of us are qualified. But I would say I have an additional qualification which in LLB, BL which none of the other aspirants posses. I am not just going there as a law maker, I am going there as someone who knows the law. And that will give us the kind of representation the people of Ifako-Ijaiye have been yearning for ever since this democratic system started. In 1999, the first person that represented the constituency was late Hon.Onimole. After Onimole was Hon.Adefolabi also of blessed memory. I would say when they felt there was need to raise the bar, they brought in Hon.Ogunnusi Ogunnisi also did his best but the people chose a different rout at the polls and that accounted for bringing in Dr Elijah Olawale (JAH) but unfortunately, most of these people, I would say did their best in terms of representing the people of Ifako-Ijaiye. But this time around, it's general elections. It's not going to be like a by-election where most of the preferred candidates are already occupying political offices and someone has to come in and fill the gap. Now, it's a contest and one person will emerge at the end of the day. But my sincere wish and prayer is that there will be emergence of a candidate that is passionate about the people of Ifako-Ijaiye, a candidate that's ready to make a difference in the lives of the people, a candidate who is ready to serve, I mean a servant leader to the core. And that's what the people of Ifako-Ijaiye want.
 Most of those that have represented Ifako-Ijaiye constituency at the Federal House of Representative have not really impacted the people of the constituency, what do you intend doing to make a difference if you eventually win the election in 2019? Probably, if you agree with me, life is a process. It's a learning course. Most of these people identified have not actually gone through any legislative process, with the exception of Adefolabi who was local government chairman before becoming member House of Representatives. Every other candidate never had the opportunity of understanding the technical aspect of politics or getting closer to the people except Dr Jah who had been in politics for quite a while and he did his best, even Ogunnusi too. But the only one I would say that there was a serious disconnect between him and the people was the first representative and that's Onimole. Onimole's level of representation can't be compared to the successive representatives we have had. He was elected straight into the House of Representative. He didn't have the opportunity of getting closer to the people at the grassroots because he was never elected into any political office before going to House of Representative. Democracy is not just sharing money, it goes beyond that. It's something that must be part of you. Representation of the people at the level of National Assembly, you're a law maker, you do oversight, you do legitimizing, that's confirmation of appointments. These are the things you're saddled with as a law maker which I am already familiar with as a three terms representative of Ifako-Ijaiye constituency 1.
 What specific agenda do you have for the people of Ifako-Ijaiye when you get to Abuja in 2019? The specific thing I want to do is to consolidate on all my programmes and replicate all what I do currently as a law maker representing Ifako-Ijaiye constituency at Lagos House of Assembly. I will run all the programmes simultaneously in the other constituency as well. I don't run a programme for the sake of running the programme. I don't do too many programmes, I impact knowledge so that you can become useful to yourself and the society. That's what I believe in because if I take them through a training for three or five days or even one week, they probably may have not gained anything at all. The shortest duration of any of my programmes is three and half months or four months and that's Information Communication Technology (ICT) and aside ICT, the Make-up apprentices will spend more than that because they have so many things to learn. The Fashion and Design ones among them also spend more time because they also have many things to learn. I don't just train them, I also empower them when they're graduating. I have met a couple of those that were trained for Make-up who are really doing well now. They have made me proud. Also, there's this advantage for those who passed through my Tailoring school, I mean I usually buy machines for them. And I usually encourage them to work as a team so that three or four of them can come together, rent a shop, operate from there. At any point, one of then will get a job. I advised them to be using team spirit. That's the only way we can achieve our aim. We must bring back our communal living. We should see ourselves as brothers and sisters. Without that, it will be difficult to move forward. I have two luxury buses that take pupils round my constituency in the morning and evening. So, these are things that have endeared me into the minds of the people. These are things people have seen and said "look, if at House of Assembly and this man can do all these, if he gets to the House of Representatives, he will surely do more". So, that's has been my selling point. That's my advantage. Representation has gone beyond having someone who is not. And what makes you a strong man is education. You must be well educated, intelligent and experienced. And these are the things I want to show if I become a law maker at the lower chamber of the National Assembly.

 This is February, many people are saying declaring political ambitions now is too early considering the fact that the next general elections are still far, it's a year ahead. What's your take on this? Yes, a lot of people have started declaring their ambitions. On record, I have five people in my constituency. So, if everyone is declaring his or her ambition, I don't see any reason why I can't. More importantly my declaration is born out of the fact that my people who are the beneficiaries of what I have been doing are yearning I have to move on, I have to do more of what I have been doing, I have touched many lives. So, those are the things I also considered and said it won't be a bad idea if I declare my interest. So, I have no choice other than to do the needful, taking my view and my aspiration very serious.
 How do you intend coping with the challenges of representing both Ifako-Ijaiye and Ojokoro when you become a Federal lawmaker on account of the fact that you have only been representing Ifako-Ijaiye all these while as Lagos law maker? The thing is that every politics is local and every constituency has its own peculiarity. And I have been on ground in Ifako-Ijaiye for a very long time. In fact, that's where I had my primary and secondary schools education. So, I am someone that tries to understand the terrain and possibly that accounts for the reason I have survived this long in addition to the support I am enjoying from the leadership of the party because no matter what, even if you're being loved by everyone and the leadership of the party feels otherwise, you have nowhere to go. They own the party, not your party. You're only a beneficiary. But also, I have been enjoying the grace of God. That's why I will forever be grateful to Asiwaju Bola Ahmed Tinubu, I will also forever be grateful to Ogbeni Raufu  Aregbesola, to the Governor of Lagos state and the speaker, House of Assembly. Also, I will forever be grateful to Hon.Bayo Oshinowo (pepper) for being the voice of the voiceless for standing by we lawmakers ensuring you're a self-made. Hon.Oshinowo has contributed in no small measure to my career as a politician. So, I owe him a lot of respect. I have learned a lot from all these people I have mentioned and I will forever be grateful to them all. I am aware of the fact that being a Federal lawmaker, I have greater responsibilities before me. But I will say I have what it takes to relate effectively and accommodate the interests and the peculiarities of the two constituencies together.
 About the mini stadium in Ifako, when Governor Ambode came there for his governorship campaign, he pronounced that the stadium will be completed before his tenure ends if he becomes the governor of the state, but till now nothing has been done on the project. What efforts are you also putting in place, as a lawmaker representing the constituency, to ensure the stadium is completed before the first term of Ambode elapses? One of the responsibilities of a lawmaker is agenda setting. And agenda setting involves identifying the problems and needs of the people and making these known to the executive arm of the government who go through policy formulation, decision, policy evaluation. They will do implementation before evaluation. And after evaluation, they will see if the policy has met the set objectives. So, what I am saying in essence is that the stadium is very important to us. It's the only place left now in my constituency where people can actually recreate. I have told His Excellency, I have written a letter to him and have even informed him orally. He is a man of his words, he had told me the place will be completed before the end of his tenure. And I can tell you the tenure has not ended. I strongly believe he will still do it. And it's going to be one of the things he will do for us in Ifako-Ijaiye before his first tenure ends.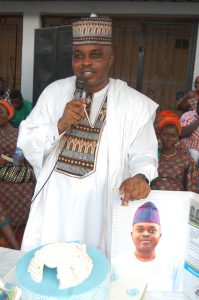 How would you assess Governor Ambode's Cleaner Lagos Initiative (CLI) and what are the efforts being made by the state government to ensure the effectiveness of the policy? For me, I will say the reason for such a policy is to take away business from government. It's also to generate a proper living environment for people. And in doing so, it redistributes wealth and recreates wealth that will make the economy improve. And in the process, more jobs are being created. That's exactly what the government is trying to do. Now, for a very long time, government has been spending a lot of money on management of waste. And now, we're looking at, instead of continuing spending this money and at the end of the day the benefits accrued have not improved, why can't we do things differently and get different results because if you keep doing things the same you keep getting the same results. So, in doing it differently, we now brought in special purpose vehicles that will drive the trailers. So, the trailer is the baby of the Ministry of the Environment (MON). We have now brought in a company, an international one that's known for waste management. And for a long time, we're not managing waste. Now, we want to go into waste management. We're looking at the drains in front of your house and clearing all the streets. This will lead to generating more than 27,000 house made employments. The contamination of water bodies as a result of inappropriate dumping of refuse will now be arrested by ensuring we now have an engineered black inside which is being practiced all over the world. And ultimately, our health situation will improve. A lot of diseases we're experiencing now will be a thing of the past. So, that accounts for the reason we're to rebrand and reengineer the environment family. So, ideally it's not when a baby is born that the baby starts running or talking. So, it takes time for us to get the policy working. At the end of the day, we will keep comparing, and keep evaluating our results with the set objectives. If they're not in tandem, I mean if there's a wide gap, that means we will have to go back to the formulation stage and see where we need to improve and weigh the necessary options available with a view to ensuring that our objectives are met.
 A lot of people are saying LAWMA as a body has been suspended, what's your reaction to this? LAWMA is now a regulatory body. You can't be a regulator and at the same time a player in the affairs. LAWMA is now a regulator, it's not suspended as being bandied.