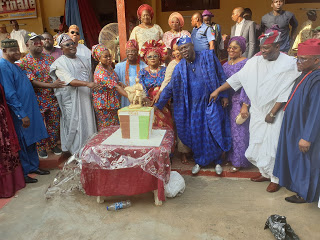 ..Oba Shotobi, Sanwo-Olu, Osinowo, Obasa, Benson, Agunbiade, Saka-Sholaja, others loud the festival
…cultural revolution for Socio-economic & political empowerment, IKODASS Chairman, Otunba Abiru reveals
The annual Ikorodu Oga Day Celebration of this year ended in anothet grand style amidst funfair. The 28th version was seen as a unique occasion for the Ikorodu people and this was evident right from the pre-celebration activities to the grand finale day on Saturday, November 16, 2019, at the annual celebration ground of Ayangburen Palace, Ikorodu.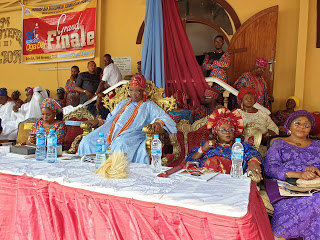 As early as 8.00am, MegaXpression reports that various parts of the Ikorodu sections had started arriving the venue with their sons and daughters. Some adorned themselves in special attire (Aso Ebi), while the special dress (Ankara textile) for the 28th Oga festival was conspicuously seen on those who could get it from the organizers. Banners of various inscriptions, congratulating the Ayangburen of Ikorodu Kingdom, HRM Oba Kabir Adewale Shotobi, IKODASS Chairman, Otunba Ganiyu Olusegun Abiru were erected at strategic spots. Traditional dancers and cultural troupes were not also left out with their memorable displays.
This year's festival was no doubt characterized by various demonstration and presentations that arrested the attention of the guests. Prominent personalities within and outside Ikorodu Division were not left out of the life long experience which binds the people of Ikorodu together. Amongst those that present were the Executive Governor of Lagos State, Mr Babajide Olusola Sanwo-Olu, who was ably represented by S.A on Agriculture, Ms Ruth Bisola Olusanya, Senator Bayo Osinowo of Lagos East Senatorial, Speaker, Lagos State House of Assembly, Rt. Hon Mudashiru Obasa, National Assembly Member, Hon Babajimi Adekoge Benson, Majority Leader, Lagos State House of Assembly, Hon SOB Agunbiade, and Hon Nurudeen Saka-Sholaja of Ikorodu Constituency II.
Others are Chairman Ikorodu LG, Hon Wasiu Adeshina and his Vice, Princess Folashade Olabanji-Oba, Chairman Igbogbo/Bayeku LCDA, Comrade Olusesan Daini, Artisans, Groups, Associations, iCARE Foundation, BOS Support Group of Hon Adebimpe Akinsola, CDAs, religious and political leaders, Clubs and different families were all there to be part of history.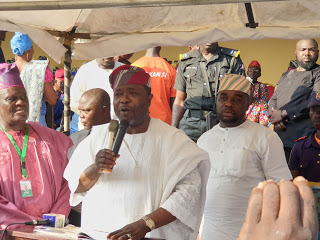 The Oga Day festival which came into being in 1992 under the first Chairmanship of Chief B.O. Benson, SAN, was a novel idea that was accepted by all and sundry in Ikorodu. The event had since been witnessing a tremendous support for the yearly celebration, which was meant to bring home sons and daughters of the kingdom both at home and in Diaspora.
The Chairman of IKODASS, Otunba Ganiyu Olusegun Abiru said in the past two years, he, with the support of other members of IKODASS have succeeded in repackaging and rebranding the most popular sociocultural event in Ikorodu in which others will continue to build upon.
"It is another year of celebration and with pleasure and gratitude to the most high God that I welcome you to the Grand Finale of year 2019 Oga Day Celebration which is the 28th version of the most glamorous celebration of the year in Ikorodu Division.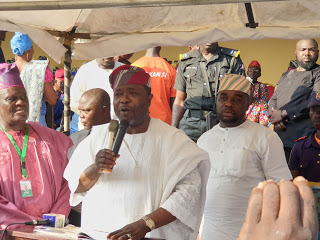 "This is one event that has continually brought together all sons and daughters of Ikorodu Kingdom and indeed Ikorodu Division both at home and in diaspora. A weeklong event that has engendered the growth of social interactions and economic prosperity of our people.
"One event in Ikorodu Division that has on yearly basis expanded in scope, characterized in glitz and glamour and above all, attracted daily to the Town Hall a minimum of three thousand people sharing in the conviviality and other developmental programmes which distinctly distinguish Oga Day Celebration as the most popular, colourful, entertaining and educative of all the township celebrations in Lagos State.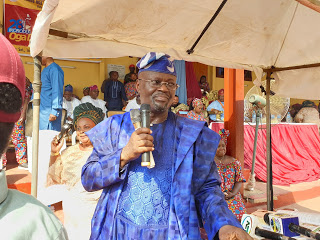 "I want to assure you that the Executive of IKODASS would continue to blaze the trail in making the celebration very relevant to the yearnings and aspirations of the indigenes and residents in Ikorodu Kingdom.
"In furtherance of our resolve to be current, our theme this year "Cultural Revolution – A necessity for Socio-conomic & politics empowerment" is meant to reawake our consciousness to the inherent benefitting value in culture which can be used as a catalyst for socio-economic and political emancipation of our people," he said.
Abiru further extended his unalloyed gratitude to the Lagos State Government for its supports right from inception of Oga Day, the charismatic Kabiyesi, HRM Oba Engr Kabir Adewale Shotobi and his wife, Olori Kudirat Abosede Shotobi, and other progressive minded in Ikorodu for their unrelentless support and guidance at ensuring that the right things are done at the right time.
In his eloquent remarks, Hon Babajimi Benson, MHR, while giving his remarks urged the people of Ikorodu to see the celebration, not as only merry-making, but to reflect on how people can contribute to the growth of Ikorodu community. "This is the essence of celebrating our town days, and I want to believe that both sons and daughters of Ikorodu land at home and Diaspora will use this to contribute to the socio-economic growth of this great kingdom," he said.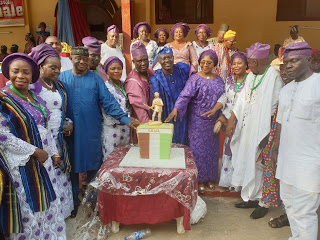 "I therefore crave for a glamorous and peaceful coexistence among all that brings about true growth and development to our Community. The task of peaceful co-existence, progress and development requires that all hands must be on deck to achieve our laudable goals," Benson opined.
Rt. Hon Mudashiru Obasa, remarkably said "the biggest gathering of all Ikorodu sons and daughters with unique opportunity to celebrate all is Oga Day. "We hold dear as a people, especially legacies left for us by our founding fathers, which include, honour, valour, bravery, respect for Ikorodu Kingdom, propagation of our cultural values and so on. We salute our present leaders championed by Kabiyesi, Oba Kabir Adewale Shotobi and others for their consistency."
While also addressing the audience, Senator Bayo Osinowo of Lagos East Senatorial thanked the planning committee and the entire people of Ikorodu for the successful celebration. He further urged the residents of Ikorodu community to embrace peace and love one another, enjoined youth to have respect for law and order.
Shortly after Hon SOB Agunbiade and Hon Nurudeen Saka-Sholaja expressed their enthusiasm over the successful celebration of this year's festival, HRM Oba Kabir Adewale Shotobi, said he was impressed by this year's Oga Day. "We shall come back next year to give thanks for seeing another year. We shall continue to witness peace, progress and development in Ikoroduland," he prayed.
Oba Shotobi noted that the celebration had further brought to fore the importance of tradition and culture, as he thanked immensely the support and co-operation of all towards this year's successful celebration.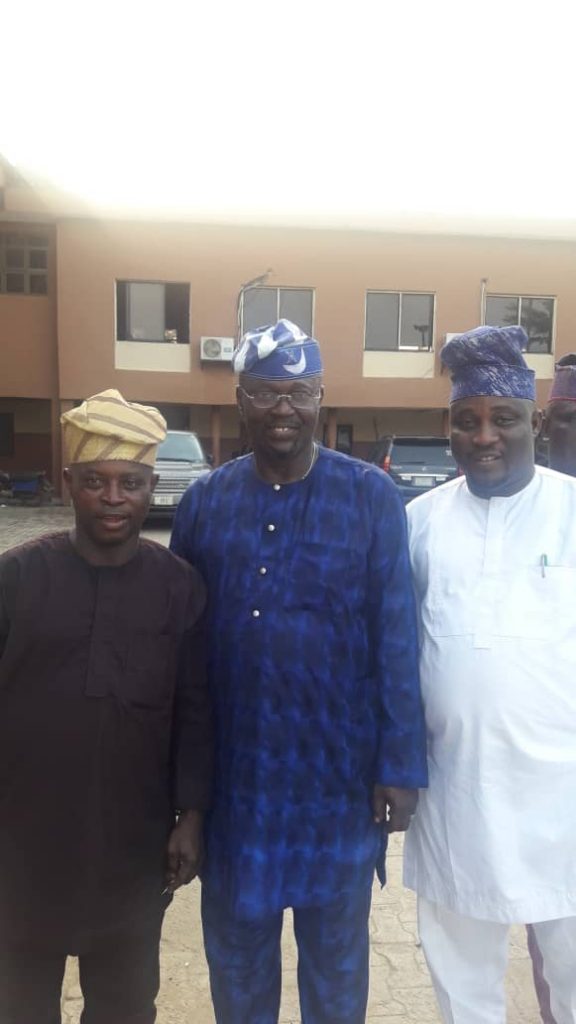 Another side attraction was the presentation of awards to prominent personalities who have worked assiduously to advance the course of growth and development in all facet of life in Ikorodu Division, Dr Bolaji Ajenifuja, OFR, was presented with the '2019 Community Lifetime Outstanding Performance Award,' this is often conferred annually on most outstanding indigene of the Division.
Others Awardees are: Dr Olasunkanmi Sulaimon, Odesanya, and Posthumous Awards to Late Alhaja Sinotu Ajobi Osinowo and Late Chief Lawal Olayinka Sule ogunmaga.