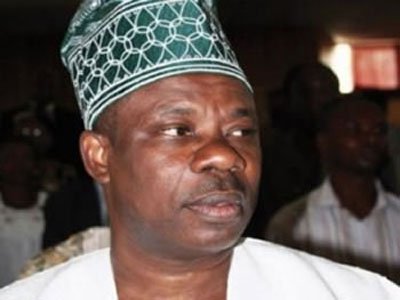 President Muhammadu Buhari and the Ogun State Governor, Ibikunle Amosun, are meeting again inside the Presidential Villa, Abuja.
Amosun is one of the governors elected on the platform of the ruling All Progressives Congress aggrieved by the outcome of the party's primary elections.
The party's National Working Committee refused to recognise his preferred candidate for the governorship race.
The meeting was believed to be a continuation of efforts aimed at resolving the crisis that trailed the primary elections of the ruling All Progressives Congress across the country.
Amosun and his counterparts, Rochas Okorocha (Imo) and Rotimi Akeredolu (Ondo), have been at the forefront of those campaigning for the removal of Adams Oshiomhole as the party's national chairman for the role he allegedly played during the primary elections.

The Ogun State Governor, however, in an interview with State House correspondents on Thursday, denied being responsible for Oshiomhole's reported arrest and interrogation by the Department of State Services.
He said he would never hide behind a finger if he needed to fight.
When asked that media reports suggested that he and Okorocha orchestrated Oshiomhole's investigation, Amosun said, "I think you are probably giving me an oversight role and I am not a security person, so clearly I think that question will not be for me.
"I don't have to hide under a finger to fight. If there is need for me to put my views across, you know me by now that I will do it."
When he was also asked to react to the reports that the APC chairman has fled the country, the governor said, "I have told you that you are asking me questions that I am not well suited for. The one that I have to talk about, we have said it loud and clear that it doesn't even need adding anything."
Amosun has been confronting Oshiomhole over the decision of the party's National Working Committee to recognise Dapo Abiodun as the governorship candidate in his state as against his preferred candidate, Abiodun Akinlade.