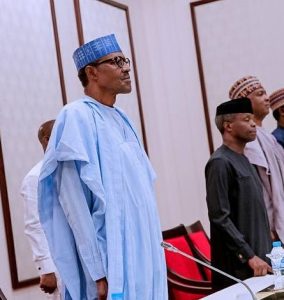 The National Economic Council on Thursday recommended a ban on the movement of herdsmen across the country as a way of stopping the killings being witnessed in parts of Nigeria.
This is expected to start in the five states where the killings are most pronounced -Benue, Taraba, Adamawa, Kaduna and Plateau.
The NEC chaired by the Vice-President has all state governors, the governor of Central Bank of Nigeria and relevant ministers as members.
Ebonyi State Governor, Dave Umahi disclosed the outcome of the meeting presided over by Vice-President Yemi Osinbajo to State House correspondents at the Presidential Villa, Abuja.
Umahi said ranching would be adopted in the five states, while the state governments would provide lands for that purpose.

He said the decision was taken after he submitted the report of a technical committee on farmers and herdsmen conflicts which he chaired to the council.
The governor said the committee identified causes of the conflicts to include media perception, competition for scarce resources and banditry through cattle rustling and kidnapping among others.
He said, "In all, we agreed that movement is not profitable to the herdsmen because they value the milk from the cow even more than the cow itself.
"So, movement is not healthy for the cows as it dries up the meat and give less than two litres of milk per cow per day.
"So, we condemn the issues of foreign invasion by foreign herdsmen and l am happy that the FG is doing something about it.
"We also agreed that these movements have to stop and occasionally by those who have settled and integrated from other parts of the country like the middle belt, they sometimes go into conflicts with farmers.
"So, in all we agreed that there is a more profitable and modern way of raising these cows which is by ranching. So, we have agreed that the states involved are going to give lands. Niger and Kaduna have given lands and Plateau is also giving land.
"Ranching in being practised in Mambila in Taraba state and they have success stories with regards to that."